Pix4D has recently announced the release of four new tools - Pix4Dsurvey, Pix4Dmatic, Pix4Dinspect, and Pix4Dscan - to address major challenges in the geospatial industry and manual inspection of industrial assets and infrastructure.
To bridge the gap between digital photogrammetry and CAD, Pix4Dsurvey transforms point cloud data into CAD-ready formats, "dramatically reducing overall surveying time, and expanding possibilities for surveying and mapping professionals", Pix4D claims. Compatible with Pix4Dmapper and lidar point cloud data, Pix4Dsurvey can handle billions of points, and work with more than one point cloud file at a time, in the same project. With built-in vectorization tools, users can vectorize projects using points, polylines, polygons and catenary curves with just a few clicks. Available now, it starts at a promotional price of $130 per month (billed yearly).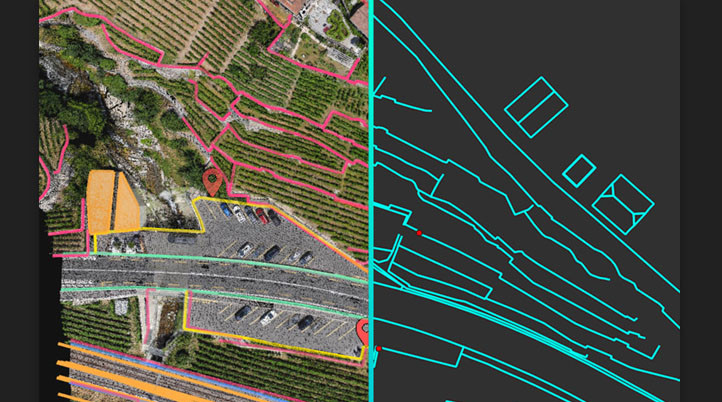 Now open for applications, the Pix4Dmatic beta program brings surveying & mapping drone photogrammetry to a new and larger scale. The software processes thousands of images while maintaining survey-grade accuracy, to generate point cloud data from images at double the rate. Featuring a streamlined processing workflow, users can import drone images from Pix4Dcapture, and export to Pix4Dsurvey or to third-party products to keep working.
Built for mapping cell towers and structures with the purpose of optimal inspection, Pix4Dscan is a professional drone flight application that, together with Pix4Dinspect, a cloud-based platform, will help to reach Pix4D's goal of automating industrial inspections.
The flight app comes with built-in flight plans for vertical structures, as well as an adaptable, semi-automatic flight specifically designed for cell towers, and provides live telemetry data such as altitude, speed, gimbal pitch and more. The collected data can be uploaded to Pix4Dinspect to create accurate and easy to inspect 2D and 3D models.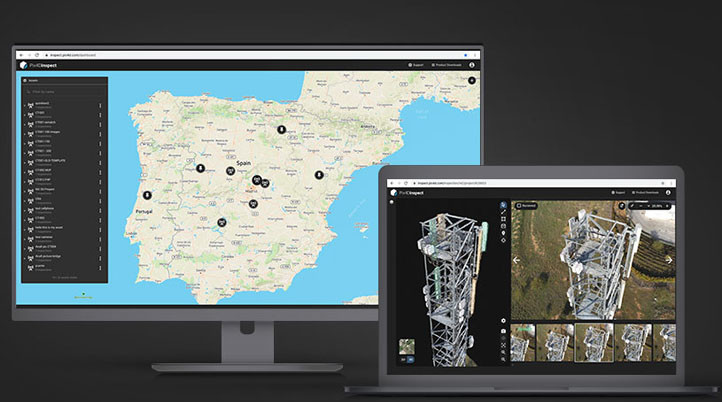 Designed for industrial inspection at scale including cell and cooling towers, buildings, bridges, energy utilities and more, Pix4Dinspect features a set of tools and advanced AI algorithms to easily annotate, classify, recognize objects, and take accurate measurements of the generated models. Right now, it supports RGB images from any DJI Phantom 4 and Anafi drones, with more inputs coming soon.
Furthermore, Pix4D recently updated Pix4Dmapper to version 4.5 which brings a handful of improvements, making it the fastest version of Pix4Dmapper yet. Now that the image calibration and point cloud generation has been sped up by an average of 20%, processing a project from beginning to end is an overall average of 15% faster.
Also, to make all of these products more accessible, the company's Training platform now includes all resources from quick tip videos to official certifications. To learn more about these applications, contact Pix4D, or try them for free during a trial period.