Over the years, we have written dozens of articles about how the uncrewed aviation industry, robotics in general, and systematic automation have changed the way professionals in countless trades do their daily work.
One area of particular interest for me, for personal and professional reasons, is mapping and land surveying. Great advances in processing software and miniaturization of cameras and sensors in general happened simultaneously with the emergence of uncrewed technology as a viable alternative to expensive crewed aircraft and cumbersome analog stereo plotters.
But one thing is reading and writing about it—and another is to live through the process. We found a land surveyor in Uruguay who saw his profession turned upside down when he used his first mapping drone and the possibilities of launching a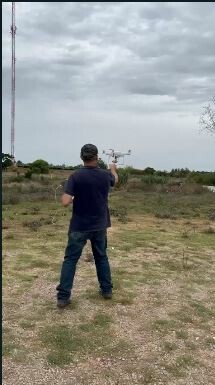 photogrammetry company suddenly became a reality.
Adrian Bellomo (Instagram @agrimensorbellomo) is a Montevideo-based, licensed land surveyor who, in 2019, used his first DJI multi-copter to make a map from the air and never looked back.
"It was a very rudimentary Mavic 2 Zoom with a 12MP camera and without RTK and the results were not very precise, but it was fast, and it opened our eyes to the possibilities," Bellomo reflected. "For years, we've been conducting volumetric calculations using conventional surveying instruments and techniques, and this fast, aerial way of calculating periodical ore extraction numbers gave us the possibility of staying away from the busy pit, where conditions tend to be extremely dangerous."
The original photogrammetry software that was used to calculate flight lines was not designed for the steep sides of a quarry, so Bellomo and his team had to add extra lateral lines to make sure the calculations were correct.
"It was during this manual exercise to alter the lines recommended by the software that we discovered the new possibilities of doing the job from the air, as opposed to be physically present at the pit." said Bellomo. "Then came an improved fixed-wing aircraft with RTK and the game changed dramatically, again! We were using ground control points to strengthen the geometry of the model and our volumetric numbers were more precise with every flight."
Bellomo and his team were using conventional land surveying techniques, but the actual measurements were done from an aerial platform, which allowed them to cover more area in less time with more precision. This was a competitive advantage that they used to grow their business.
"We all made the pilot safety course with the civil aviation authority and obtained our licenses, becoming a de-facto photogrammetry group," Bellomo stated. "We could now compete with larger and more established conventional aircraft companies in jobs that would be cheaper and faster with uncrewed aviation."
Once the initial steps of understanding the possibilities and the challenges of aerial photogrammetry were overcome, Bellomo and his team were ready to expand to other industries.
"We began applying for jobs in agriculture and forestry with great success," he said. "Initially, the requirements seemed different but once you made the first flights and created the final product, each industry began to show a remarkably similar set of conditions that allowed is to create specific workflows for each type of business."
With constant advances in sensor miniaturization and aircraft flying time, Bellomo and his team have progressed towards being a full-fledged photogrammetry concern, using conventional surveying instruments and techniques only as support to aerial operations.
"We are now flying a fixed-wing Wingtra with RTK and using Propeller Aeropoints ground control points that measure and broadcast their precise location in minutes without the need of extra equipment or personnel," Bellomo said. "Ten years ago, I would have never imagined that this degree of precision and speed would be possible. I have seen my profession going from a rudimentary transit and extrapolation of contour lines by hand, to a precise, pixel-by-pixel comparison of volumetric extraction in one decade; it's breathtaking."
Bellomo is not alone. All over the world, surveyors have seen our profession change dramatically as equipment improves and prices become more affordable. This technological tectonic shift is happening simultaneously in almost every industry as more and more professionals discover how to improve their workflows with a small, uncrewed aircraft and a specialized sensor.
The future looks bright as we wait for the FAA to release their regulation regarding flights beyond visual line of sight (BVLOS), a stepping stone towards full integration of crewed and uncrewed aviation in controlled airspace.