Commercial UAV News has spoken about the challenges of getting data off of a drone for processing. For many, that process still involves removing an SD card from the drone and inserting it into a computer to process and make its way through the downstream process. Luckily, there are companies working on solving that challenge by enabling seamless transitions between drone platform and the rest of the workflow without relying on hardware. But there is another bottleneck happening further downstream at the point of data integration. At this point you have your data off the drone and processed, but you then need to get it to your stakeholder, team, and/or client in an accessible and actionable product. Paul Snudden, Co-Founder and CEO and Dave Mercel, Co-Founder and Development Director of 3DUserNet spoke to Commercial UAV News about the challenges associated with this process.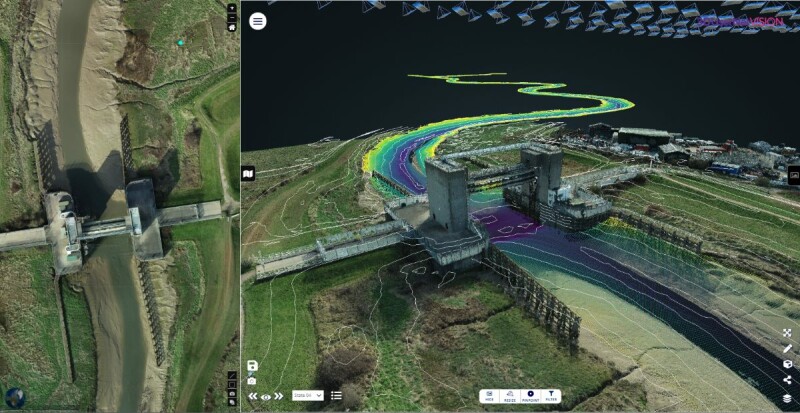 What Are the Challenges with Data Integration?
Today's users are diversifying the ways they collect data. As drones and other mobile mapping devices become more affordable and easier to use, more people than ever are adopting them to gather data for their clients. This is leading to some major challenges.
Even if you are only pulling from a single data source, the challenge is that after processing you have a lot of large, disorganized, and complex data files that need to be sorted for end users who may not be fully versed in data collection and analysis but need to understand what the data is saying in order to make decisions. To accomplish this, data is usually pulled together into a visualization engine/software, which tend to be specialized and require a lot of processing power to run efficiently. This makes it difficult to securely share data with stakeholders outside the organization or integrate with other sensor data. This process only becomes more complicated as users add more datasets obtained from different platforms.
Due to the sheer volume of datasets, you are now looking at massive file sizes that can either only be opened on specialized computers or has to be parsed out in smaller data chunks. Either way, it is incredibly challenging for a client or other stakeholder to access and process the data, let alone make decisions based off of that data.
But larger data sets aren't the only challenge. Collecting data from multiple sensor types and platforms not only increases the size of your data sets but these outputs are often specific to the manufacturer who made the sensor, which usually requires users to stay within their particular software stack. This means you have to render these data sets independently from each other. In order to get a deliverable out to a stakeholder, they need to access multiple disparate software platforms, making it even harder for them to see the whole picture.
All of this is inefficient, time consuming, and unscalable.
This is where companies like 3DUserNet are stepping in to change the paradigm. With 3DUserNetVISION, a cloud solution for viewing and collaborating on all visual data, users can combine multiple types of large datasets, like point clouds, terrain meshes, 3D models, line work, HD images, and 360-degree panoramics, from any platform, to create and collaborate on deliverables. They can then access and share it with multiple stakeholders from anywhere there is an internet connection, solving a lot of these challenges.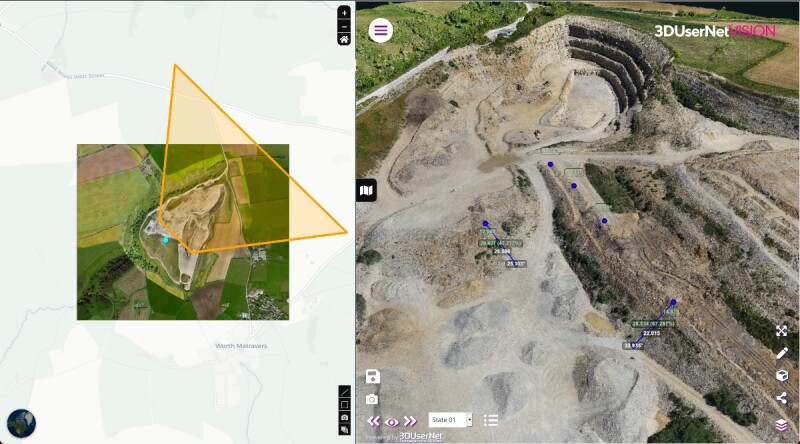 How Do Cloud Data Visualization Solutions Solve Data Integration Challenges?
3DUserNet's solution in particular was designed to solve these complex challenges and make data accessible, easy to use, and actionable. They solved the large data challenges by putting their system on the cloud and optimizing it for access anywhere on any device with an internet connection; this removed the need for specialized computers or software. They then made it intuitive and easy to organize that data by pulling everything into an easy to navigate 3D visualization user interface. They then made sure it could ingest any data output from any sensor or platform, removing the need for multiple software and hardware platforms and streamlining the data sharing process.
Once on the platform, every user is granted levels of access depending on their role on the project, whether that is as the data collector, the technicians creating deliverables, or those presenting and using those deliverables, ensuring that data integrity stays intact while enabling users to interact with the data in the way they need to, whether that is to identify or execute work that needs to be done by using its annotation features, monitor progress, or get critical real-time information about an asset or location.
Snudden believes that all of these features are set to improve how teams view, collaborate on, and deliver data products.
"Clients have big problems in accessing and sharing their data. This prevents them from achieving the kind of collaboration they want and need. It is mad that this information hasn't been easier to access or use—it is so valuable and important," explained Snudden. "With the variety of instruments and devices being used to capture data, and the variety of data types from both 3D and also 2D imagery, the value is in enabling the rapid integration and use of tools to create actionable deliverables as quickly as possible. Then by opening that up to as large a group as possible by having no limit to the number of users to a project, our platform empowers more users to make better decisions more quickly and reliably. You can view and work on this data remotely and you don't have to have lots of different hardware and software in the same place to look at all your products or to be productive. Having the latest data at the same time with multiple people working on it and viewing it introduces speed and efficiency to your workflow. It enables users to act quickly on that data and it facilitates better collaboration. It's that visual power that we're really leveraging for our users."
Because products are increasingly becoming living digital documents, 3DUserNetVISION can also track changes over time, enabling users to monitor the evolution of a project or asset.
"We allow different layers of data to be uploaded, and we also allow different versions of that project to be saved so you can have the very latest dataset, but you can also walk back through previous versions to see how the project has evolved," explained Mercel.
3DUserNet's subscription model is designed to be flexible with a modular approach that you build to suit your requirements. Once you have subscribed to the capability of your chosen modules then you can use that across all your projects and users. Your project user group is placed into a self-contained UserNet with unlimited users who each have different user rights, defined by the project administrator. You can simply add UserNets as required.
One more attractive feature is that you can brand your viewer as if it were your own, adding to the perception of seamless service and delivery.
All of these thoughtful features are set to open up existing bottlenecks and enable industries to share and use data in ways they haven't before.
To learn more about 3DUserNetVISION or set up a free trial you can visit their website here.