Hurricane Ian was one of the deadliest and most destructive storms to ever hit Florida. After making landfall on September 28, 2022, the Category 4 storm caused nearly 90 deaths, left more than four million people without power, and caused some $47 billion in damages.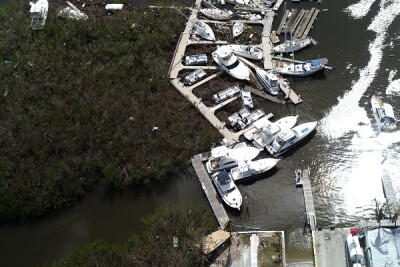 In the storm's aftermath, power companies, construction firms, federal and state officials, and others began the important work of not only restoring services and rebuilding but trying to understand what happened and why. For one such effort, the NHERI Natural Hazard and Disaster Reconnaissance (RAPID) Facility turned to surveying and mapping experts Frontier Precision Unmanned.
The RAPID Facility, which is supported by the U.S. National Science Foundation, needed help collecting data of the damage on Ft. Myers Beach and Sanibel Island—two communities were among the areas hardest hit by the storm surge. Given Frontier Precision's experience using drones in data collection efforts after natural disasters, they knew the company would be an ideal match for their efforts.
"The RAPID supports a network of engineers, researchers, and scientists that deploy rapidly in order to conduct research and investigations for extreme events," Joseph Civello, UAV Sales, Services and Support Specialist/Software Implementer, explained. "They wanted this data to create detailed 3D models to better understand the performance of civil infrastructure that was there, the building codes that were in place, and better understand the community's response to natural hazards."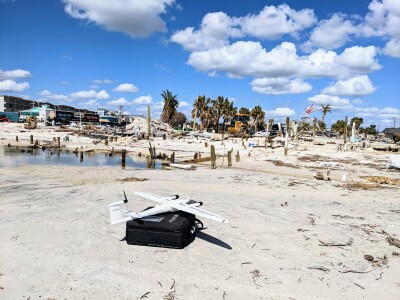 For the project, Civello and his colleagues chose to use the Quantum Systems Trinity F90+ drone. "This was the perfect tool because it's a VTOL, so it can take off and land in relatively tight spaces," he stated. "Also, it flies for 90 minutes and has a variety of payload options."
The team also chose to use the new Oblique D2M camera payload. "This is a five lens, 26MP RGB camera that is designed for 3D photogrammetry," said Civello. "It captures tons of detail from all sides of each building in just one single grid pass. Typically, with single camera payloads, we have to fly multiple passes in a crosshatch pattern to capture the data necessary for 3D reconstruction."
Despite the sophistication and capabilities of the drone and camera, collecting data in this devastated region was immensely challenging. "The Island of Sanibel was a priority for RAPID, but it was absolutely destroyed," Civello stated. "They were repairing the bridge, so I had to partner with a local just to get over to the island. Also, finding a safe place to take off and land was a challenge. There were power lines on the road. I'd pull over to find any kind of open area to fly, and I'd use my laptop as a ground control station. We had to use the car and an inverter to generate power to charge my laptop and batteries."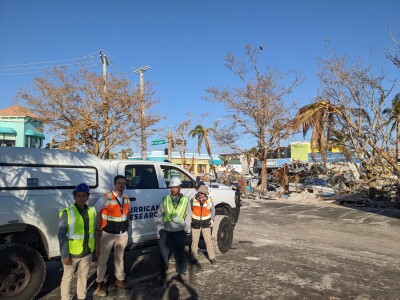 Still, Civello and his colleagues were able to collect the necessary data to help RAPID with this crucial work. "With just two Trinitys and two pilots, we were able to collect data for all of the area of interest at Sanibel, which was roughly 2,500 acres, in just five hours," he reported. From our one day on Sanibel Island, we completed seven flights and collected approximately 104,000 photos.
Now, RAPID is using the data collected by the drones to move on to the next stage of their work. "They are going to process the data to create a very high-resolution 3D model that will be available to the public," Civello stated. "The models will be used by researchers to simulate models and develop solutions for more resilient communities."
Civello was proud to contribute to RAPID's research, and he hopes that drone-based mapping solutions developed by Frontier Precision Unmanned can be used to aid in future post-disaster missions.
"I live in Florida, and I have a background working with emergency response agencies, law enforcement, and public works, so this was something that was near and dear to me," Civello stated. "I'm glad that I could have the opportunity to help them."