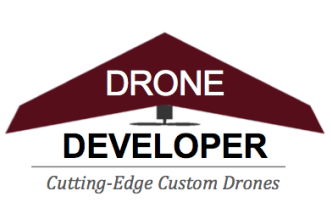 While companies in industries that range from construction to energy to agriculture have been able to create a tremendous amount of value with the adoption of drone technology, the challenges associated with actually doing so are not insignificant. Many service providers and industry stakeholders find that they need to optimize their workflows and processes around a piece of technology, but one company is aiming to make sure stakeholders understand what it means when they can turn that paradigm around.
Drone Developer offers an intense six-week training & consulting program that has been designed to provide participants with an optimal small UAV solution for a specific commercial mission or application. The program consists of three training modules on drone design, fabrication, and ground & flight-testing with weekly consulting calls to guide the development process. Elements of reconfigurable (off-line modular) and hybrid UAV design are an inherent part of these development considerations, which can mean anything from vertical takeoff and landing (VTOL) to fixed-wing forward flight, all based on the needs of a given mission or project.
The program is best suited for the development of cutting-edge unmanned fixed-wing aircraft and hybrid fixed-wing/ multicopter aircraft, and the specific applications and missions that these drones can be deployed for will be showcased by Drone Developer at the Commercial UAV Expo in October. However, there's a great deal to say about what makes this drone design and development process an essential consideration for both service providers and enterprise stakeholders.
The Origins of Drone Developer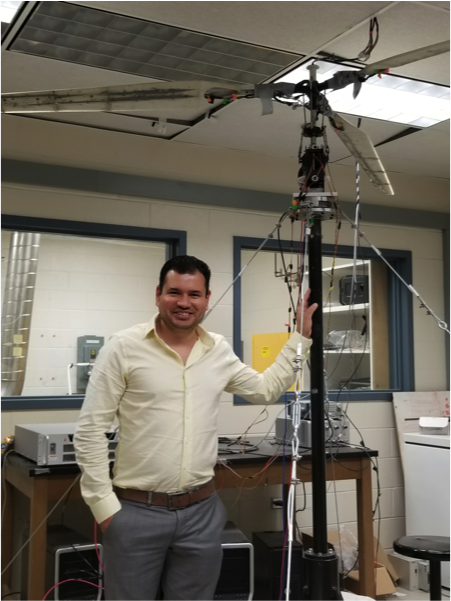 Victor Maldonado is an Associate Professor in the Department of Mechanical Engineering at Texas Tech University. He obtained his PhD in aerospace engineering, and for the past decade he's been doing experimental aerodynamics research with application to drones in order to improve their aerodynamic efficiency and mission capability using flow control and reconfigurable design techniques. The result is reconfigurable drones with shared and unique modules for distinct mission profiles with lower production costs.
"In the industry, it's common for customers to pick up an off the shelf drone and try to make something happen," Maldonado said. "From my background though, I know that's really not the most optimal way of doing things. If you can create a mission-specific drone you're going to eventually lower your costs while also creating a defined operational value while. Whether it's range or endurance, you want to optimize the drone you're using to support those kinds of elements."
While off-the-shelf drones have been able to create value for companies large and small, that value often needs to be pursued based on the capabilities of a drone which are then fit into the specific need of a project. Ultimately, users aren't focused on the drone, but on the data they can gather which will allow them to take action in one way or another. By designing a drone with a specific mission or user in mind, these drones can gather the exact type of insights stakeholders need, but that's not the only thing Drone Developer is offering.
"What I've been working on for the past four years is a six-week program where we work our client to give them the technology, training and insights they need to succeed," Maldonado told Commercial UAV News. "In six weeks, we basically guide the client through the conceptual design phase, the preliminary design, the fabrication and then the ground and flight testing. It's an all-encompassing service because we're not only customizing the drone for specific uses and needs, but also providing insight and advice on what it means to use these tools most effectively."
In providing a custom UAV solution, the Drone Developer program can help organizations fast track their drone program or create customized drone platforms and services for streamlined solutions. The combination of that platform with the insights around the best way to use it to create value is what makes their offering a unique one in the space.
The Drone Developer Difference
While drone consulting services are available in just about every capacity and industry, the utility of these services can vary a great deal. Even with the right insight about what it means to leverage drone technology to create value though, these services ultimately have gaps on account of certain hardware limitations. It's why experimental tests utilized by Drone Developer to measure the actual performance of engineering systems to guide the design and fill in these gaps is where the Drone Developer program really stands out amidst the competition.
"I think the real difference comes over time," Maldonado explained. "Our drones are designed with certain benchmarks, so that a drone we create, when compared to something off-the-shelf, might see something like a 10-15% reduction in fuel costs. Over the course of a year, that kind of reduction is really significant, but it's just one of the areas where we can target and create efficiencies."
Most other consultants are forced to recommend whatever they believe to be the best of what's available, while other developers are essentially taking parts and components and trying to reconfigure them as best they can. They might choose the best motor and propeller combination and then configure a type of camera that is best for that combo. However, these are modules that can't ever strike the right balance between the aerodynamics and application needs. The Drone Developer team is able to find that balance because they can pull back further to focus on the core development and design needs.
What kind of results can come from doing so? They can range from a product family of reconfigurable UAVs to a hybrid hover-to-forward flight transitioning UAV, but these examples are just the beginning.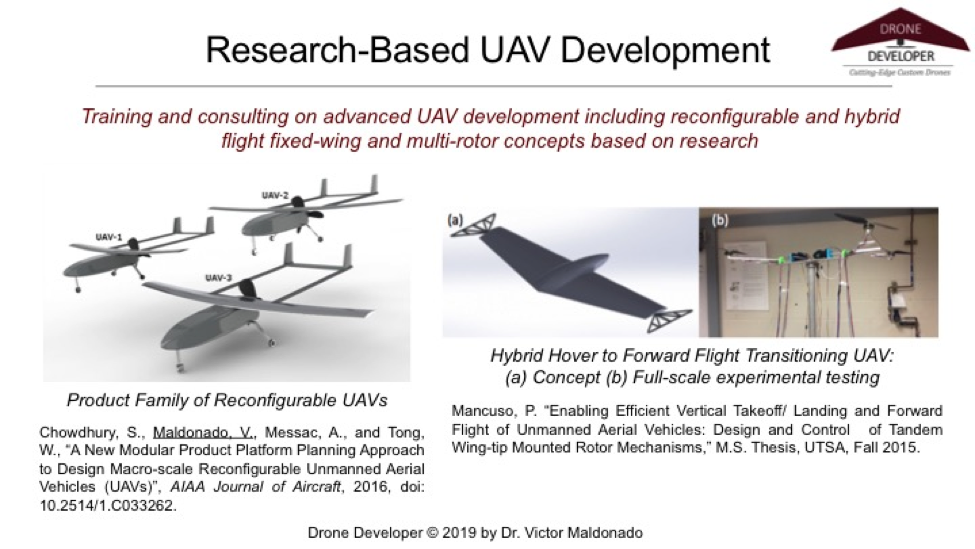 "The difference is definitely on the developmental side," Maldonado said. "We work with drones up to 55 pounds, and in 4-6 months we can go from design to flight testing to implementation. Anyone who's felt limited by off-the-shelf drone hardware should know what kind of value they can get when they design something from the ground up."
To find out what that value can look like, the Drone Developer team is offering a free half hour consultation, where you can talk through your specific UAV requirements, and they can explain how they can help. Additionally, they'll be exhibiting at the Commercial UAV Expo, where the value of the technology will be showcased in countless ways.
You may contact Victor at Drone Developer directly at [email protected] or visit their website; www.dronedeveloper.org.