Sensors for drones are increasingly being used for surveying, mapping, and inspections, especially in the mining, construction, energy, environmental management, agriculture, infrastructure, and waste management industries. Drone multifunctionality continues to improve as sensor advances allow for a wider range of applications. Platforms can be interconnected through cloud-based programs and, when combined with powerful post-processing software, enables a complete drone-data solution.
Commercial UAV News covered five of the most popular sensors used by drone professionals today. Although selecting the right sensor for your specific opereation comes down to a number of important factors, these platforms are often used by drone professionals today and are helping to define what these technologies can do in the space.
Enterprise inspections today can be limited to periodic inspections of selected assets in a small geographic area, but they do not always need to be so restricted. Scaling inspections from tens of assets to thousands of assets requires a platform-agnostic, end-to-end, streamlined workflow. This way, drone operators can conduct inspections across a large region, reducing the cost and increasing the coverage.
To assist in these operations, the Phase One P3 Payload collects information across as large a field of view as possible, while still maintaining enough resolution to easily interpret target features. Containing a BSI sensor with the highest dynamic range, a rangefinder with smart focus, and a broad array of lenses including 35mm, 80mm, and 150mm, the P3 can be configured to satisfy the flight plans for inspection activities. The P3 Payload leverages all three major UAV ecosystems—DJI, Auterion, and MAVLink—so operators can integrate real-time, best-in-class inspection data into their existing applications and workflows.
LiDAR is a remote sensing technology that relies on laser pulses to collect detailed measurements for maps and surveys; it is especially valuable for micro-topography because it can penetrate through vegetation and forest cover. Applications abound, including agriculture, forest planning, building and urban management, construction, mining, and environmental assessments.
RIEGL makes a full fleet of LiDAR sensors. The miniVUX-series and VUX-series of scanners provide high performance and engineering-grade accuracy for mapping. They specialize in providing higher laser pulse repetition rates, which increase performance, thereby improving efficiency, accuracy, and usability.
For the UAV-based Lidar market, RIEGL recently introduced the miniVUX-1LR. This miniaturized, extremely lightweight, and compact online waveform processing Lidar sensor enables operating flight altitudes up to 820 ft and measuring ranges of up to 500 m/1640 ft. A full 360° field of view, a laser pulse repetition rate of 100 kHz, and the optional integration of up to two cameras are additional features that increase efficiency in the field. These capabilities are especially valuable for operating at higher altitudes or when longer-range measurements are needed.
Although RIEGL's LiDAR sensors are among some of the most trusted Lidar sensors for surveying and mapping, determining what best suits your project is the ultimate goal when selecting the right Lidar platform. Depending on your project specifications, accuracy needs, budget, and software preferences for data processing and workflows, there are a number of Lidar companies who have established themselves in this space as well and are worth checking out including (but not limited to):
Thermal Imaging: FLIR
Thermal imaging is a key capability for drone pilots for industrial inspection missions. It enables pilots to see through darkness or challenging lighting conditions and detect thermal anomalies that can indicate a fault or needed repair. In addition to "seeing" heat, thermal cameras with radiometric capabilities allow pilots to measure the surface temperature of objects at a scene. Two common thermal-based missions involve inspecting large solar panel arrays or industrial roofs, potentially in combination with RGB cameras.
Key considerations for drone-based thermal inspections include the resolution of the thermal camera payload, which impacts how high a drone can fly and capture accurate data. The FLIR VUE TZ20-R is a high-resolution radiometric gimbal payload with pixel-by-pixel temperature measurement and up to 20 times digital zoom. Two 640 x 512 resolution FLIR Boson thermal camera modules provide for both narrow and wide fields of view. Operators can leverage post-processing software to create an orthomosaic thermal survey that shows locations of interest, such as roof leaks or solar cell problems.
Caption: A thermal drone survey of a commercial roof indicates water intrusion magnitude and location in white, located at the corners of three skylights within the image.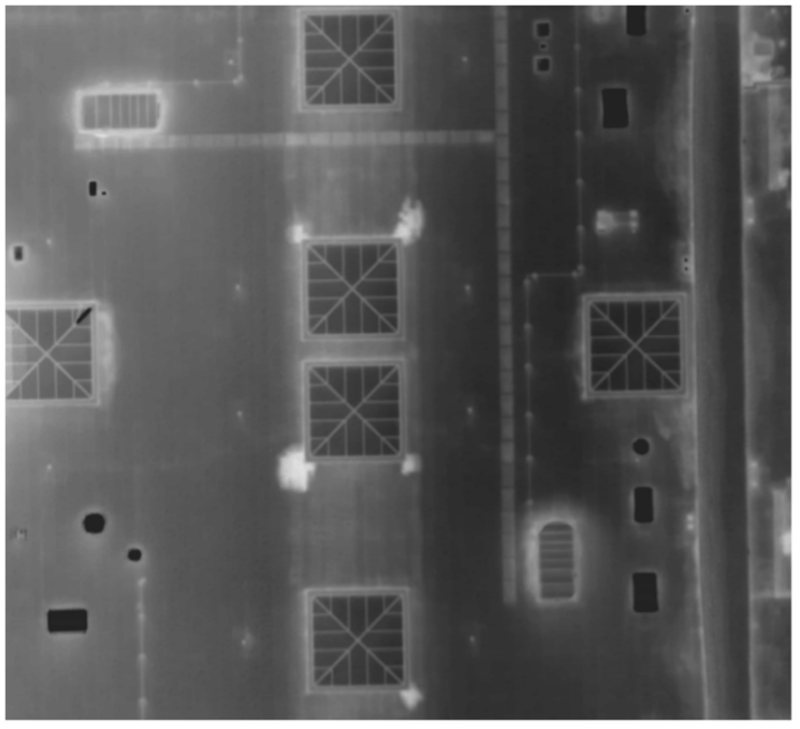 Optical gas imaging (OGI) technology for UAVs is a cutting-edge tool for the detection of leaking greenhouse gasses, including methane, propane, and butane. Sierra-Olympics' Ventus OGI is one of the smallest, lightest, and lowest-powered OGI camera cores on the market today and integrates smoothly across aerial, fixed, and robotic platforms.
The Ventus OGI has built-in state-of-the-art 640 x 512, 15 µm pixel pitch. When integrated into an aerial platform, it quickly scans large areas, enabling operators to meet regulatory and market demands for transitioning to renewable energy resources. Key emissions data collected by this camera can simplify report generation for supply chain partners, company shareholders, and industry regulatory agencies. The value of this technology is already being seen in commercial applications, for example, the state of Colorado recently added the Ventus OGI to their state's Approved Instrument Monitoring Method (AIMM).
Multispectral Imaging: MicaSense
MicaSense, an AgEagle Company, creates efficiencies for its user base through multispectral technologies that use sensors to image multiple regions of the light spectrum at the same time. This is particularly critical to agricultural operations for detecting plant types and diseases—depending on growth stage, stress level, and extent of disease, plants reflect light differently.
MicaSense recently launched a new sensor called the RedEdge-P, which features five spectral bands and a panchromatic lense for calibrated high-resolution multispectral and RGB imagery with an optimized field of view, enabling agriculture professionals to use drone imagery for plant counting and spectral analysis of small plants. With a high-resolution panchromatic imager, RedEdge-P enables higher resolution RGB and multispectral outputs, providing more efficient data collection and a deeper look into plant health. Additionally, it can enable further scientific research that requires high resolution, centimeter-level (and sometimes sub-centimeter-level) ground sample distance, as well as multiple flights throughout a planting season.
Moving Forward: Emerging Sensor Technologies and the Future
Applications for drone-based sensors continue to expand as the value of drones for data collection is better understood. For example, Anemoment makes a lightweight 3D ultrasonic anemometer for atmospheric monitoring, and Geometrics provides a UAS-enabled magnetometer, MagArrow, that enables drones to collect geophysical data for magnetic surveys.
As drone manufacturers improve upon and develop new applications for drones, commercial users will continue to see enhanced features such as payload interchangeability, AI-based piloting, and smarter and more accurate sensors.