To bring new features and greater efficiency to surveying professionals, 3Dsurvey has updated its popular software. Version 2.18 builds on 3Dsurvey's already robust suite of digital processing tools, which currently serve individuals working in fields such as surveying, construction, energy, and disaster management. 3Dsurvey software enables these users to recreate any environment in digital form using any input, data, or imagery, including aerial UAV, terrestrial, mobile photos, laser scanners, LIDAR, sonar, and more.
To learn more about 3Dsurvey 2.18, Commercial UAV News spoke with CSO Luka Pušnik. We discussed the features of the new version, real-life operations that would benefit from the new features, and what went into the development of the updated software.
Commercial UAV News: What are the major updates users will find in 3Dsurvey 2.18?
Pušnik: We have several updates coming with the new version, some of which were developed due to user feedback, and others due to innovation and our desire to continuously improve and refine our product. Users will be excited to have access to new features such as 3Dsurvey Cloud Beta, which is both a project management tool and Cloud Viewer.
Another big update which users will find beneficial is the Select by Color feature. This opens up the ability to classify point clouds based on color. It's incomparably easier now to put all green areas to a new class, to separate orange roofs from the ground or to bring out just the asphalt… the possibilities are endless. This intuitive tool will also significantly reduce the amount of time and effort spent on cleaning your model of unwanted colors, especially around the edges of objects so that you can have a more true-to-form object rendered. In the past, users would manually have to click through and select each cluster of unwanted color and delete it. This is a tedious process and we thought there must be an easier way to do this. We have developed an eyedropper to help select the color, along with a tolerance slider to select more colors in that range. Now you can quickly clean your model and spend more time on the outputs you need.
Commercial UAV News: Can you give us an example of how these new features would improve a drone-based operation?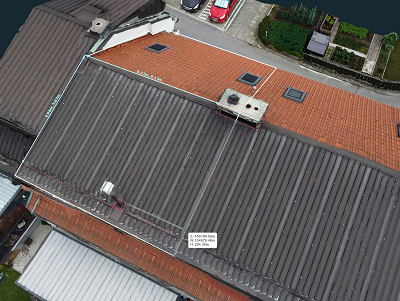 Pušnik: Let me present a scenario in which someone, let's call him "Joe," wants to install solar panels on his roof. He needs to take accurate measurements for the roof space assessment and the solar panel installation. The updated CAD module simplifies the measuring process, effortlessly calculating the total length of wires required. Joe takes his drone, flies over the building, and creates his 3D model.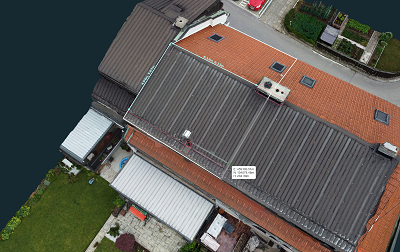 Unlike with the other software where he would need to transfer the data and install an app on the client's computer, with 3Dsurvey he just uploads his project to 3Dsurvey Cloud and shares the project via the Cloud Viewer web link. The solar company could now easily access Joe's project and even do their measurements to cross-check.
This feature makes the tiresome and often complicated task of sharing and visualizing your work with your clients significantly easier and more user-friendly. This comes as a huge benefit for our users and drastically simplifies the process of sharing and viewing since they can even view it on their tablet or phone.
Commercial UAV News: How will professional surveyors benefit from 3Dsurvey 2.18?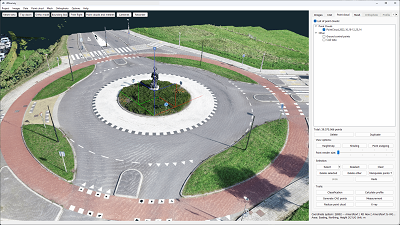 Pušnik: Here's another scenario: "Mary" works as a landscape architect and enhances her design workflow with 3Dsurvey software. Using a drone, she captures aerial images of a traffic roundabout that needs a rework. One of the critical aspects of Mary's project is accurately measuring the length of the curbs surrounding the grass filled splitter islands of the roundabout. With the new advanced measuring tools of 3Dsurvey, Mary ensures precision in her measurements. The updated CAD module simplifies total length calculations and accommodates measurements of various lengths within the project. When all of her areas are vectorized she also gets a total area with a single selection.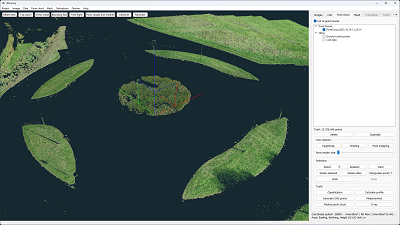 With the new Select by Color feature Mary can swiftly organize her point cloud into classes: green grass isles, asphalt, white road markings. Sharing a snapshot of her work has never been easier, with the press of a button a time-coded image with no overlaying elements is created and ready to be sent to her collaborators. An even better option would be to utilize the cloud-sharing capabilities. Mary shares complete 3D models with colleagues and clients, allowing them to access and visualize the project. This technical integration underscores the software's impact on streamlining measurement processes and facilitating collaborative decision-making in landscape architecture.
Commercial UAV News: Discuss the development of this new version. Did you respond to customer demand to make these updates? What internal staff or teams were involved in the process?
Pušnik: As with all our 3Dsurvey software updates, we consider user feedback and market demands to help determine the focus of each update's development. We collect user feedback periodically and prioritize what changes are viable to implement. Apart from this, our team monitors the market to see what new tech is available and how to improve our algorithms. As the software was originally created by land surveyors for land surveyors, we use real-world scenarios to determine the scope of the software and where improvements can be made.
Commercial UAV News: What kinds of training and support will 3D Survey offer to help customers use the new version?
Pušnik: Whenever there is a new 3Dsurvey version released to the market we offer a FREE live webinar to educate users and potential users on the new functionalities. These webinars are also recorded and can be accessed on our YouTube channel, along with numerous tutorials and additional resources. For every new customer, we also offer a FREE OF CHARGE one-on-one two-hour training per request that enables them to start work immediately! Our support team is available to handle any incoming queries or issues users may have.
Commercial UAV News: How does this upgrade fit into the mission of your company? How does it further your company's goals for expanding and enhancing surveying and data collection/processing work using uncrewed systems?
Pušnik: Our mission is to help people in the field do their jobs faster and easier. As previously mentioned, with real-life experience at the heart of our software, we help professionals do today what they couldn't do yesterday. Version 2.18 is a testament to our commitment to that mission statement. Our updates are focused on helping our users complete their work faster, easier and more efficiently. We endeavor to help you spend less time on site, less time on processing and cleaning data and more time on generating the results you require.
Commercial UAV News: What's next for 3D Survey? Do you have new projects or enhancements in the works?
Pušnik: As 3Dsurvey software is constantly evolving and refining, we have plenty of ideas and growth in our pipeline. Users can expect another significant update early next year in 2024 as version 2.19 is already in development. We also have some big alterations to our online presence in the mix, so we are overall very excited about all the changes that are underway.