The Computing Technology Industry Association (CompTIA) is a non-profit trade association that prides itself in being the leading provider of vendor-neutral IT certifications in the world. With nearly 40 years' experience, it has positioned itself as the voice of the information technology industry with the goal of helping to advance the IT industry. With CompTIA's long-standing involvement in the IT industry, committing their support, resources, and years of expertise to commercial UAV was a logical next step, and their efforts to do so extend to webinars and beyond.
CompTIA's first release of their report, "The Drone Market: Insights from Customers and Providers," is already yielding important insights for UAV professionals, including what the industry's top accelerators and barriers are and what end users are looking for in the drone industry. One accelerator they discovered was that the value of drones is rising as real-world use cases are showing benefits for a number of vertical markets. Another accelerator was that the UAV industry is ripe for partnerships, with 80% of organizations working with outside professionals at various points in their workflow. Some of the challenges included government regulations, 50% of the people surveyed not seeing a need for drone technology, and the skills gap that naturally comes with an emerging new tech field.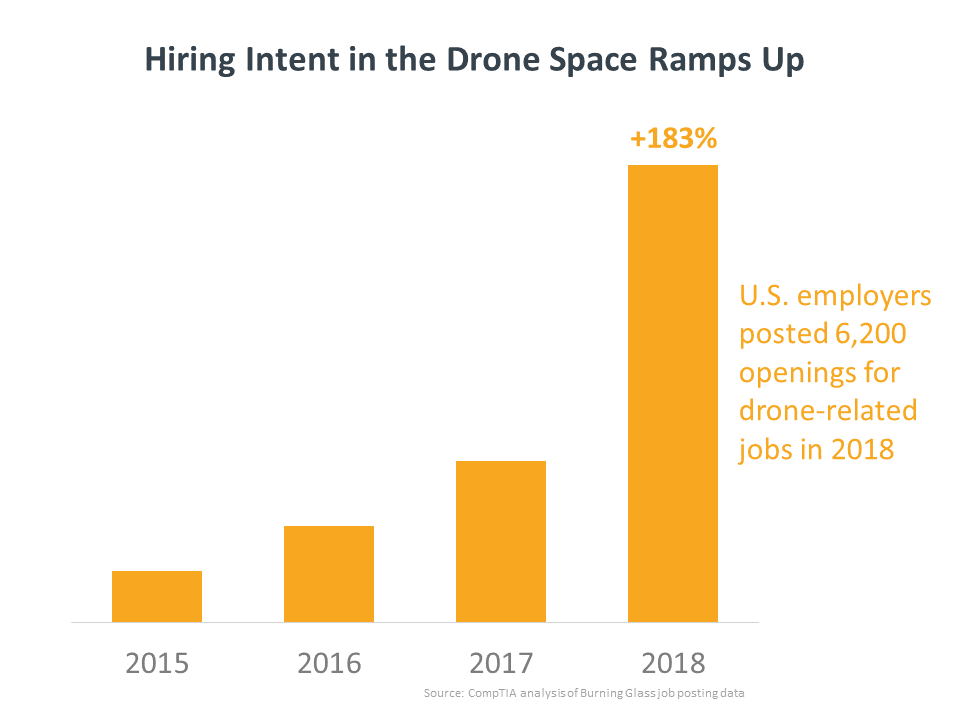 The demand for drone-related professionals continues to increase, but supply is not meeting the needs of the industry.
We wanted to get a better understanding of the Drone Market Report as well as how professionals will be able to leverage the insights it contains. To do so, Commercial UAV News was able to sit down with Annette Taber, CompTIA's senior vice president of industry outreach, to explore the data and discuss practical solutions and ideas for the future of commercial UAV.
Danielle Gagne: What is the main goal of the Drone Market Report for CompTIA?
Annette Taber: The main goal of the research is to confirm with data a range of trends identified by CompTIA's Drone Advisory Council. The research captured the dual perspective of enterprise drone customers and drone service providers to gain a better understanding of the dynamic between customer and supplier.
What kind of data did you gather, and what kind of trends were you specifically focusing on?
We were specifically interested in the buying habits of the end user. We were able to get a good turnout with around 600 companies responding to our survey. The basic questions we were interested in answering were: Was demand increasing? Was the industry ripe for partnerships? What were the obstacles in the industry? What skills were needed and where were the skill gaps? How was the market dealing with opportunities? What was fueling change and what was causing delays in progress? We really wanted to understand the customer experience.
What trends have emerged that were surprising? What ones seem to be falling away?
The research indicates that the commercial drone market is maturing and evolving. Increasingly, corporate customers view drone technologies as "another device on the network." This means drone service providers have to contend with expectations beyond just operations and demonstrate expertise in areas such as data analytics, cybersecurity, network integration, and more. The drone-as-a-service model provides opportunities as customers become familiar with as-a-service models with other tech systems.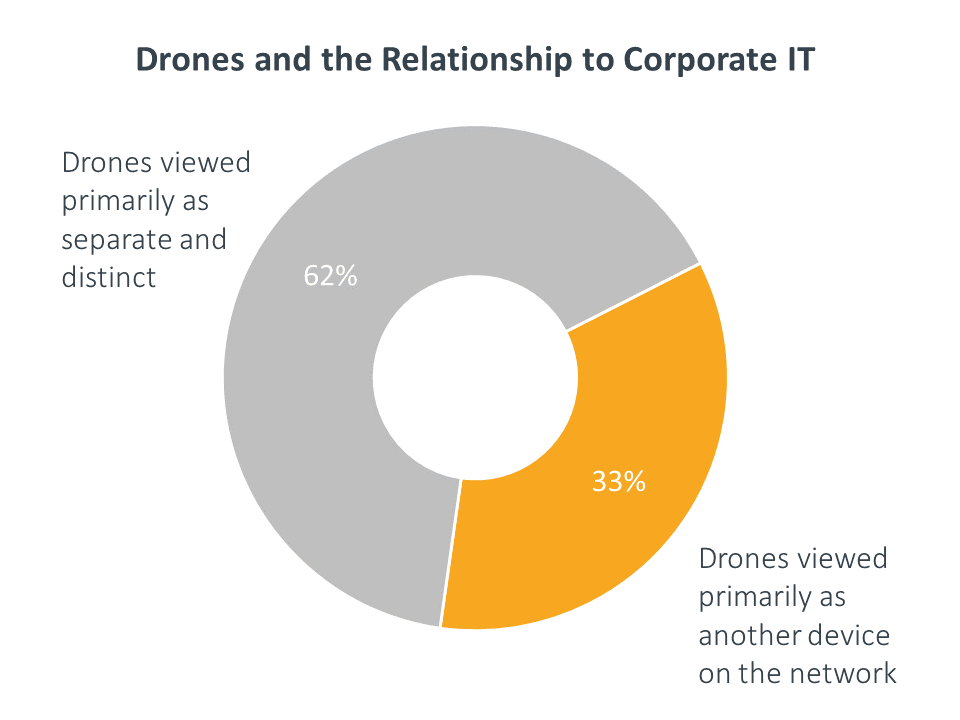 In terms of trends that may be falling by the wayside, we can infer from the research that drone service providers that do not upgrade their capabilities and expertise will face challenges in an increasingly competitive market. Much like the challenges faced by solution providers (SPs) or managed services providers (MSPs) that remained focused on legacy hardware/networks and haven't made the transition to applications, data, cybersecurity, and so on.
Additionally, moving beyond the early adopter customer to a more mainstream corporate customer will require more substantial businesses cases and ROI. In other words, simply selling drones as "cool technology" will not be sufficient for long-term success.
What best practices do you recommend industries take to stay on trend and marketable for 2020?
The Drone Market Report highlights five areas of expertise and competencies that business customers increasingly seek in drone providers. First is data and data analytics. Drones create a lot of data and the ability to analyze and react to trends from that data can benefit businesses and create an advantage in the market. Second is broad-based IT expertise. The ability to integrate drones and data from drones into existing IT infrastructure is a valuable skill. Third is cybersecurity. As more drone devices are added to the network, the ability to protect the devices and data generated becomes paramount. Fourth is software development expertise. Drone technology will be seen as increasingly valuable once market-, industry-, and solution-specific applications are developed around the technology. Finally, there is managed services. Drone-as-a-service can be more accommodating within business budgets and operating models for customers, as well as managed services models where MSPs play.
Given these five areas of expertise and competencies, what do you think is the most important trend for businesses to focus on when looking to attract customers, and why?
Drone technologies are being adopted by businesses of every size, from two to three employee real-estate firms to Fortune 500 companies, and they are offering everything from delivery to surveying services. Third-party solution providers, operators, and independent pilots can be an attractive option for prospective clients who want to limit their investments and focus their scarce technical resources on more mission-critical activities.
In addition, the drone-as-a-service model could be an attractive option for many businesses because of the need for a total end-to-end solution, from scoping the project, to field work, data/analytics, and everything else. Ideally, this plays to the strengths of existing solution providers and MSPs: It's easier for them to find a drone pilot than it is for a drone pilot to develop expertise in all the areas that SPs/MSPs already have.
Furthermore, businesses cited a lack of need as their top reason for not using drone technology. Solution providers need to prove the value and benefits that drone technology can bring to their specific business and use case.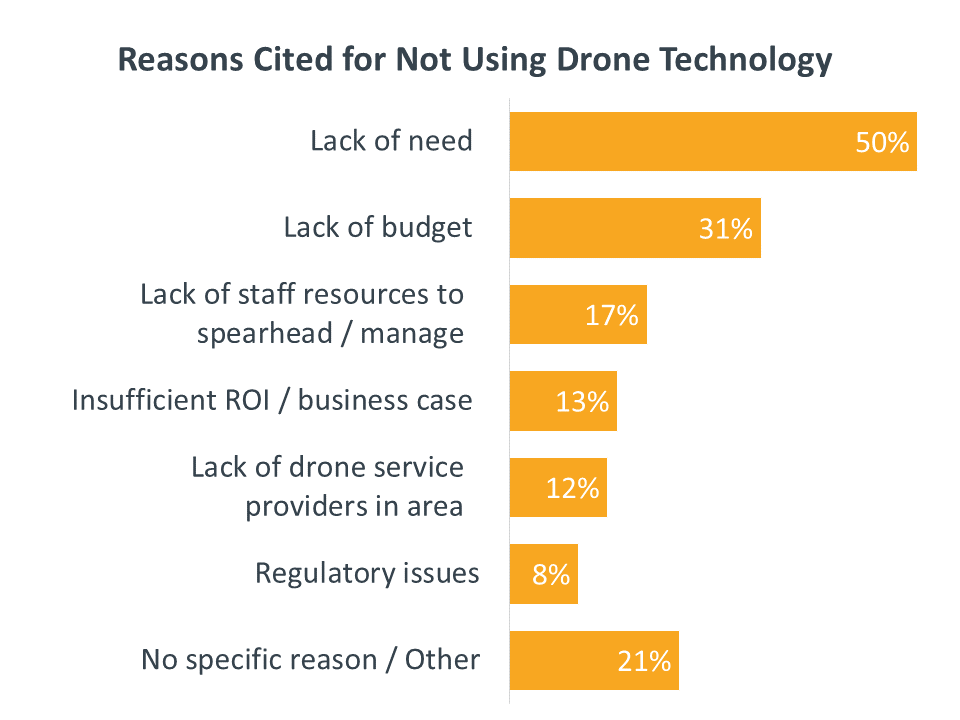 What are some concrete ways smaller firms can develop their portfolio to stay relevant and competitive with larger, more established firms?
As is pointed out in the Drone Market Report, drones sit at the intersection of technology and business. This presents a strong opportunity for solution providers that understand both and can create technology solutions that solve real business problems. For smaller companies or companies that specialize in either the tech side or the business side, look for partnership opportunities that can help you stay relevant. In addition, smaller companies might focus on a unique niche or a solution and look to become the best service provider in that specific space.
Also, in the drone space especially, market vertical specialization is an important differentiator. Based on feedback from Drone Advisory Council members, there are many different facets of working in the agriculture space vs. real estate vs. construction vs. law enforcement and so on. That may be something for smaller providers to attempt to carve out a niche.
Based on current trends, where do you see the technology changing and evolving in the future?
Most importantly, I think the market will continue to grow. I think more businesses will see the benefits of drone technology and I think more companies within the drone ecosystem will continue to find innovative ways to use drone technology. To get there, businesses need to recognize the value that drone solution providers bring to the table, whether that's the solutions themselves, training, security, piloting, or compliance. There will be plenty of opportunity, but businesses need to recognize benefits from drone technology, and they need drone technology to operate in a safe, secure, and legal manner.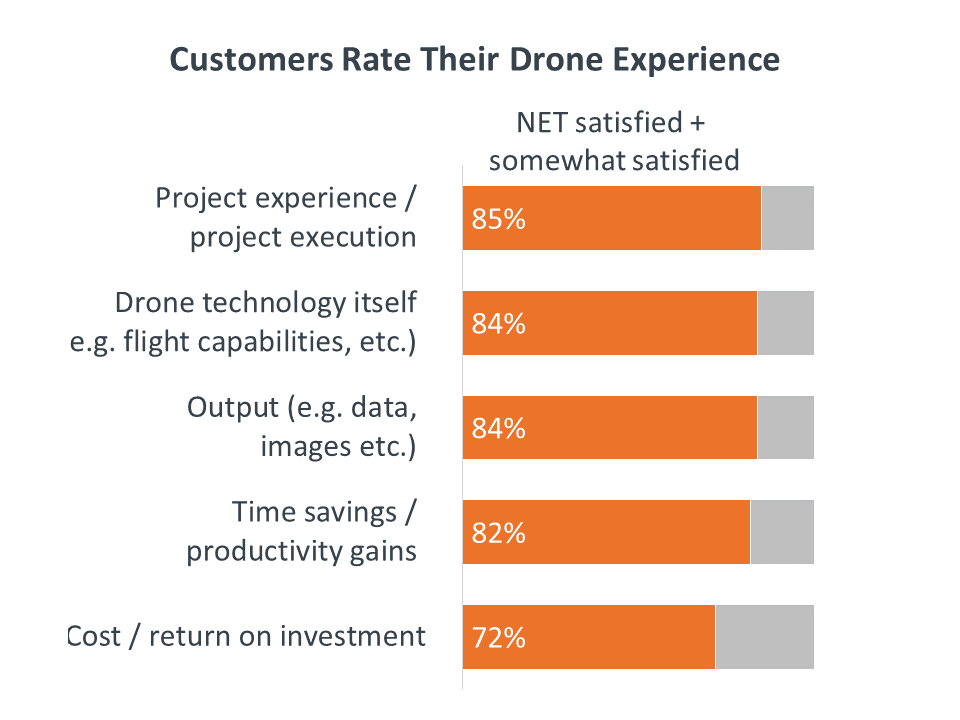 Cusomters rated their experiences with drones as mostly positive in all five fields surveyed. This is helping with industry growth.
As a follow up to the previous question, what are some of the most underutilized UAV features that you think will start to be tapped in 2020?
Some aspects of drone technology are relatively new and use cases are still being created and could be considered underutilized. For example, the intersection of drones and artificial intelligence (AI). AI is being used on the backend to evaluate imagery, for example, and then tag, categorize, and so on. I think we'll see more of that in the future. We're also likely to see more automation in the future.
There are still a lot of concerns about changing government regulations and user buy-in, what are some ways that the drone industry can better address these issues in 2020?
Regulations are not currently in place to allow for UAVs to be used in many innovative ways. The FAA released their Small UAS Rule in June 2016, which limits UAV use to visual line-of-sight, during the day, and away from people. These rules, while a great first step, still prevent UAVs from being used for a number of enterprise purposes.
The best way for the drone industry to address these issues is to continue its effort to develop a drone standard that is preferably developed and maintained by a single NFP (not for profit) entity. When government regulations change, that entity would work with subject matter experts from across the industry and around the world to keep the standard current and fresh. While the FAA's Part 107 justifies a candidate for commercial drone pilot status, we believe the drone industry can develop a program with much more rigor, including a comprehensive practical exam and high-stakes certification with the ability to bolt on cybersecurity credentials based on the pilots mission whether that be agriculture, critical infrastructure, or top secret.
To do this, the entity might seek capstone partners, influential organizations worldwide who are willing to demonstrate their commitment to the standard by investing in its development. This would solidify the industry behind a single protocol and drive adoption by vendors, key influencers, and end users, including government agencies and academia. This can be done in a multitude of ways similar to the IT industry, for example, by having vendors incorporate the certification as a requirement for a tiered partner program, or maybe a particular product is so complex or high end that it requires a product authorization to be purchased. Let's say a vendor might require a DSP to have X number of pilots who are industry certified to attain a specific level in their partner program. Once adopted, DSPs will want to seek the credential as a differentiator. End users, in particular larger enterprises, will eventually want pilots with both the Part 107 and the industry credential. This will bolster their confidence with safety, security, and data protocols related to cybersecurity threats.
Can you give us some examples of ways CompTIA is advocating for the drone industry?
We have a policy team on Capitol Hill, but they are more focused on cybersecurity and workforce development among other important issues for the broader tech industry. While our policy team is not specifically focused on drones at this time, it's not to say we won't be in the future. Right now, we feel AUVSI and others have more expertise in this area.
But, CompTIA supports policies that enable, rather than hinder, the use of UAVs and advocates for risk-based regulations which will allow for the safe and expedited integration of small UAVs into the national air space. CompTIA advocates for a federal solution over state level laws that have the potential to create a complicated patchwork of laws that may erode, rather than enhance safety. We urge lawmakers to leave the regulation of U.S. airspace to the FAA and work closely with the state agencies to address specific state concerns.
Other ways CompTIA is advocating for the drone industry is around workforce development and the business of technology. Our mission is to drive the adoption of emerging technologies into mainstream business and we do that through the work of our Communities and my specific area of responsibility, our Industry Advisory Councils. Our Drone Advisory Council recently suggested that CompTIA get involved in the Request for Information (RFI) recently issued by the FAA as part of its Reauthorization Act, which is focused on the development of a knowledge test for the estimated 800,000 recreational drone pilots in the United States. There are many firms who are in the early stages of responding to this RFI, and CompTIA is one of them. Our council members are guiding CompTIA as we enter the drone industry. They are working with our staff on industry initiatives as well as representing CompTIA in media articles, at industry events, hosting webinars, podcasts, and more.
Separate from this, we have been approached by key industry players asking CompTIA to develop a high stakes certification for commercial drone pilots, and so this is currently under consideration and assessment. As you may know, CompTIA is the second largest certifying body in the world behind Microsoft. We have about 15 certifications with over 2.5 million certified alumni worldwide, and over 100 employees on staff to build, sell, and market them globally. Some of our largest customers are world governments and universities. Did you know that 80% of cybersecurity certifications held by the DoD and other government agencies in the United States come from CompTIA? We are in the process of assessing the viability of building a high-stakes global drone certification. One that would likely include bolt-on credentials of our various cybersecurity certifications, based on the pilot's mission or focus area, whether that be agriculture, real estate, construction, critical infrastructure, or top secret. With the help of industry SME (subject matter expert) groups from around the world, we would build the standard, including the training and courseware needed to pass the certifications, should we decide to move forward.
Finally, we have recently launched a virtual Drone Forum, which will initially meet every other month to start. We are looking to support this growing community with an interactive engagement platform to allow folks to post articles, discuss and debate topics, and take advantage of the many resources CompTIA offers, including our Drone Standards, Drone Research, Webinars, Podcasts, Infographics, and, down the road, our training and education. Keep in mind this is mostly focused on DSPs and how to have a successful drone practice, however, we are embarking on a full curriculum for Drone vendors on finding new routes to market, including how to build a channel, channel programs, compensation models, and more.
If there is anything you want people to know about CompTIA and the Drone Market Report, what would that be?
CompTIA is committed to the drone market. This Drone Market report will be the first of many, which will allow us to identify and share trends over time. We've got many more resources around the UAV market, including as mentioned our new Drone Forum, drone standards, our Drone Advisory Council, and our Emerging Technology Community. We are active at many drone events and are very excited to provide drone solution providers, operators, and pilots with the resources and tools they need to help grow their businesses. CompTIA is 95% self-funded by our certifications, so while we'd love to have our drone partners join CompTIA membership to take advantage of our many benefits, we don't necessarily rely on membership dues or sponsorship opportunities to provide value and relevance to the industry. Everything we do is altruistic in nature. We're here to serve the industry, which is why much of our content is in front of our firewall. We take direction and guidance from our members. We have the resources to do big things and we're here for the long haul, so visit us at www.comptia.org to learn more.