While topics related to Unmanned Aircraft Systems Traffic Management (UTM) systems and U-space have been a major part of both Commercial UAV Expo Americas and Commercial UAV Expo Europe, a new connection for these events to Amsterdam Drone Week has enabled such discussions to be highlighted in a whole new manner. The Advanced Air Mobility Summit that was part of the conference program for the Commercial UAV Expo Americas event highlighted the benefits that these connections can enable in the short and long term.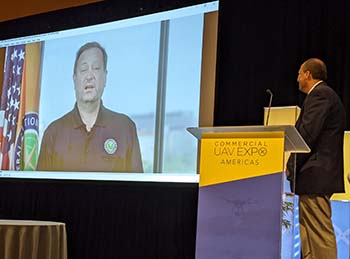 Moderated by Arjun Garg, former Chief Counsel and Acting Deputy Administrator of the FAA and a current partner at Hogan Lovells, the session opened with a message from Jay Merkle, Executive Director of UAS Integration at the FAA. He talked about the agency's commitment to maintaining the safety of the airspace no matter the type or size of aircraft that enters it and specifically mentioned that AAM and drones are not the same. He also talked about how the FAA is focused on taking their lessons learned from UAV/UAS and applying them to AAM.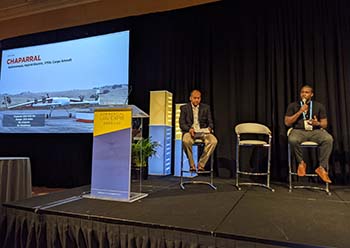 From there, Garg welcomed Clint Harper and Kofi Asante to the stage. Harper is a Los Angeles Urban Air Mobility Fellow while Asante is the VP of Strategy and Business Development at Elroy Air, and their contrast of AAM use cases was explored in detail. Harper's organization is exploring how these vehicles can be integrated into established urban ecosystems while the Chaparral vehicle that has been developed by Elroy Air is designed to autonomously operate in locations that can be far more remote.
Harper mentioned his desire to improve the quality of life of the people in his community as the reason he's so focused on figuring out what it means to integrate this new technology into the city, while Asante talked through Elroy Air's mission to expand the reach of express logistics. While both are approaching the integration of the airspace from different perspectives and in different environments, each had a lot to say about the biggest challenges for AAM being similar.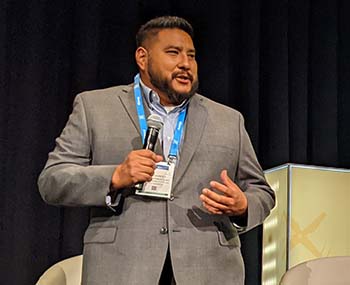 After taking audience questions, Harper and Asante departed the stage as Garg welcomed Amit Ganjoo, Parimal Kopardekar (PK), and Andrew Giacini. The three explored their vision for AAM that are as much about technology as they are about cooperation, with specific connections to regulation. Where and how these elements needed to line up and overlap defined their conversation.
Ganjoo is the CEO of ANRA Technologies, whose company is focused on technology that solves a near-term problem but also addresses long-term airspace issues in an incremental way. He talked through the air traffic management challenges that AAM presents while focusing on the approaches and solutions that will resolve these challenges.
PK is as known as he is respected across the industry thanks to his commitment to enabling a UTM system for drones. As the Director of NASA Aeronautics Research Institute (NARI), PK is at the forefront of the agency's efforts to conduct critical research and development that defines aeronautic system requirements and operational methods. He provided an overview of NASA's support in developing the building blocks of the AAM ecosystem and also detailed how the agency would change and evolve as the sector matures.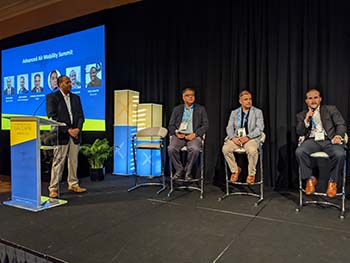 Skyports design, build and operate passenger and cargo vertiports with the goal of enabling safe and efficient flight operation within urban and suburban environments. As the Regulatory Affairs Lead for Skyports, Giacini is focused on developing and implementing Skyports regulatory strategy and technical requirements to enable the integration of AAM. As part of the AAM Summit, he talked about the current standards associated with vertiports as well as the various funding sources that developers are planning to utilize.
From there, the three discussed various topics that Garg and the audience threw out to them, including what it would mean to provide open versus exclusive access to vertiports as well as who will and should ultimately control AAM air traffic. Each had a lot to say about the challenges associated with developing the supporting ecosystem in parallel with developing the aircraft.
The Amsterdam Drone Week team put together a preview of this panel, which is available to view here, but many more insights were shared as part of the live session. AAM ecosystems will ultimately change cities, impact the way we travel and redefine the airspace as a whole, highlighting why the next steps for AAM that are set to be the main focus at the upcoming Amsterdam Drone Week are so important to consider. Making this technology make sense across the entire world can only happen when a framework for doing so gets put into place.
To learn more about how AAM will be further explored at upcoming events, please take a look at the Amsterdam Drone Week or Commercial UAV Expo Europe conference programs.