For years we have been talking about adding unmanned aerial vehicles (UAVs) and air taxis or advanced air mobility (AAM) to the national airspace (NAS) but there are a few constraints that prevent these two nascent technologies to join their manned counterparts over controlled airspace. One of these restrictions is the fact that we cannot operate these unmanned vehicles in our skies by adding their management to the current air traffic control (ATC) infrastructure. Unmanned aircraft, especially UAVs, will have to have an independent unmanned traffic management (UTM) system and will coordinate with ATC but will not be dependent on it.
Since 2018, SkyGrid, a joint venture between SparkCognition and Boeing, has developed and deployed UTM technology that aims to accelerate the massive acceptance of unmanned platforms in the NAS. Last week, SkyGrid announced it has been selected to participate in the National Aeronautics and Space Administration (NASA)'s Advanced Air Mobility National Campaign.
SkyGrid is one of only a handful of private enterprises and institutions that have been selected for a Space Act Agreement to work with NASA to define and develop the future of AAM. SkyGrid is scheduled to participate in National Campaign-1 (NC-1) by developing future airspace system capabilities based on its AerialOS platform. NC-1 will include flight demonstrations and simulations at test sites around the country over several months in 2022.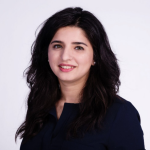 In order to obtain more details about the announcement we reached out to Zehra Akbar, Vice President, Strategy & Operations at SkyGrid, for an exclusive interview about their technology and the reasons for NASA's selection.
"For two years now, SkyGrid, the joint venture between between Boeing and SparkCognition, has aimed at enabling a smarter airspace management system in order to fill gaps unaccounted for in conventional UTM solutions" Zehra explained. "Unless we figure out how to integrate unmanned platforms into an already crowded airspace without involving (ATC) the promise of drones and air taxis is never going to materialize."
NASA, the Federal Aviation Administration (FAA), academia and the private sector are actively engaged in the issue of traffic management in the NAS in order to facilitate the incorporation of unmanned vehicles, but most approaches are using technologies that do not give the regulator the confidence for autonomous operations.

"Our approach is unique, using artificial intelligence (AI) and Blockchain, we are working to produce a truly effective traffic management system that would allow for conventional operations without adding workload to existing ATC," Zehra said. "SkyGrid is now bound to collaborate with NASA addressing pressing safety and integration challenges necessary in the development of aviation markets for passengers and cargo."
Most UTM companies today are exploring the use of ADS-B (Automatic Dependent Surveillance & Broadcasting) and many other existing technologies to accelerate acceptance. SkyGrid's approach is different by focusing on inflight deconfliction through the use of AI, in addition to ADS-B. SkyGrid is also in partnership with Raytheon.
"We are focused on developing solutions that will reduce the burden on human operators for day-to-day operations of these non-traditional aircraft. That is critical to creating an ecosystem that can scale," Zehra said. "We have been talking a crawl-walk-run approach to testing UAM solutions and given our success, we can safely say that the day is approaching when these platforms will be mainstream."

"In order to achieve this goal, SkyGrid is focusing on critical operational challenges such as inflight strategic deconfliction, interoperability among non-traditional vehicles, trajectory planning and urban infrastructure," Zehra concluded. "Only by cohesively addressing the numerous pieces of the UAM puzzle will we be able to tackle the incredibly complex task of mixing manned and unmanned aviation over controlled airspace."
It is encouraging to see how these collaborations between government agencies and private companies, are advancing the cause of the full deployment of these unmanned vehicles that will eventually become part of our daily lives.
To learn more about how SkyGrid's platform is helping the energy and utilities sector with airspace management, join our upcoming webinar, "Five Ways Drones Are Being Utilized in Energy and Utilities," on August 5th at 9:00 AM EDT. You can watch it live or get the on-demand materials sent to you by registering here.