On August 1, we published an article about an exciting partnership between the English satellite company Inmarsat and the Catalonian airport Lleida-Alguaire to advance the cause of uncrewed aviation in Europe.
In that first instalment of this two-part series, we focused on the Inmarsat angle and how their technicians were looking for a place to test their innovations and adequate premises to try new methods for a potential safe integration of crewed and uncrewed aviation to the satisfaction of the regulator, in this case the European Union aviation safety agency (EASA).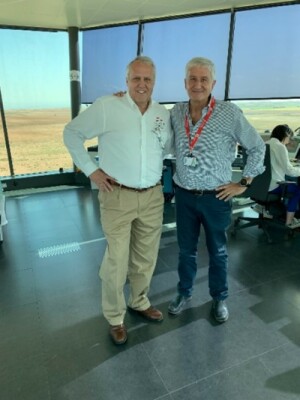 Now, in this second and final instalment, we would like to focus on the airport side of the collaboration effort. For that, we traveled to this beautiful region of Spain, located in the northeast portion of the province of Catalonia, Spain, where we met with Antoni Serra i Regincos, Director of the Lleida-Alguaire airport.
"We want to be the reference point for all aspects of this new aviation and for that we have embarked in an aggressive campaign to offer as many services as we could to all companies, worldwide, which need to test their new technologies," Antoni said with enthusiasm. "We offer state-of-the-art premises where companies can test their new technologies, from rocket engines to flying taxis our remote location and the lack of any close population centers, allow our partners to engage in pretty noisy affairs without complaints; perfect for rockets!"
From the control tower, we had a very comprehensive view of the vast area of installations of the airport and the imposing 8,200 ft runway.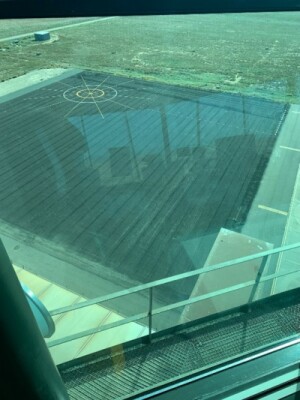 "Right under the tower, we have enabled the initial vertiport infrastructure," said Antoni, signaling a large black tarmac area underneath the control tower. "This was part of the requirements from the Inmarsat agreement for the testing interference with existing installations and communication protocols. We deliberately located the vertiport as close as possible to our antennas and critical communication's infrastructure to make sure that no uncrewed vehicle approaching the installations will have any negative effect of air traffic control and interfere with crewed operations."
The Lleida-Alguaire airport is also aiming at becoming a platform for the horizontal launching of small satellites into low orbit. All these activities paint a clear picture of a conventional installation determined to become the bridge between traditional aviation and the new frontier of new and exciting ways to take to the skies.
"We are host to a flying school, a regular passenger airline, an aviation mechanics' training center, an aircraft storage area, and an industrial retired aircraft disposal facility amongst other disciplines," Antoni said with pride. "So, we are well equipped to bring to the table almost every aspect of aviation that can interfere with uncrewed operations, and that's why our partnership with Inmarsat is key to demonstrate to the various regulators around the world that these joint operations can be performed safely. If there's the slightest interference with crewed operations, we will have the data to understand the problem and correct it for future deployments."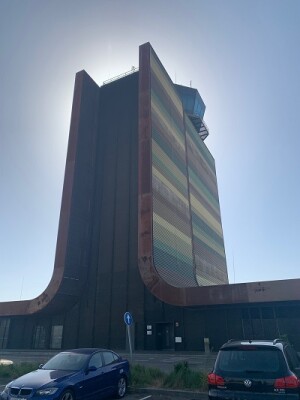 The Lleida-Alguaire airport is definitely the right place to conduct uncrewed operations in an environment where crewed aircraft are present but in quantities that are easy to control and presents no harm to the flying public or people on the ground. In a partnership with Ferronats, a British-Spanish initiative to provide private control tower services, Lleida-Alguaire is uniquely equipped to handle integration issues with less bureaucracy and without compromising on safety.
"Our partnership with Ferronats allow us to be more independent without compromising safety and at the same time expedite tests while conducting our daily routines," Antoni said. "We have an agreement with Ehang, an air taxi company which is ready to begin testing their autonomous vehicles in a real airport environment while we are conducting simultaneous operations that might include students on single engine planes, passenger jets arriving and departing and aircraft arriving and departing for various other uses. We are uniquely positioned and equipped to be the ideal testbed for uncrewed operations and how they can coexist with traditional aviation."
Given how close we might be to a beyond visual line of sight (BVLOS) regulation in the USA, these tests are key to demonstrate that the technology exists to allow for crewed and uncrewed aircraft to operate from conventional airports in harmony and safety.