Ever since I began writing about the fascinating world of uncrewed aircraft, I was surprised at the lack of knowledge of this new generation of flyers about traditional aviation, especially the airport environment. Most accidents in commercial and general aviation happen during the low and slow phases of a flight, in other words, closer to the place of departure or arrival, also known as airports.
Because drones do not need airports, most uncrewed aircraft vehicle (UAV) pilots became proficient in the operation of their crafts without ever setting foot on such a crucial part of the aviation puzzle. This disconnect might be the origin of some of our huge misconceptions and misunderstandings when trying to integrate crewed and uncrewed aircraft in the national airspace (NAS).
How can we integrate and operate simultaneously in such a high stakes environment when we do not even talk the same language? Part 107 came to solve some of these issues when it forced drone pilots to learn the language of crewed aviation, weather, Notice to Airmen (NOTAMs), and a better understanding of the airport environment.
Some UAV-focused companies such as Iris Automation, which are led by pilots, have made a concerted effort to bring the language of traditional flying to this new generation of enthusiasts. They are contributing to closing the gap between crewed and uncrewed aviation.
Now a satellite company with a deep interest in the development of uncrewed traffic management solutions (UTM) has reached the next level by partnering with an airport system to fully understand how these technologies will interact in the most delicate aerial ecosystem.
Inmarsat, a London-based satellite company, has reached an agreement with the Government of Catalunya in Spain, to transform Lleida-Alguaire Airport into a European center of excellence for advancing Air Traffic Management (ATM) and Uncrewed Traffic Management (UTM) innovation.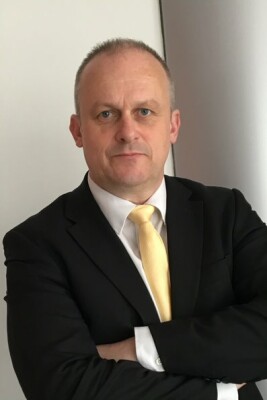 We reached out to Mark ter Hove, Senior Manager of AAM at Inmarsat, for a fascinating conversation about the development of a technology that would enable the full integration of crewed and uncrewed aircraft in the vicinity of airports.
"We were looking for the right airport in Europe to serve as our testing grounds for the development of an integrated air traffic control (ATC) system that can handle crewed and uncrewed aircraft without adding extra workload to controllers," Mark said reflectively. "Situated approximately five miles from the city of Lleida, Lleida-Alguaire Airport is making its runway, full aerodrome and air traffic control services available to Inmarsat's ground-breaking advanced air mobility research programs and their level of crewed activity is perfect for these tests. Our mantra will 'Innovate, Demonstrate, Validate and Replicate.'"
With recent estimates anticipating 40 times more commercial (UAVs) will be flying beyond visual line-of-sight (BVLOS) by 2030 than commercial aircraft, this partnership stands to make a significant and positive contribution towards alleviating the future air traffic capacity crunch.
"At Inmarsat, we already operate a reliable network of communications satellites using L-band spectrum called ELERA, used extensively across the globe for a wide variety of purposes including air traffic management. Now we're starting tests to combine this with terrestrial mobile technology to ensure uninterrupted connectivity, including in areas of developing high demand, that will deliver high-capacity links for uncrewed aircraft operating in urban areas, supported with the provision of highly reliable L-band satcom and terrestrial coverage. This ensures redundancy so that connectivity is constant when operating in areas of poor coverage on one network or the other, which is vital for safe operations," Mark said enthusiastically.
"This multilink approach—which will also be combined with a small, focused low Earth orbit satellite constellation as well—is called Inmarsat ORCHESTRA. Among many other benefits to numerous industries, it will provide the bandwidth boost that will help civil aviation authorities worldwide adapt to this rapid rise in traffic. For example, by using artificial intelligence and automation within air traffic management operations to manage uncrewed traffic by exception it will not need the dedication of scarce resources to follow every flight," Mark explained.
With significant advances being made by the Advanced Air Mobility (AAM) and Urban Air Mobility (UAM) communities, the near future will see a significant increase in the demand for available airspace. AAM and UAM aircraft will operate where drones are operating in low altitude whilst at the same time flying at higher altitudes where manned aviation typically resides. UAM aircraft in particular are likely to be dual capable—operating in both a UTM environment while simultaneously transiting through managed airspace.
This demand will see a challenge for Traffic Management organizations; how do they deal with the increased volume of traffic whilst remaining cost efficient. The answer is likely to be found in the application of the Internet of Things (IoT) where only if a deviation from plan is detected (for example, anomalies of speed, direction, and time) that this will trigger "management by exception policy." Inmarsat's ORCHESTRA mesh network allows for a constant exchange of information over the most appropriate and stable link available at the time, applying System Wide Information Management (SWIM) ensures the sharing of critical information between automated safety systems.
This collaboration is just one element of an Inmarsat effort known as Velaris that includes a suite of satellite enabled services from UTM safety applications to video transmission.
"What we are trying to do at the Lleida-Alguaire airport is just the first step towards a more widespread policy of introducing the concept of 'Drones for Good' by enabling delivery of life-saving medicines and the timely dispatch of public safety unmanned flights," said Mark with conviction. "By proving to the general public that drones are here to contribute to the wellbeing of the community we are accelerating the eventual deployment of UAVs as a mainstream technology."
With regards to the specific goals of the project, Mark was clear on the initial objectives of the partnership.
"We want to do two specific projects a year," he said. "In Q1 2023 we will have our first deliverable, and we'll continue launching and delivering projects until we have proved our point that drones and crewed aircraft can coexist in a busy airport environment with enough safety protocols in place to merit expansion to other airports."
The beauty of the Lleida location as a test site is that it contains all the elements of a typical commercial airport, including an 8,000-foot runway, precision instrument approaches, and a busy schedule (mostly flight training and general aviation flights), but, at the same time, it does not have commercial operations with passengers, thus reducing the risk of exposure to the flying public.
We also reached out to Jordi Candela, CEO of Public Airports of Catalonia, for his views on the partnership with Inmarsat.
"The agreement signed with Inmarsat cements the Lleida-Alguaire airport as an innovative platform for urban air mobility," Jordi said with conviction. "We have created the right conditions for the design and testing of non-traditional aviation in the context of a conventional airport environment. Crewed and uncrewed aviation will have to coexist in the two most critical phases of flight, when landing and taking off, so these are the two moments that we must examine and clear more carefully, and the Lleida-Alguaire airport infrastructure that we have created is the right place to do so."
I believe this effort of combining an ultra-sophisticated communication protocol to manage uncrewed traffic in a traditional airport is so important, that I will travel to Spain in October to see for myself how the integration is progressing and that will be Part 2. Stay tuned.