What drove the thinking behind the recommendations made by the BVLOS Advisory Rulemaking Committee (ARC)? How were disagreements between members settled? What specifically did the FAA want and need to hear from it?
Those were the essential questions that were asked and discussed by various members of the BVLOS ARC at the recent edition of the FAA Drone Symposium. While we've already detailed why the recommendations of the panel were long overdue, the Drone Symposium panel provided attendees with additional context around how these recommendations took shape, what drove specific suggestions, whether or not there was consensus on certain elements, and much more.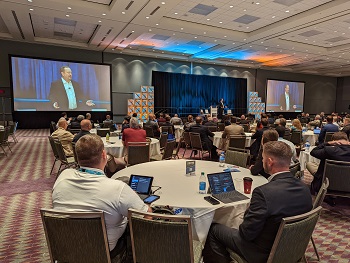 Jay Merkle, Executive Director, UAS Integration Office at the FAA, kicked off the panel to explain that the FAA has moved away from being singularly focused on one BVLOS rule. Now embracing the concept of having distinct requirements that are related to specific BVLOS operations, he mentioned that the FAA was no longer pushing to have "a single rule to rule them all."
What's in scope for these rules are long-line linear infrastructure inspections, industrial aerial data gathering, small package delivery, and precision agriculture operations. What is not in scope of the ARC are aircraft or operations carrying passengers or crew, the integration of operations for which ATS are being provided, and operations that are under positive ATC control.
Co-moderators Eileen Lockhart from Spright/Air Methods and Sean Cassidy from Prime Air explained how the ARC was a dynamic group of individuals and stakeholders, including members from academia, state and local interests, UAS associations, UAS manufacturers, and more. All told, there were representatives from 87 organizations, plus 40 or so government observers. All meetings were done remotely, impacting how conversations and recommendations took shape and what it meant for people with very different perspectives and goals to come to a consensus.
"When you're talking about a topic with as much scope as we had, it's inevitable that you're going to have disagreement," Cassidy mentioned. "We knew we wouldn't have 100% consensus but we still wanted to make sure everyone had a voice and were able to participate. The majority agreed on most things."
The ARC was focused on creating a model that would show how all of the different airspace models were interrelated. This model would showcase how so many different and discreet activities intertwine with each other. BVLOS regulations will ultimately be focused on safety but the eventual rules must factor in considerations related to these different models to create a blend of mitigations that achieve an acceptable level of risk.
The group put a great deal of effort around finding ways to compromise when it came to specific considerations like ensuring that operators have the appropriate level of training and about the use of sensors and what data was being captured. Many assumed those disagreements led to the most controversial elements of the final BVLOS ARC report related to things like UTM services, but ARC members mentioned that such feedback is both untrue and disheartening.
"It frustrates me that so much attention has been put on the few pieces that were controversial," said Jim Williams, FAA Regulatory Affairs Director, AURA Network Systems. "Should we recommend mandatory UTM services similar to what Europe is doing with U Space? There was feedback about the benefits of doing so but the safety and economic cases need to be made now, and we couldn't see it. We said it's going to get there but the FAA needs to define at what point the safety and economic ramifications will take shape. We said that right now, it would be difficult to justify a rulemaking on that."
Those practical considerations were at the heart of how members made their arguments. While this diverse group of stakeholders would always have specific goals and perspectives, they were singularly focused on providing a pathway to the benefits that the technology represents to individuals, organizations, and society as a whole.
"We're here because we recognize the social benefits of this technology," said Lisa Ellman, Partner at Hogan Lovells and Executive Director of Commercial Drone Alliance. "We didn't want to just understand what the industry needs but to define why it needs it. Why is the FAA chartering this? Why are we here? It's about democratizing aviation. There are lots of benefits but we want you to understand that this is just the first step. All of us need to educate the FAA and other stakeholders about the benefits. We all need to participate in the various opportunities in order to specifically define these benefits."
Every member of the panel provided meaningful feedback, with Dallas Brooks, Aviation Regulatory Lead at Wing, mentioning that the key was not holding up the rule. Having the ability to phase your way into these capabilities is essential, because otherwise the time frame could be as long as a decade, which makes it untenable. Trevor Woods, Executive Director at Northern Plains UAS Test Site, explained in detail why considerations related to acceptable level of risk (ALR) took priority over TLS (Target Level of Safety).
Being able to preserve as much of the existing system as possible was another topic that came up as a talking point, which ARC members thought was important on multiple levels. On a practical aviation level, every major implementation of technology has allowed the airspace to get safer, showcasing why members were so focused on integration. Doing so eases logistics from a training and administrative standpoint as well. This focus on practicality was top of mind for members who want to get drone technology into the air as quickly as possible without making the airspace less safe.
"Our focus was to not compromise safety but instead put the onus on manufacturers to commit to building standards that create a framework for aircraft systems and qualifications," said Jenn Player, Director of Regulatory Affairs, Skydio. "Can we make things more streamlined? Can we use less resources while not compromising safety? It will be on us to build safe aircraft in a way that goes beyond type certification. We don't need to clutter that with unnecessary barriers."
Removing barriers is exactly what BVLOS ARC members have in mind when it comes to changing the currently onerous exemption and approval process that has prevented scaled drone operations from taking shape. The FAA has not moved away from this process due to the safety implications but ARC members detailed how their recommendations aren't about compromising safety but instead reconsidering what it means to maintain it. With lower segments of the airspace being populated by drones, the overall safety equation needs to be rebalanced rather than totally restricted.
That concept goes back to right-sizing the requirements to the risk continuum that the ARC was tasked to define. Making recommendations that build on what's working now while also being actionable and inclusive in terms of next steps was a top priority. That's something that can be seen with current regulations related to cargo, which won't be discarded but will need to change.
"The current regulations make certain assumptions about cargo being carried, and when you think about a drone, the limitations are going to be far more significant," said Okeoma Moronu, Head of Aviation Regulatory and Legal Affairs at Zipline. "So we tried to extend what had been elsewhere to right-size what's in the commercial drone space."
Moronu connected the effort to do so back to how the ARC views the airspace as a national resource, which meant that the rules they recommend need to serve the broader community. Lisa Ellman mentioned how enabling these sorts of green solutions in lieu of fossil fuels are further serving communities in the present and future, with such sustainability issues becoming more and more prominent in the drone industry.
Other topics related to international feedback, the different rules that people train under, and how lessons from Part 107 impacted the recommendations were also discussed by the participants. Each provided incredible insights around how the full 222-page report was assembled, as well as what drove the five key recommendations of the ARC. The framework to create a safety-based, risk-based approach to enable companies to scale drone operations now exists, thanks in no small part to the approach that ARC members took.
"We believe the rules we proposed are as simple, basic, and inclusive as they could have been," said Todd Graetz, Director, UAS Program & Machine Vision Systems, BNSF Railway.