Warren Community College (Warren), which already boasts one of the premier Unmanned Systems (drones) programs in the country, is about to get an even bigger boost.
In a joint statement, NJ Governor Phil Murphy, along with Acting Commissioner of Education Dr. Angelica Allen-McMillan and Secretary of Higher Education Dr. Brian Bridges, in June announced that Warren was one of nine community colleges in the state to be approved for a Securing Our Children's Future Bond Act (SOCFBA). The grants are intended to fund the enhancement of career and technical education (CTE) in county vocational-technical school districts and county colleges.
Warren will use the funds to renovate and expand its space at the College's Phillipsburg Education Center in support of its nationally recognized drone program. The program, which began just a few short years ago, has garnered a host of national certifications including from the FAA.
When completed, Warren will have the ability to more than quadruple the size of the UAS program as enrollment demands increase. It will also offer a pathway for students between the college and Warren County Technical School, located next door to Warren's main campus in Washington Township as well as enhance its outreach to public service agencies, local hospitals, the county, and law enforcement.
"This grant in essence allows us to prepare for the future in a field that has boundless potential," said Dr. Will Austin, President of Warren, the college's Chief Pilot and AUVSI TOP Remote Pilot Instructor, and the author of the successful grant application. "Already our students have benefited from the program in myriad ways and we anticipate that this is really just the beginning. The expansion will allow us to grow as more and more people will want to get into this field on the ground floor."
Through the grant, the college is looking to create a center of excellence that would also include expanded labs to accommodate work with unmanned ground and sea vehicles, and a robotics classroom. Newly constructed additions to the program will include:
State-of-the-art Flight Simulation Lab;
Geographic Information Systems Lab;
Photogrammetry Lab;
Unmanned Systems Design & Assembly Labs;
Unmanned Aircraft Lab;
Unmanned Ground Vehicle Lab;
Unmanned Sea Vehicle Lab;
Podcast/YouTube Studio;
An Advanced Manufacturing Makerbot 3D Printing Lab;
Unmanned Systems Library; and
A Comprehensive High Tech Virtual Lecture Hall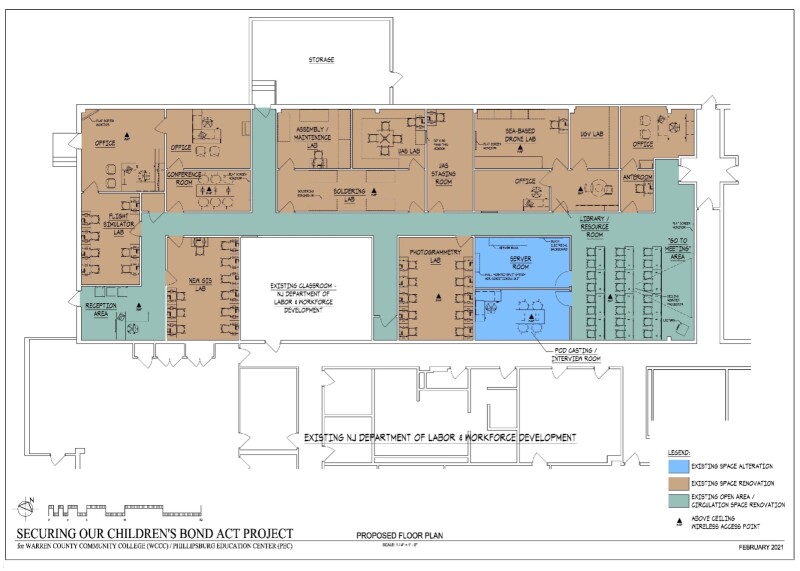 Enhancements to the program include the addition of a fully equipped lab with Arduino, Pixhawk, and Raspberry Pi microcontrollers for programming and unmanned systems builds. Hundreds of thousands for new unmanned systems for students to learn to use, repair, and perform routine maintenance as part of their education. Tens of thousands will be used to procure component parts for students to learn to design, develop, assemble, and repair unmanned systems for all domains. In all, over $500,000 in new equipment to enhance student learning shall be part of the grant's implementation.
"We were able to bring in many significant partners to ensure long-term commitment to the program and student learning. We will add products from partners like Pix4D (Pix4DMapper, Pix4DReact, Pix4DFields,Pix4DSurvey, etc.), ESRI (ArcGIS), UgCS (Atlas & Enterprise solutions), Loc8 SAR, Censys Technologies' Sentaero BVLOS, Verizon Skyward Fleet Management, to name merely a few," Austin said.
In addition to an Associate Degree in Unmanned Systems, a Certificate in Drone Piloting, and a Certificate in Drone Maintenance & Repair, the college can now add degrees in GIS and Photogrammetry and can expand the college's internal research and development capacity. When asked about the future of the program, Dr. Austin posited, "I suspect this is the first of many significant advancements for the program, we are awaiting decisions for millions of dollars of additional funds to continue to expand and enhance this extremely important educational offering."
For students, this will put the most advanced systems, sensors, microcontrollers, components, and control systems directly in their hands for practical learning in their AUVSI TOP flight training center. For Austin the realization of grant funds to enhance technological education is not new, as he began his career as a grant writer.
When asked if there is anything different about the unmanned systems program and the enhancement of this particular program, Austin suggested this significant difference, "In my career I have been fortunate to help start many new degree programs, to fund initiatives with successful grants; the difference is this is the first degree I have been part of that employers offer students positions after a single semester, and more importantly, we have the realistic opportunity to take a student from inquiry, to graduate, to successful career, to witnessing the hardest working students have the opportunity to literally become billionaires, that is how much we expect this industry to provide opportunities to our graduates, and I have certainly never felt that potential in any previous work."
Warren's program, still in many ways in its infancy, has been praised by leaders in the industry and has gained certifications like Trusted Operator Provider (TOP, Level 3) from the Association of Unmanned Vehicle Systems International (AUVSI), and as a member of the FAA's UAS Collegiate Training Initiative. Most recently, Warren was certified by ASTM International, which is part of UAS, as an approved UAS Training Provider (UATPP).