What is the primary objective of disaster recovery? How do public safety officials approach situations that range from routine police calls to wildfires?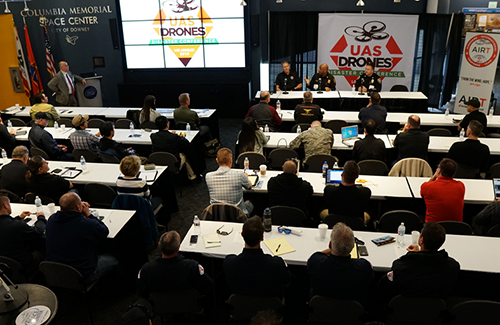 These are questions that public safety officials ranging from firefights to police officers to first responders will answer in different ways, but their replies will ultimately come down to efforts to keep the public safe, keep responders safe, and help get the situation back to normal as soon as possible. At the UAS DRONES Disaster Conference | Los Angeles, public safety officials across all of these departments and more were on hand to explore what it has and will mean to use drones when doing so in a variety of emergency situations.
Given their responsibilities to the public, departments across the United States need to have a keen understanding of drone technology in order to have success with it in these situations. That understanding is best defined by officials and departments that have integrated drone technology into their standard operating procedures and been tested and proven to make a difference.
"Hope is a terrible strategy," said Los Angeles Fire Chief Richard Fields, whose incredibly influential drone program is helping define what the effective adoption of drone technology by fire departments can look like.
Police Applications
The Chula Vista Police Department has approached the integration of drone technology into their SOP's in an especially powerful way, and that has led to them being able to make a real difference in terms of how they react and respond to calls. One of the major points the department is trying to emphasize is that they're able to use the drone in a proactive way, rather than a reactive one. That transition has allowed them to change the paradigm around how they can respond to calls.
"In law enforcement, you'll typically have your least experienced officers initially sent into the most uncertain or dangerous situations," said Chula Vista PD Captain Vern Sallee. "Using the drone, those offices can receive insight and advice from more experienced members of our department."
The Torrance Police Department is also using drones in innovative ways. At the event, a video which showcased how they used their drone to keep track of a suspect that was jumping through backyards during a police pursuit was shown. The drone worked in unison with the helicopter, to the point that the audience could hear the helicopter ask for the drone to swing around for an angle they couldn't quite capture. That suspect was monitored to the point where a police dog could be used to apprehend the suspect. Another video showed the drone finding a suspect, who gave himself up as soon as he saw the drone.
Torrance PD has also received requests from the city to perform tasks that would otherwise need to be outsourced at far greater expense. As an example of how the PD is using their drone to save taxpayers money, their drone has been deployed to monitor for shark activity and inspect a radio tower.
Competence, Collaboration, Communication
When it comes to building UAS programs for disasters, what do you need to know to build a safe and effective program? Years ago, the answer to that question was to buy a drone and figure it out, but that led to some disappointments. Those disappointments have driven active efforts to develop a set of best practices, and also set the right expectations around what can be accomplished with the technology. All of that needs to be tailored to the community where they're being used, which helps establish a baseline around logistics, crew selection and data management.
The importance of data management was explored in great deal at the event, but the critical lesson there relates to a theme that came up over and over throughout the event. That centered on communicating and collaborating with others about drone adoption and not starting from zero with the integration of drone data into established SOPs.
"We're not trying to reinvent the wheel," said LAFD Firefighter Derrick Ward, who uniquely understands the public and commercial impact of the technology. "We've taken what our arson unit has done and are building on it."
Departments cannot build in a bubble. Partnerships and relationships are the keys to making the technology create efficiencies. One of the typical challenges that departments run into is related to how drones can work with an established air operations program, and officials who have reached out to others come away with a better understanding of what that integration can look like. The creation of a successful drone program is ultimately tied to establishing relationships, the sharing of info as well as a safety culture that comes from and is directly related to the history of aviation.
Communication isn't just about internal or department-to-department communications though. One of the biggest challenges public safety officials must deal with is around the notion that they're using their drones to spy on the public. It's why efforts to communicate and collaborate with the wider community and to be transparent and explain what a drone is and isn't doing continues to be vitally important.
A Few More Highlights
- now that the technology is becoming easier to integrate, some departments are exploring concepts around how drones could be used as a dual-asset between departments. If enough of those relationships are put together, then a drone could conceivably be deployed and providing live insights for a situation in any city in a couple minutes or less, which would go a long way to illustrating the power of the technology at scale.
-with many departments trying to figure out what it means for their own personnel to use the technology, you'd think allowing citizens or 3rd parties to support their efforts it would be the furthest thing from their minds, but that isn't the case. In emergency situations, established resources are completely tapped. Numerous legal and logistical hurdles would need to be sorted through before any department could allow citizens to operate drones in emergency situations, but it shows how forward-thinking many of departments have become when it comes to utilizing outside resources when their own are preoccupied.
- the importance of communication and collaboration plays a part in what it means when journalists want to put a drone above a situation. How do many police and fire officials keep news officials from sending drones over all these situations? Most often, it comes down to the relationships they have with those contacts.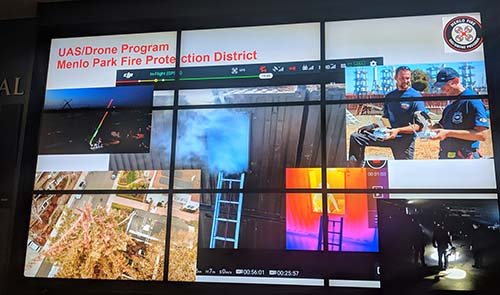 - the LAFD and Menlo Park Fire Departments have been able to utilize drone technology in especially powerful ways, but the genesis of their programs is critical to highlight. They started small and got it right around mundane takes, with an understanding around how all of that could scale to something bigger. They did routine things routinely, and that opened further opportunities. Menlo Park Chief Harold Schapelhouman shared the questions that he asked and answered in the development of his program. His processes underscore the importance of taking action sooner rather than later.
"The opportunity is here right now, so don't let it pass you by," said Chief Schapelhouman.