With an entire section dedicated to the technology as well as a slew of UAV exhibitors, drones were a big part of CES 2019 in more ways than one. While some of the innovations that were showcased at the event were geared toward consumers, the multi-purpose industrial drone from GDU called the SAGA that debuted at the event has been designed for professional applications.
SAGA
is a compact, lightweight UAV that can carry a load of up to 2.2lbs. Capable of reaching ascent speeds of 5m/s and flight speeds of 15m/s, the SAGA also boasts 39 minutes of flight time. These capabilities along with three flight modes (Standard GPS mode, Sports GPS mode and Altitude Mode) can make SAGA a fit for a variety of surveying and inspecting purposes.GDU has been
showcasing new products at CES
for years now, as it was the place where we first heard about the WRJ-D4A and WRJ-D6A. Exactly how SAGA builds on the legacy of these products is a concept we wanted to further explore. To do so, we connected with Mr. Jack Gu, GDU's CTO, in order to find out what makes GDU drones different and distinct, whether or not the SAGA would be a fit in a drone fleet, in what context certain capabilities will be best applied and much more. 
Jeremiah Karpowicz: Tell us a little bit about the kinds of drones and products that GDU creates.
Mr. Jack Gu: Initially GDU was founded to create world-leading folding consumer drones. This idea inspired us to become the first drone company with a foldable drone when we released Byrd. Although foldable drones have become mainstream we still try to keep ahead of the curve. That's why we've developed consumer drones like O2 Plus and industrial drones like SAGA.Additionally, we've realized the importance of payloads when it comes to industrial applications and we want to keep expanding our selection. We already sell various gimbal cameras that have optical zoom and infrared capabilities; we have also designed and manufactured other payloads like floodlights and megaphones. In the near future, we are looking to expand our selection of payloads.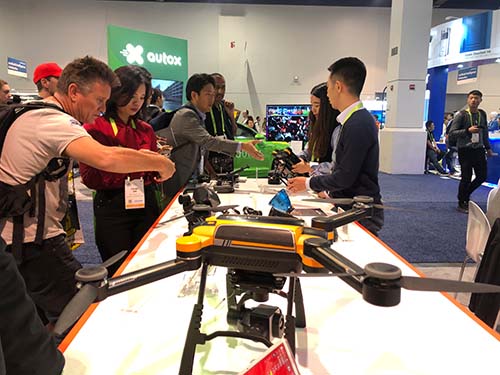 How does GDU differentiate development and priorities when it comes to your consumer and enterprise products?
We are selling both consumer and enterprise products right now but we will prioritize enterprise products in the future. We received great feedback on our new SAGA industrial drone at CES this year and we're excited to bring it to market. There are so many opportunities to support various industries with drones from search and rescue, fire safety, security and much more.
 Before we talk about the SAGA, I wanted to see if you could tell us a bit more about your hardware options. What makes GDU drones different and distinct from what else is currently available in the market?
Modularity is a key element and defining feature to GDU drones. We want our customers to feel that their GDU experience is special. Therefore we want to provide add-ons that emphasize this exclusive experience. Currently, we have a variety of cameras ranging from the regular 4k camera to a 10x and 30x optical zoom camera, and our state-of-the-art infrared camera. Other payloads include a megaphone, floodlight, gas detector, and release canister.
 SAGA is your newest product, designed to be utilized in a variety of sectors. What do you feel are the biggest advantages and opportunities it will create for users?
One of the biggest advantages is its safety aspect for users. With SAGA's transmission distance and long flight time, the operator is kept at a safe distance from any situation whether it's inspecting bridges and powerlines, or even surveying the scene of an accident before first responders arrive. The HD imaging captured by SAGA will allow the operator to save all the data from the flight to be reviewed later. Basically, SAGA will increase the efficiency of a company exponentially.
The product is designed to be utilized for inspections and security purposes, as well as within the construction and agriculture sectors. In what application do you think the SAGA's 39 minutes of flight time will be the biggest factor?
Remote areas. The places that are hard to get to are perfect for SAGA. Not only can these places be difficult to reach but, they may be dangerous too. SAGA's 39 minutes of flight time can remove the distance factor immediately by allowing its operator to work remotely.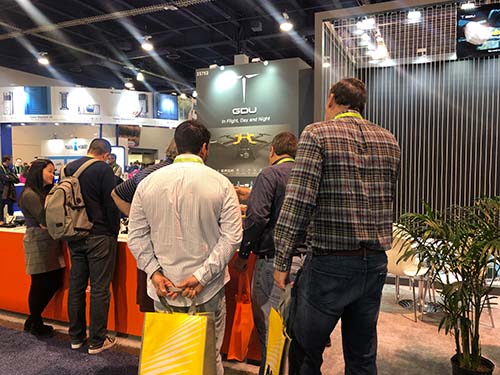 Similarly, what type of user is going to benefit most from the ascent speeds of 5m/s and flight speeds of 15m/s of the SAGA?
Emergency services, we believe, will benefit most from SAGA's ascent and flight speeds. First responders might have difficulty getting to the scene of an accident due to the environment and other dangerous situations. When SAGA is deployed it can quickly fly to the scene and survey, while the operator will be able to view the situation in real time and then report to emergency personnel.
 Would the SAGA be a fit to serve as part of or even comprise an enterprise fleet of drones that are being utilized for inspection or security purposes?
Absolutely. SAGA is a smart drone with HD imaging. Not only will it increase the efficiency for inspection and security purposes but it will also increase anyone's ability to respond to situations quickly.
 If the SAGA seems like it might be a fit for my organization, but I need to learn more about how it would fit into my established workflow and process, what's my best first step to gather more info and answer these questions?
If your organization has more questions about how SAGA can work you, we recommend contacting our sales team at
[email protected]
. If a company comes to us with a specific payload in mind that we don't offer at that moment, we will work with them to develop it.The thing about SAGA is that it is fully customizable; we do not want to sell you a product that isn't tailor-made to your specific needs. Contacting our sales department is the best thing you can do because we want to work with you to see if SAGA is suitable to fix your problem. We are more than happy to answer all of your questions.