North Carolina Governor Roy Cooper declared a state of emergency on September 7, 2018, in anticipation of arrival of Hurricane Florence. The severity of the situation is part of what compelled the North Carolina Department of Transportation (NCDOT) to launch its UAS response well before Hurricane Florence reached the North Carolina coast. The difference the technology made before, during and after the hurricane proved to be substantial.
The difference UAV technology can make during these sorts of emergency situations is evident, since drones provide a unique capability of approaching, hovering, and observing transportation infrastructure from much closer distances than manned aircrafts. Much of the damage Hurricane Florence caused was the result of flooding, and drones were able to help inspect and document the areas that were flooded but were not accessible. They allowed responders to make better decisions about when, where and how to take action.Bob Huber, State Local Tribal (SLT) program manager for the Federal Aviation Administration's Unmanned Aircraft Systems Integration Pilot Program praised the NCDOT team's drone response. "I have not seen such a cohesive, selfless, focused and collaborative team operate the way your team does in quite some time," Huber said.As beneficial as the technology proved to be, it was ultimately used to complement the state's traditional manned aviation response. By coordinating all flight operations with FAA, Emergency Management, FEMA, National Guard and other agencies to ensure there was no interference with manned operations, the NCDOT not only proved how the technology can augment emergency response efforts but also created a model for utilizing drones in future disaster response situations.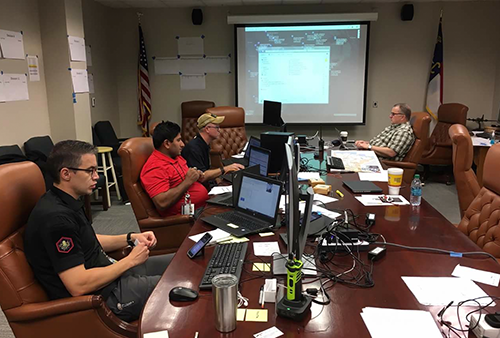 The Planning Before the Storm
The planning around how the NCDOT team was going to utilize drones started over a week prior to Florence making landfall at the North Carolina coast. The team had to prepare for the worst, which meant mobilizing their network of public safety, infrastructure, and UAS experts to support the state's emergency response. They established a command center staffed with NCDOT employees, State Highway Patrol troopers, emergency management staff and private contractors. All of them served as key partners in what was a coordinated effort to respond to Hurricane Florence, which ended up establishing a number of "firsts"."As this was the first time NCDOT Division of Aviation was involved in emergency response using UAS, we decided to run all operations from our Division of Aviation office (DoA)," said Darshan Divakaran, NCDOT's Division of Aviation UAS Program Engineer. "We first established the chain of command to ensure smooth operations. Since we had 15 teams to lead which included those from both public and private sectors, it was important to position the teams."The team Divakaran mentioned was comprised of the numerous partners and consultants listed below.
    State Agency Partners
NC Dept. of Transportation
NC Dept. of Public Safety
NC State Highway Patrol
NC Public Safety Drone Academy
    On-Call Consultants
Dronescape
North State Engineering
PrecisionHawk
SM&E
All of the preparations made by these experts proved to be crucial, as they had to make sure they were abiding by federal and state regulations while also conducting their operations effectively and safely. These preparations were about logistical details as well though, since they also had to ensure all UAS flight software was updated and batteries charged. Additionally, they needed to remove any geo-fence and airspace restrictions.That meant reaching out to DJI to get their platforms unlocked. DoA deployed for the first time a new AirMap drone tracking and management system, which was developed with the company as part of
North Carolina's participation
in the FAA UAS Integration Pilot Program. This allowed the Division and other responding agencies to identify where drones were flying and how they could avoid contact with manned aircrafts, including helicopters performing search and rescue missions.With these parameters set, the team was ready to deploy their drones to more effectively communicate conditions to the public and also gather real-time info to help with the deployment of emergency resources. Those efficiencies were just part of the difference the technology made when Florence hit.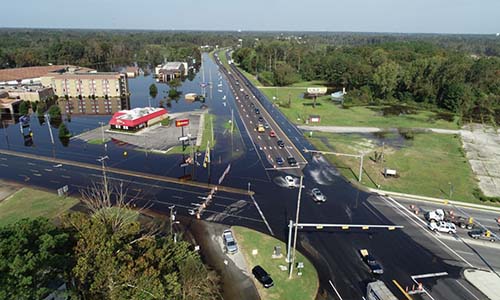 The Benefit of Drones in Emergency Situations
The NCDOT formed 15 drone teams and deployed them prior to the start of the storm near areas expected to be hit the hardest. The teams were ready to conduct all flight operations under Part 107 and their COA with an objective to complement the state's traditional manned aviation response with a focus on inspecting and monitoring the state's transportation infrastructure. That included the countless roads, highways, bridges, airports, ferry terminals, waterways and dams that are spread across the region.DJI drones were used for these operations, but the teams also flew the sensefly eBee and conducted the first BVLOS operations during emergency response in NC. Drone footage clearly showed how some roads became washed out and unusable days after the storm as floodwaters increased. Public mobility, a critical issue as the storm progressed, was enhanced by UAS flights that monitored road conditions and traffic backups, enabling the Department of Public Safety to reroute traffic to support evacuations and alleviate congestion."NCDOT flew more than 260 drone missions and captured more than 8,000 videos and images of roads, bridges, and dams," said Basil Yap, UAS Program Manager for the NCDOT. "All of that assisted state agencies to assess conditions, deploy emergency responders, and divert public movement away from endangered areas."Hurricane Florence did not make a major landfall in North Carolina, but the flooding it caused created a major issue for the region. Once the hurricane ended, the team's focus was to assess areas that could possibly be flooded and dams that could breach. They sent flight teams to assess these flooded areas and provide updates on areas that they were not aware of. To provide an example of this, data gathered via drone was provided to emergency responders and news channels in order to tell people to avoid using I-40 and similar roads because of flooding.As part of their post-hurricane assessment, their team used drones to live stream areas affected to NCDOT traffic management, division engineers and maintenance staff. This made a big difference as it helped plan recovery and response sooner. They were able to live stream conditions to their leadership and emergency personnel, which has changed expectations around how information can be gathered and utilized to make key decisions during disaster response.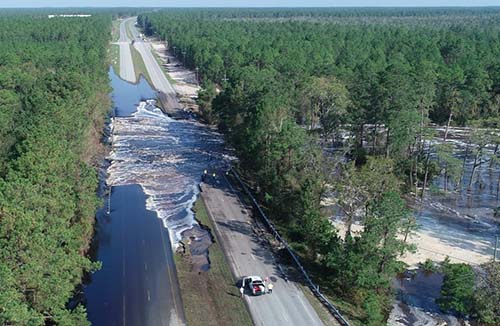 The Future of Drones in Disaster Response Situations
The NCDOT team
has long been aware of the benefits of drones
, but specifically how and where they could make a difference in emergency situations wasn't totally known. Thanks to how the team deployed the technology as part of the response to Hurricane Florence, drones proved to be able to provide a highly agile response that is much lower in cost and quicker in deployment than traditional manned flights. Their efforts created a powerful model around where and how the technology can be used in future disaster response situations."The NCDOT plans to incorporate lessons learned from this deployment to better serve the state in future emergency response situations," Divakaran said. "This will include operating weatherproof drones to deploy during a storm, establishing a larger command center, and setting up a mobile command center."The lessons learned during Hurricane Florence extend to how the team communicated with the public as well. A social media campaign alerted the public about "No Drones in Disaster Zones", which helped keep hobbyists from interfering with air response efforts. It proved to be a success, as no incidents of civilian drones interfering with response and recovery operations occurred during or after Hurricane Florence.The NCDOT plans to incorporate lessons learned from this deployment to better serve the state in future events, but these benefits won't be limited to the state of North Carolina. The NCDOT team is dedicated to helping other agencies integrate drone technology, and educating them on the emergency aspect of it can and will be done from a whole new perspective thanks to the a successful deployment of the technology during Hurricane Florence.