Lufthansa Industry Solutions has entered into a letter of intent with Draganfly to incorporate its drone solutions and Vital Intelligence (VI) technology to aid with a variety of maritime operations. Draganfly's drone solutions will provide increased safety and accuracy to marine search and rescue missions, mapping operations, and more.
Working with Lufthansa, Draganfly's high-endurance, multirotor search and rescue UAVs will be fitted with optical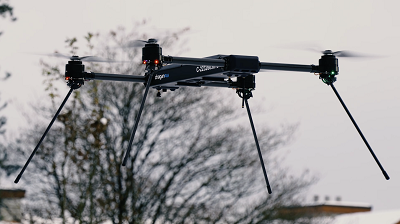 and infrared imaging solutions for use during an active emergency. Capable of operating in hazardous environments, the company's drones can be used in a variety of ways, including when a ship's passenger fall into the ocean. In cases like this, the drones can be deployed to map areas, locate survivors, and perform vital measurement functions. Moreover, Draganfly's Vital Intelligence (VI) software can use a video feed from RGB cameras to measure biometric data and share human experience and health insights.
To learn more about the Draganfly/Lufthansa partnership, Commercial UAV News spoke with Cameron Chell, CEO of Draganfly. Chell discussed the capabilities of Draganfly's systems, how they have been used to aid other public safety missions, and the potential impact of these solutions on the transportation industry.
Commercial UAV News: How did this deal with Lufthansa come together?
Chell: Nearly a year ago, Draganfly joined Lufthansa Industry Solutions at Seatrade Cruise Global 2022. At the event, we showcased our AI Vital Intelligence (VI) platform and how it adds another layer of security for crew members and passengers. Lufthansa sought high-quality solutions to improve public safety in the maritime industry. We identified areas where our drone technology could improve operations and entered into a letter of intent to provide our drone systems and VI technology for use in Lufthansa's existing infrastructure and customer solutions.
Commercial UAV News: Discuss the capabilities of your drone solutions and VI software. How they will be used to help Lufthansa in their operations?
Chell: It is a well-known fact that, on average, a cruise ship will experience one to three incidents where a person goes overboard, whether due to alcohol consumption, an accident, or a suicide attempt. To improve safety measures, the ships are equipped with a variety of sensors. Draganfly will work on three areas to enhance safety onboard. Firstly, we will provide solutions for detecting and recovering people who have gone overboard, including accident reconstruction, data collection, and deploying safety equipment. Secondly, our Vital Intelligence technology will monitor the health and well-being of the ship's population. Thirdly, drones will be utilized for ship safety and maintenance inspections, which will result in identifying potential issues before they become problems and ensuring that the ship is safe and seaworthy at all times.
Commercial UAV News: Have Draganfly's solutions been used with other customers for similar operations?
Chell: Draganfly has had a long and proud history of supporting the public safety industry. Our drone, equipped with thermal sensors, was used by the Canadian Royal Mounted Police to find a missing person within 20 minutes during a massive snowstorm. For the past year, Draganfly drones have been used in Ukraine to thoroughly map specific areas of interest, locate survivors, and deliver medical aid. We are always looking to improve public safety, whether using our current drone technology or building custom payloads and sensors that help fit our customers' needs.
Commercial UAV News: What impact could this agreement have on the transportation sector overall. Do you believe this will encourage other travel/cruise companies to adopt your solutions?
Chell: Drones can revolutionize transportation, whether by improving delivery times, gathering data for inspection purposes, reducing transportation costs, or improving safety. In terms of encouraging other travel/cruise companies to adopt drone solutions, the answer would depend on the specific needs of each company. As drones become more prevalent in the maritime industry, we anticipate that they will become a staple. Once our drones are fully operational with Lufthansa, other companies may recognize their advantages and become more interested in utilizing them for their services.