With drones being capable of collecting terabytes of data by the minute, the talk about drones has shifted toward the software that processes and analyzes the collected data. Nowhere is this more evident than in drone Search & Rescue missions where being able to cycle through that data quickly can be the difference between life and death.
After collecting hundreds of thousands of images and using a "standard-issue Mark I Eyeball" to look at them, a slow and painstaking process, Gene Robinson, who has been doing drone Search & Rescue missions for the last 15 years, started looking at what software could be used to help him sort through the data and ended up finding Loc8.
"When I ran the first couple of tests on it, I did a backflip and said 'Okay, this is it, I want to help,'" said Robinson. "That's how I got involved."
Released in 2019, Loc8, pronounced Locate, is a Windows and Mac-based software developed to increase the success rate in finding targets, saving lives, time, and resources. The software was developed after a search conducted by one of the early adopters of drones was unsuccessful using traditional search and rescue procedures. After reviewing over 1,500 images, the searchers didn't find the missing person. Several weeks later, not only was the missing person found, but the search parties also concluded that the subject was captured in several of the images, but was partially obscured by thick evergreen bushes and was not identifiable from the air with the naked eye. The thick evergreen bushes also obscured the subject from visibility from the road only 5 meters away.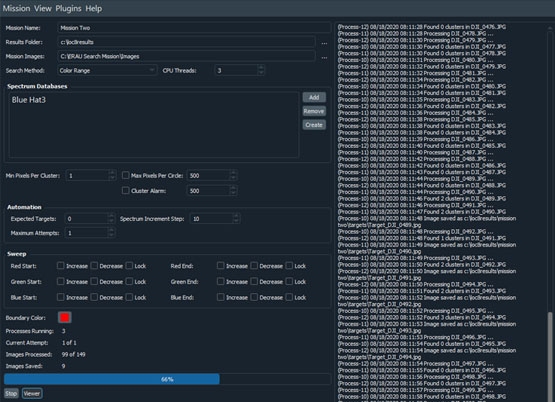 "One of the things we find is missing in the drone world altogether is everybody is focusing on the hardware and not the software. More importantly, software to do the analysis," Anthony Lockly, co-founder and CEO of Loc8, told Commercial UAV News. "There's software out there for assisting you in capturing data, but there are few software packages that help you do the analysis of the data once you've captured it. And yet, we're getting terabytes of data by the minute, just kind of stockpiling. How do we archive it and how do you make sense out of and compare it going forward? One of the beauties of Loc8 is that we're tapping into a field of UAV that few companies have been able to make any headway."
Loc8's patent-pending algorithm systematically scans digital images, collected from drones, manned aircraft, and even terrestrial cameras, at the individual pixel level, based on user-defined color palettes to find missing people or objects. The user-defined color palettes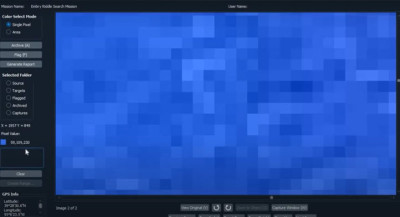 are selected manually or from a single pixel, or an area of the image which generates an average RGB (Red, Green, Blue) value between all the selected pixels. With this, users can save a palette with a single color or a color range, where they can choose the start and end colors, increase or decrease the spectrum, and lock the RGB subranges.
Once Loc8 identifies potential targets, users can analyze and flag or archive them as needed through the Viewer, even while Loc8 is still processing other images. After flagging all targets, users can generate a report with each image's latitude and longitude details, as well as a link to Google Maps.

Whereas under the best of circumstances, a trained searcher called a "squint" can view digital images at the rate of one image every two minutes – that's more than 3 hours for 100 images - Loc8 scans around two 20MP images per second. "This is what is so exciting about this because we're out there doing Search & Rescue and minutes matter," Robinson commented.
As a subscription-based software, apart from the scanning process mentioned above, the Basic version of Loc8 allows users to define, save, reuse and share color palettes; display the latitude, longitude, and altitude of each scanned image; and integrate the images' locations with Google Maps if connected to the internet. Additionally, it features user-controlled options, like "Pixel Color Clustering", to help detect and minimize false positives.
Besides the Basic version, Loc8 Pro offers the same functionality while adding new features. First, the Cluster Alarm alerts users when too many (false positive) targets are identified in an image. Second, the Automated Search enables users to set a maximum number of attempts, incrementing the color palette's range every attempt until Loc8 finds potential targets. And finally, the Color Sweep further enhances Loc8's automated search features by allowing users to lock any one of the three (Red-Green-Blue) color values to a single, user-defined value. Then, users can automate Loc8 to incrementally adjust the remaining unlocked color values either up or down along their respective color ranges.
Moreover, Loc8 Pro Plugins are extra, paid features that are run separately, if running Loc8 Basic, or integrated into Loc8 Pro:
Extraction Plugin – Every image taken by a drone gets timestamped with GPS coordinates - latitude, longitude, altitude, which are included in the image's Exif data. The extraction plugin extracts that data and quickly outputs a file in CSV, KML, KMZ, GPX, or GeoJSON formats used in a lot of different scenarios to determine where you flew.
Conversion Plugin – Converts any of the file formats mentioned above to make it compatible with other software.
Focus Plugin – Allows a user to draw a lasso around an area of interest to include or exclude from the scan. The software will pull up a list of images that cover (or not if excluded) the desired area only and scan those.
Rapidscan Plugin – To ignore overlapped images, the user can, for example, choose to scan every fourth image from a set of 1000 images to reduce it to 250. Or, if there are four computers, divide the set by 250 and let it go.
Video Slicer Plugin – By defining a time interval, users can extract still frames from video files, assigning GPS data to each still image if available. While video might be great for situational awareness, that means with a 1080p video (5MP) the resolution is much lower than a 20MP still image. For any precision data collection, Robinson recommends using still images "because you can see so much more. But there are times where video is all you've got and you need to scan it, so that's what you do."
During a demonstration Robinson prepared for Commercial UAV News, he ran 149 images through Loc8 to find a hiker who had posted a photo on Facebook before he went missing. At first, after choosing a color range from the missing hiker's blue hat, Loc8 didn't succeed due to the "altitude fade" factor - the higher up the image is taken, the less vibrant the colors are. With two simple increments to the color range's spectrum, Robinson ran the test again and it quickly started identifying potential targets. After analyzing the images, Robinson found what looked like the missing hiker and flagged them to generate a report with GPS locations and a link to Google Maps.

While Loc8 was primarily designed for Search & Rescue missions, according to Lockly, it has also been tested as a tool in crime scene investigation, accident reconstruction, debris field mapping, precision agricultural management, wildlife population management, and utility infrastructure inspections. For example, Loc8 can identify all the blood splatter in a crime scene investigation.
"We're going to be doing invasive species studies, like the Japanese spider lily because it has got its own color," Robinson mentioned. "We've also been asked to determine the feminization of hemp plants, because they are sexless as they're growing up and then, at some point, they change to male and female. Apparently, they want to get rid of the males. As they change to a certain color, they wanted to detect that. Anything you do that requires color can be analyzed by Loc8."
Furthermore, one feature currently in Beta will allow Loc8 to extract still frames from real-time video through RTMP (Real Time Messaging Protocol) and analyze them in real-time while flying. With an RTMP server's IP address, users can connect Loc8 with, for example, the DJI Go app, and send the images taken from the video to any computer in the world. This will also work without an internet connection if setup with an Ad-Hoc network.
"If you have somebody who can watch the computer, that's great! If not, there are alarms set up that will go off if it hits something which is within your search parameters," Robinson explained. "This is a game-changer because you can do it while you fly. Even if you don't see it in the video, you can always come back and post-process the high-resolution images."
Loc8 prices start at a monthly cost of $45 for the Basic version, $70 for the Pro, and $10 for the additional plugins. Although using Loc8 might seem simple, the company does not advise downloading the software when on-site to support an active emergency as there is a learning curve to become familiar and proficient. To learn more about Loc8, visit the company's website, or schedule an advanced or quick-start training, or a 30-minute meeting.
When asked if there are any other features in development, Robinson, who is also a manned aircraft pilot, said the company is working on a remote cockpit-operated version connected to a high-resolution camera in a pod. Civil Air Search and Rescue Association (CASARA) is already using the system for Search & Rescue "and they like it," Robinson added. "Public Safety Canada is going to start testing it as well."
Other than that, there's another feature in the works that Robinson said he couldn't share more than two words: "Artificial Intelligence".