Focused on executing process-driven technology solutions for unique security challenges, CloudCover, a professional consulting and implementation company, flew an Elistair Orion 2 tethered drone during a Guns N' Roses concert at the University of Montana's Washington Grizzly Stadium to ensure the safety of the 14,000 fans. Deployed on the roof of a building near the stadium, the Orion 2 drone flew continuously for six hours and carried out an uninterrupted, day into night mission without the need to land.
Designed for Military and Government agencies, Elistair's Orion 2 is an automated and highly portable tethered UAS designed for continuous aerial day and night surveillance over large areas. Continuously powered through its Kevlar-reinforced micro-tether, the drone can operate for 24 hours continuously at 100 meters (330 feet) height with 2 kg of payload and extended detection ranges up to 10 kilometers.
Taking advantage of those specifications and Orion's electro-optic and infrared sensors, CloudCover's solution provided local and university police, as well as state troopers, with increased situational awareness, the ability to witness events first-hand, and better coordination and communication between ground teams. With a permanent view of the stadium grounds, both entry and exit points, as well as sales areas, parking lot, and hiking trails on the mountains surrounding the University of Montana campus, authorities were on hand to spot individuals in distress and identify any suspicious behavior in or near the stadium within a three-mile radius. For example, once the concert was over, the infrared camera not only ensured the smooth exit of fans and employees but also located groups of people hiding in the stadium to evacuate them.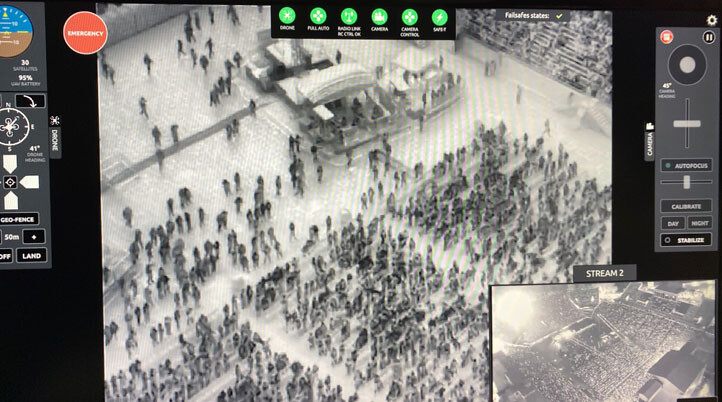 As a developer of tethered drones and powered tethering stations, Elistair's known for creating an accessible power base designed to function with most commercially available brands of drones. From Champions League surveillance and Ryder Cup crowd and traffic flow control to busy roundabout monitoring and airport maintenance, Elistair's technology has proven to successfully serve various industries and agencies internationally, including the French police, British military, and Singaporean government.
"Elistair's tethered products provide an incredible capability for event security staff by providing the endurance for the duration of an event with the aerial perspective of the entire event area," said Richard Simpson, Cloud Cover Co-Founder, Mission Commander.