The UAS Drones Disaster Conferences are designed to bring together government, industry, and academia for two days of learning and live drone flight demonstrations. Taking place in Los Angeles and Miami, these events are organized by the Airborne International Response Team (AIRT), a 501(c)3 non-profit, non-governmental organization that helps people and departments prepare for, respond to, and recover from complex emergencies and major disasters.
Christopher Todd serves as the executive director of AIRT, and his commitment to emergency response stretches back to his volunteering for emergency response organizations in South Florida, where he gained a much greater appreciation for what officials do for the community. Since then, he's helped provide professional-grade UAS services and training for public safety while also
pushing back against the false narratives
that negatively impact the drone industry.In the exclusive interview below, we caught up with Christopher to find out how things have changed for Airborne Response, what kind of real-world differences he's seen drone technology make, what type of insights will be explored at both the LA and Miami conferences, plus much more. 
Jeremiah Karpowicz: Last 
time we connected
, you mentioned that you founded Airborne Response to create a platform for end users to explore how to introduce drone technology into their existing business processes to reduce operating costs, maximize efficiency and increase profits. Has your approach or outlook changed since then? 
Christopher Todd: Like most other UAS service providers, when we launched Airborne Response we had the vision of creating the World's Largest Air Force of drone operators who would be capable of flying a wide-variety of on-demand missions for a range of sectors — agriculture, construction, industrial inspections, etc.  That was where the industry was focused at that stage in the life cycle as companies attempted to achieve scale, and we played along with the game.However, we never believed the "Uber for Drones" model was a viable business model for the UAS services industry. Whether it's power line inspections or thermography, we're seeing much more specialization in each vertical, so trying to be the all things to all people really doesn't work. You've really got to be proficient in a core use case to make the technology valuable.Aviation has always been a highly specialized industry requiring operators with a great deal of skill and proficiency, and that has always been the focus of Airborne Response.  Since that time, we have clearly evolved our business plan toward providing Mission Critical Unmanned Solutions™ for government and industry, with an emphasis on public safety, security, emergency management, and disaster response. This is a sector that has been slower to evolve, but should prove highly lucrative from a longer-term business perspective. 
Does the adoption of UAV technology by public safety officials look inherently different than it does for enterprises? 
Absolutely. Public safety customers are dealing with life safety missions requiring rapid results every single day, while enterprise customers are typically focused on generating growth and shareholder value over a longer term. They are completely different customer mindsets, requiring flexible business strategies and tactics on how we approach each type of organization.The commonality is that both want reliable, cost-effective systems that allow them to achieve their defined objectives as efficiently as possible.  Both types of organizations can be also highly political in nature, requiring skill and experience in maneuvering within the organization.There's an old adage in public safety that says "the badge sells to the badge", meaning that public safety officials typically trust business development and customer service representatives who have the same type of on-the-job experience as themselves.  That's why our team at Airborne Response is comprised of personnel with law enforcement, fire rescue, and military experience, as well as corporate business and international trade experience.  Our team composition allows us to navigate both the public safety and enterprise landscape more effectively than many of our competitors. 
What kind of real-world differences have you seen made when UAS tactics have been properly integrated into public safety and disaster response missions?
There have been many, but one of the most dramatic was during the Hurricane Michael response last October in the Florida Panhandle.We had flight teams link up with search squads from the Florida Task Force 1 Urban Search and Rescue Team based out of Miami-Dade County. We had trained with FL-TF-1 a few times previously, but this was the first time we worked alongside them outside our local area. We informally linked up with them in Panama City, and then pushed north into rural Bay County to conduct search and rescue and damage assessment operations. The area was devastated by Michael's high winds, and there was no mobile telecommunications connectivity. Large trees blocked several roads, as well as the long driveways leading to many homes. This made it extremely difficult for the search teams to conduct their operations.We were able to launch our UAS to look beyond the roadway obstructions. We could fly over a given area to check the conditions of homes and make a cursory determination whether any residents there might be in need of assistance or any other type of help. It allowed us to develop new tactics for USAR team operations, such as force protection, search and rescue, and damage assessment operations during those days.That story really has not been told much until right now, but the lessons and insight we learned were extremely compelling. 
They absolutely are, and I wonder if you think these situations in both 2017 and 2018 will eventually change the paradigm around how UAV technology can and should be used in disaster situations?
2017 was a benchmark year that really started to showcase the capabilities that sUAS offer for disaster response. I've always believed that disasters are unique events that unite government, industry, and academia all under a common mission of response and recovery.  UAS proved their value over and over during the hurricane responses to Harvey, Irma, and Maria. Even more importantly, it exposed several gaps that we needed to address, such as becoming more effective at joint flight operations with other UAS teams and well as manned air traffic. We also need to bolster our communications and data management systems so we can get the data where it needs to be when it needs to be there.In 2018 we made efforts to make those improvements, but every storm is different. Hurricane Florence stalled out over the Carolinas and became more of a flooding event, so the flight team that was pre-positioned had to wait several days to really get up and start doing anything. That was much different than Hurricane Michael, which was such a fast-moving, destructive storm, that the day after the storm went through the skies were clear and the sun was out. That made it ideal for flight operations. With Michael though, the big challenge was associated with not having mobile Wi-Fi connectivity, so we could capture the data, but if someone didn't have their maps cached or didn't have some type of uplink to push the data where it needed to go, you had to basically drive it to an end user. So we're working with some different solution providers to work through that.We still have a long way to go, but we are on the right track and there is incredible momentum and enthusiasm surrounding disaster response at this point.  Personally, I think it is the most exciting sector for the entire UAS landscape — but I know I am biased! 
What kind of challenges have you seen users run into when they don't have a place to charge the battery or you don't have food, water or shelter?
The key to successful disaster response operations, whether you're using UAS or anything else, starts with planning and logistics. You need to have a solid plan and support system with failsafe options if you are going to head into a disaster area.  You also need to have a reason to be there — such as pre-coordinated response contract or industrial partner who is looking after you.Florida Power and Light did an amazing job with the support and logistics during the Hurricane Irma response back in 2017. We always had a location where we could upload data, take on fuel, recharge batteries, grab a hot meal, and get some needed rest. That is often not the case. I cringe every time I see "drone cowboys" rushing off to a disaster scene hoping to get some work. Sometimes they luck out, but most often I think they realize it was a wasted effort. It's just too easy for them to become part of the problem rather than part of the solution.That's one the reasons we hold our annual Disaster Camp training for UAS pilots here in Miami prior to the start of hurricane season. We train our flight teams on how to prepare for a potential deployment, how to integrate into the FEMA incident command system model, and how to remain self-sufficient in the field for a minimum of 72 hours when other resources and support can get there to back up those efforts.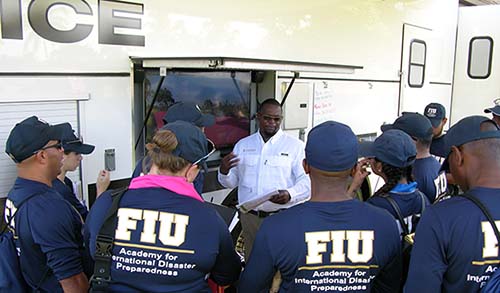 And is that Disaster Camp training directly or indirectly tied into the upcoming UAS Drone Disaster Conferences in LA and Miami?
It's a sister event to them. Under the UAS Drones brand for our non-profit organization, we have the conferences, the camps and the exercise. The Conference is what's happening in LA and Miami, and that's where we bring in people for education and sharing ideas. The camps are where we specifically bring pilots in to train on how to operate in disasters, so we'll put them through drills and simulations. The exercises are where we bring public safety flight teams in so that we can test their training and development strategies. Last year was the first year that we actually ran all three and we're going to be doing it again this year, which is something we're really excited about. 
What are the major differences between the LA and Miami events?
There are two primary differences. One is that the LA conference, being a first-year conference, we're going to start at a more basic level as far as what people need to know if they're thinking about launching a UAS program. Departments and agencies are all at different stages so it's tough to focus on just one level. It's why the programming is designed to be applicable for various levels of adoption.The other notable difference is that the LA conference is focused predominantly on wildfires, and how UAS was used in response and recovery efforts for those situations. The Miami conference is going to be more hurricane focused, and we'll be talking about Hurricane Florence and Michael and the system we used to respond to them. 
How will regulation be discussed and dealt with at the event? How have you seen regulation impact the way in which public safety officials are adopting drones? 
A lot of the confusion in the public safety sector comes down to distinctions between operating under Part 107 and public aircraft operation, and where should someone focus. Do they need to have both? That's one of the areas we spend a fair amount of time explaining to those new to the UAS public safety landscape. Depending on the scope of your operation and what you're looking to do, both can make sense.In terms of the impact, the government shutdown certainly didn't help, but all of it varies significantly from one jurisdiction to another based on local regulations and the leadership disposition of a department or agency. Generally speaking, the regulations are what they are, and public safety agencies are very accustomed to following laws and procedures. So whatever those laws and procedures are, even if they change, these agencies will quickly adapt and change their programs. 
Given that
some officials believe
that anyone not looking at this technology is literally putting people's lives at risk, how long will it be before drones become an expected part in any public safety department's toolkit? Will departments that haven't adopted the technology eventually be considered negligent in some manner? 
Dr. Robin Murphy actually mentioned something along those lines at XPONENTIAL last year. She said if you're a public safety agency and you're not looking at UAS technology at this point, you're borderline negligent. And I would tend to agree with her on that.The ultimate answer there is highly dependent on the specific department and their leadership. Some like to be out front with new technology, others take a more cautious approach. Generally speaking, I believe they are all now aware of UAS technology and are starting to take the necessary action to establish a UAS program in some capacity.  If they aren't, they are certainly welcome to give us a call at Airborne Response and we'll be glad to assist them!Despite the challenges that might arise in the adoption process, there is generally incredible enthusiasm among public safety officials toward adopting UAS technology.  But few agencies want to be the first — or the last — to embrace UAS in their area.  Chiefs generally have different priorities than the operators on the ground and they usually answer to politicians instead of public servants. This can make for a tricky landscape. The bottom line is that we are seeing a vast increase in the number of public safety agencies launching UAS programs and I think 2019 will go down as a benchmark year for seeing police and fire departments really start to engage on using these amazing new tools. 
What would you say to someone in the public safety sector who saw the benefits of drones, but wasn't sure the technology was going to be a fit for their department due to either costs or logistics?
I would need to probe a bit deeper to see where their specific pain points are and learn more about what challenges their department or community was experiencing. Sometimes it's not the most apparent issue that's top of mind for those departments.For example, when most police departments start thinking about drones, they think about use cases with barricaded suspects and other high-risk missions. We generally advise them to start with traffic accident investigation and public information missions. That helps to establish the basic fundamentals of their program before they start advancing to the more challenging flight operations like maneuvering around buildings or providing active support. Crime scene investigation might not sound as sexy as a SWAT operation, but if you can open up a major road in one hour instead of four hours because you used UAS to map the scene, then you will have a compelling story to showcase to your community around why they should all embrace a UAS program and why the technology is going to provide a positive ROI.As an example of what it means to start with something small, we worked with the Miami Beach police department during a recent concert where they had something like 17,000 people projected to attend on the beach. They knew they couldn't operate a drone, so we helped them deploy a tethered system that provided the overwatch they needed, and it was really well received. It really solved a pain point in a whole new way, and we think that's one of the exciting things about the technology in this space. It's getting better and better, and will continue to open up unexpected opportunities.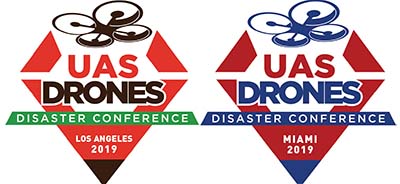 To learn more about or register for the UAS Disaster Conferences,
click here
.