A topic of discussion throughout numerous industries has been about breaking down silos to develop a more collaborative atmosphere that can enable the adoption of new technology like drones. Silos develop when groups operate exclusively within their own niche or specialty, often excluding outside knowledge or experience. This culture of exclusivity can be detrimental to problem solving and the adoption of any new technology tool. The ramifications of this sort of culture can be especially drastic in the public safety sector where developing effective, efficient, and safe emergency operations when deploying new innovations like drones can help save lives.
The founders of DroneResponders, a 501(c)3 non-profit program, saw this tendency toward silos as a roadblock in the public safety sector and made a commitment to help departments of all types and sizes sort through them. For those who work in emergency and disaster response, collaboration and communication have always been vital. How well teams communicate and collaborate during an emergency situation could mean the difference between preventing a disaster and making it worse.
Chief Charles Werner, director of DroneResponders, and Christopher Todd, the executive director of the Airborne International Response Team (AIRT), knew about these challenges all too well. It's why DroneResponders was created to facilitate communication and collaboration between all stakeholders, including the public, about emergency drone operations and procedures. This holistic approach to drone technology and adoption of it is something the DroneResponders team recognizes in terms of the limitations that everyone, including their own team, has to work through.
"We know our area of expertise, but we don't know the other parts of it," Werner told Commercial UAV News. "So, we're bringing in a lot of people that are coming in as technical experts that aren't necessarily drone pilots, or even drone responders, but rather they are people that can support those things that help us as DroneResponders."
DroneResponders connects people who operate within, have a connection with, or contribute to global public safety operations. Their goal is to establish a broad community—or alliance—that shares information, communicates with each other about challenges and solutions, and builds relationships.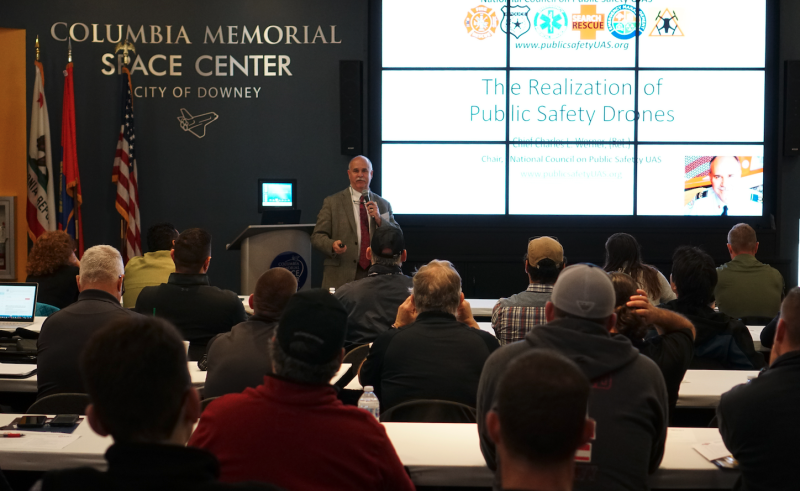 This kind of alliance necessitates inclusiveness. When disasters like hurricanes or forest fires hit, it affects the entire ecosystem from utilities and infrastructure to public safety. Responders need to have the right knowledge, skills, and abilities to address any problem efficiently before a disaster hits; it is often too late during or after. However, the best solution for an emergency situation may not always be within an emergency responder's skill/knowledge set. This is why it was important for DroneResponders to look beyond the core group of public safety professionals to attract expertise across the drone ecosystem.
As part of their efforts to do so, DroneResponders is bringing UAV professionals across the ecosystem together by hosting an annual two-day Public Safety Summit in conjunction with Commercial UAV Expo Americas. The summit is an opportunity for people of all levels who are working on drone solutions for public safety operations to connect and explore answers—not just sit and listen to speakers.
"The summit is unique in two big ways," Werner explained. "First, it provides people with a direct link to the experts in the field and to the information that they may be seeking. Second, is that they actually get to have their voice heard and develop a strategy to move forward. Together we can determine where we are and where we want to go, so that we can create a roadmap to get there. At the summit, they have an opportunity to get involved in that discussion and actually start making decisions to move the industry forward in public safety, as opposed to just sitting back and watching."
This is an important distinction from the traditional conference style, where a few experts speak to an audience. As another example of how their conference will be different, DroneResponders will be flipping the script is by hosting a series of panels, workshops, breakout sessions, and workgroups throughout the two-day summit. The panels, which are held throughout the day Tuesday, October 29th, are designed to encourage participants to engage with the speakers. They will cover a large variety of topics intended to bring everyone up to speed on the latest public safety trends and issues. The workshops, breakout sessions, and workgroups, held throughout the day on Wednesday, October 30th, are designed to identify and discuss key concerns for people in the field. Wednesday's sessions will be broken down into subtopics allowing participants to select the discussions that best align with their needs.
"At a lot of these conferences, there have been a few people speaking to many," Todd mentioned. "What we are doing with the summit is flipping that script a little bit and evolving the conversation into a crowdsourced solution where you get many people helping many other people, and it's not dependent upon only a few voices. That's what DroneResponders is all about."
Both Werner and Todd stressed that the Public Safety Summit is only a fraction of what DroneResponders is and should be seen as a starting point to a year-long relationship with the group. With over 54 advisors and 100 technical experts from across the country involved and with multiple forums and resources available, it is intended to be a 24/7 resource network for anyone who is seeking information or solutions in the public safety sector. And, in keeping with its inclusive spirit, membership is free to anyone who wants to join.
If you are unable to attend the Public Safety Summit or are just looking to find out more about what DroneResponders does, you can sign up to attend their webinar "Drones Are Now for Public Safety!" that will kick off the FAA's Drone Safety Awareness Week (held November 4th–10th). The webinar, which will be hosted by DroneResponders, AIRT, and AUVSI, will cover how law enforcement, fire rescue, and emergency management professionals are safely and intelligently operating public safety missions and is open to the public.