In the summer of 2020, Commercial UAV News connected with CIRC to learn about the ways they were leveraging the skills and competencies of their parent company, Coretronic Group, to provide drone solutions in public safety and emergency response. Since then, CIRC has continued to show the value of this expertise by adding to their platform offerings, conducting high-profile projects in Taiwan, partnering with industry leaders like NVIDIA and Microsoft Azure, and expanding into the global market with offices in the UK. All of these achievements gained them the distinction of being one of APAC CIOoutlook's Top Drone Companies in 2020 and has set them up for growth in 2021.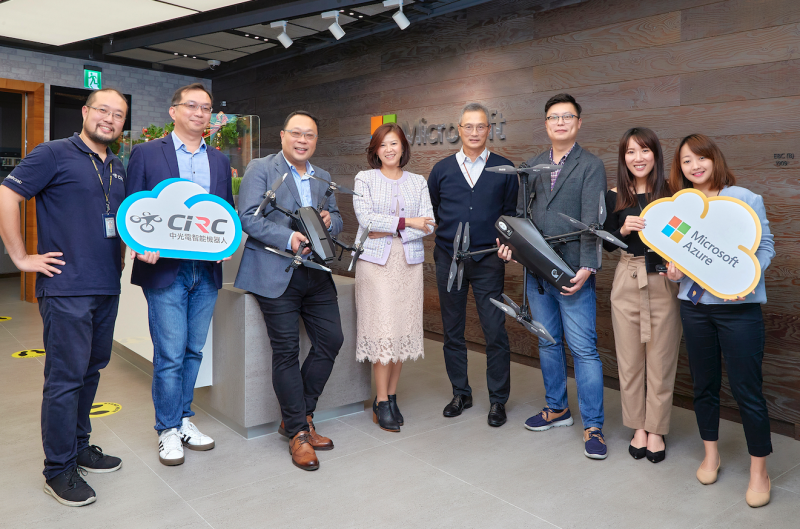 With so much happening at CIRC, Commercial UAV News caught up with Andy Hsin, General Manager at CIRC, and Justin Halls, VP of Strategic Relationships at CIRC, to learn more about these developments and how they can support the global drone community.
New Platforms and Use Cases
As an ODM (original design manufacturer) with the power of decades of experience in cutting edge technology at their disposal, CIRC has been able to develop purpose-built drones from the ground up for various stakeholders. After developing Kestrel, their drone-in-a-box solution for security and inspection applications, they went on to develop the Hummer for mobile patrols, the Falcon for surveying and mapping, the Pelican for drone delivery services, and the Swallow, a long range eVTOL.
The Hummer is already getting national attention in Taiwan for its deployment by the New Taipei City police department in the country's first-ever dedicated drone fleet team.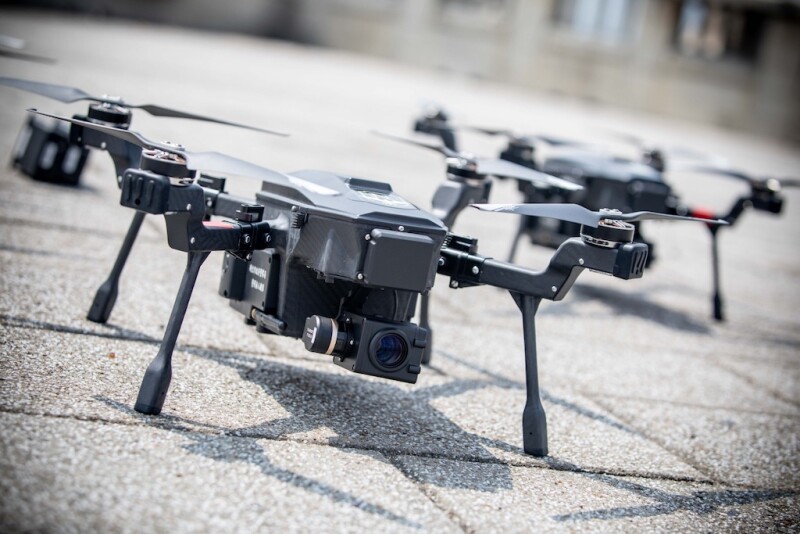 "In New Taipei City they wanted to use different kinds of technology and equipment for various types of missions like reconnaissance, security patrol, rescue, and traffic management," explained Hsin. "Taiwan has similar security concerns to the U.S. regarding parts sourced from China, so it was important to them to find a solution that didn't contain parts from China. Everything, including the flight control board, is made in Taiwan, which meant we were able to deliver a full end-to-end solution that included the platform, flight management, and real-time video streaming over 4G and 5G networks. This enabled them to share video with command so that decisions could be made immediately."
Apart from developing new platforms, they are also establishing major partnerships to enhance their capabilities. For example, their partnership with Microsoft Azure has helped them survey and map the mountain and coastal regions most prone to landslides and flooding and to identify potential hazardous regions before they become deadly. With the help of Azure's processing power, CIRC is able to leverage the capabilities of their AI-enabled analytics platform, Insight, to provide results to stakeholders quickly and at a safe distance, helping to save lives and property.
"With our partnership with Microsoft, the emphasis was on mapping and predicting landslides along highways and rail routes, as well as looking at silt, mud, and sand movement around ports and harbors," explained Halls. "We then took that information to analyze the changes using our AI system, Insight."
"CIRC also cooperated with Microsoft to provide SkyTrack, which is a drone delivery solution we designed for a Japanese E-commerce company. Drone delivery belongs to smart logistics and is another important use case that will help define drone delivery for the industry and it is something to look forward to," added Hsin.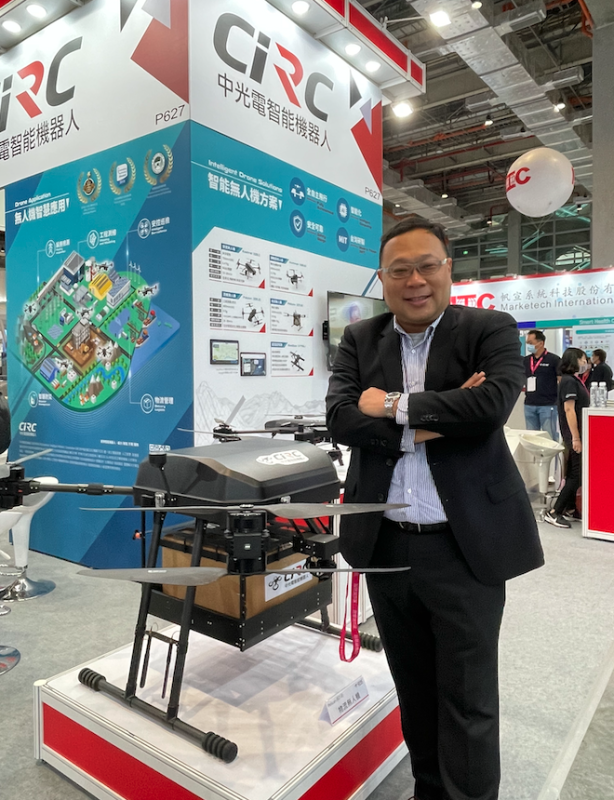 These use cases demonstrate the capabilities of their autonomous drones to serve communities, governments, and the environment. As regulations become more accessible globally, they are looking to leverage these successes, as well as the international footprint of their parent company, to provide enterprise-level autonomous solutions to the global drone industry. As a first step to such ends, they have opened offices in Hemel Hempstead in the UK to service the European market are planning similar move for the US and Middle East.
Expanding into the UK: Providing an Alternative to Drones from China
Although CIRC is new to the global drone market, Coretronics and its subsidiaries, like Optoma, have manufacturing and customer service centers worldwide. This puts them in the unique position to be able to expand quickly and meet the demands of clients at scale, especially for those who are looking for alternatives to drones from China.
"Coretronics has more than 11 global service centers in Asia, North America, and the European markets, and Optoma has 120 service centers worldwide and in Europe we have ten different regional offices," stated Halls when asked about their global footprint. "CIRC is able to leverage this worldwide business and customer support network to provide customer services, technical support, and service centers locally, and this is all ready to roll out today. I think this is probably unique for a drone manufacturer, especially for many of the startups out there looking to provide solutions to customers who need to find a viable alternative to drone manufacturers from China like DJI."
"We manufacture, design, and conduct reliability tests of our drones in Taiwan, making them TAA compliant for the US market," added Hsin. "We also have the flexibility to set up assembly to meet specific requirements in places like the U.S. or Japan. With rigid quality control, IP security, and decades of experience in new product development and quality assurance, we are able to deliver a high-quality products at scale to meet the security and manufacturing needs of local government agencies."
With their production located in Taiwan, CIRC has the capacity to provide high-volume and high-performance drones at a global scale without the disadvantages that come with drone products sourced from China. Being able to leverage their global network to support the ongoing needs of their customers locally, points to how well positioned they are to fill the gap left by sanctions against products that originate in China.
This commitment extends to the software that supports their platform as well.
Software and APIs
Because CIRC has its own software development team of engineers, it is able to provide customers with its own flight management system, SkyWatch, and AI-Powered analytics platform, Insight. In addition to this, all of their systems have been designed to have easy external API access, which allows customers to plug the drone system into their existing systems with almost no effort.
"Without having to know the mechanics of how their system needs to fly and control the drone. At the highest level, they can just connect their API to our flight management system and command the drone to complete a mission," stated Halls. "These API interfaces extend down from the very highest level to the very bottom level. Using our APIs, organizations can access functions on the drone directly. This means they can connect to our systems and take advantage of them without having any specific drone knowledge beyond what they know about their own systems."
By enabling this depth of functionality, CIRC is helping industries realize the value of drones by lowering the barrier of adoption by seamlessly integrating their platform into systems they already know and have mastered. This is an incredibly important step in the growth of the drone industry—most industries aren't looking to become drone experts; they want the benefits that drones can provide without the costly and time-consuming ramp up period. CIRC is enabling these benefits without relying on parts from China while still providing all of the scalability required for industry growth.