The entire country of Lebanon was changed forever when a large amount of ammonium nitrate stored at the Port of Beirut exploded on August 4th, 2020. The $15 billion in property destruction that it caused was the least of that damage, as the hundreds dead, over 7,000 injured and the estimated 300,000 people that were rendered homeless signify the true catastrophic nature of the event.
In the midst of this tragedy, experts from a handful of companies came together to use data captured by drones to create a 3D map of the area most affected by the explosion. Developed on a "Pro Bono" basis that have made these assets available to anyone, these 3D models of the area allowed first responders to take decisive action and literally save lives. The detailed and accurate open-access map of the blast area and surrounding damage to the city bolstered rescue and recovery efforts on multiple levels.
The 2D and 3D maps and surveys that were created with data captured by drones made a major difference in Beirut but these models have also highlighted what kind of possibilities these sorts of assets can enable. 3D models can be utilized for blast modeling, flood modeling, damage assessment, automated structural damage assessment, urban planning, infrastructure planning and more. However, the true power of 3D maps is something that many are just beginning to truly understand.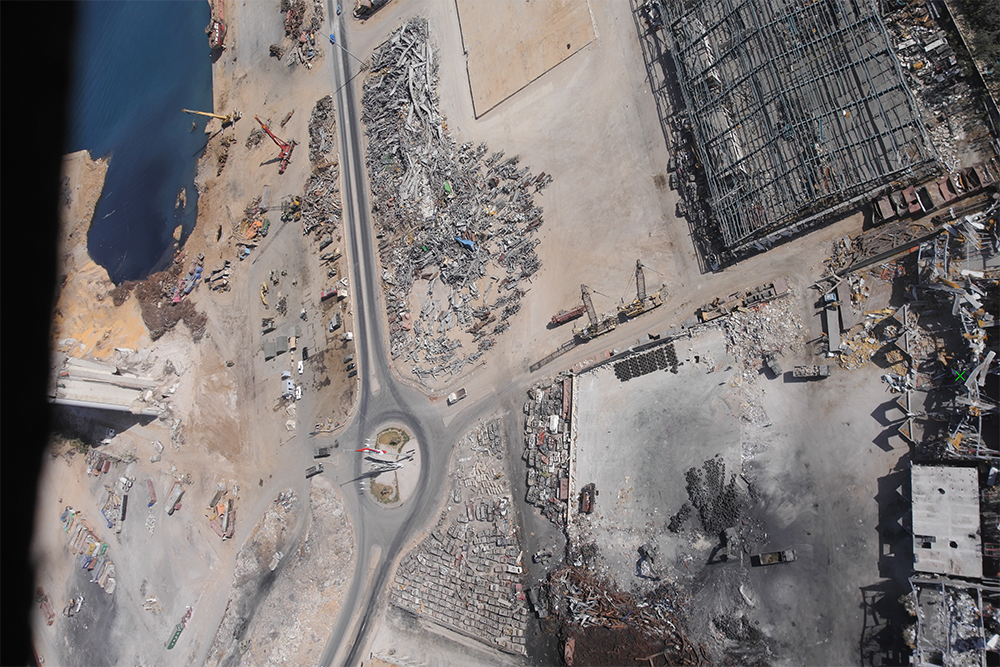 From Data Nothing to Contextual Everything
The story around how Falcon Eye Drones (FEDS), Pix4D and Augment came together to create as-built models of the city in support the 2020 Beirut explosion has been well documented. FEDS operated the drones to capture the relevant data while Pix4D provided the software and processing solutions but it was the employee roots that Augment has in Lebanon that truly drove this collaboration.
Specializing in digital facility management through the creation of as-built models of facilities, Augment was in a unique position to help provide accurate geographic data to first responders, NGOs, and volunteers as quickly as they needed it. The disaster situation meant that traditional surveying approaches would not be applicable while drone-based mapping technology minimized risk and maximized speed. The approach that FEDS takes to capture data in any situation further highlights the value of the technology.
For FEDS, their DT3 approach (Drone Tech, Data Tech and Digital Transformation) leads to an end-to-end system that incorporates AI, Drones and Data Management to deliver a full-cycle solution. This solution is designed to deliver value that has seen a 24% increase in inspection quality and around 8 hours per week saved on report making. These are differences that show up in the bottom line and beyond.
"Using the DT3 approach, drones make the on-field operations safer and faster, data tech makes analysis and reporting more effective and digital transformation makes the data collected more potent and accessible," said Niiveth Mani from FEDS. "The DT3 approach leads to a full life-cycle solution, making the journey from data to action easier and more effective. That's also why we will use AI and ML to automate data if we're surveying a large area. Processing via the traditional method would be unfeasible, so that kind of automation allows us to deliver data in a timely manner."
During the rescue efforts in Beirut, Pix4D provided the software and processing solutions to help deliver that data in a timely manner but Augment was able to transplant their core mission into another ecosystem and environment. Doing so made sense when it came to this timely delivery data but such efforts are ultimately connected to something far more transformative.
With a stated goal of bringing facility management into the digital era, Augment's 3D models allow facility managers to digitally navigate their facilities while also integrating these models into the software they're already using to create a centralized digital database. A facility manager can then manage everything from the central 3D model, highlighting how easy it is for anyone, even if they're in the midst of an emergency situation, to utilize these assets.
"We take someone from zero to hero when it comes to a digital model," said Rida Klink, CEO of Augment. "A company might not have anything digitized when we come in, so we'll collect all the data, paper documents and whatever else to completely digitize the space. We have an AI that classifies the data recognizes objects across documents in order to make the modeling process easier. That kind of complete service allows us to take our clients from data nothing to contextual everything."
This one-stop-shop approach for facilities management greatly reduces the barrier of adoption but was also critical in Beirut, where distinct teams needed to collaborate with data, systems and processes that were new or different for them. The 2 cm precision and digitalization of the disaster area in a matter of days was an essential part of that comfort level, highlighting why first responders were able to use these assets so quickly and powerfully.
The 3D Beirut model that was created is a testament to what the results of such an endeavor can look like. Creating such assets is also about utilizing new solutions like drones to enable opportunities and redefine expectations.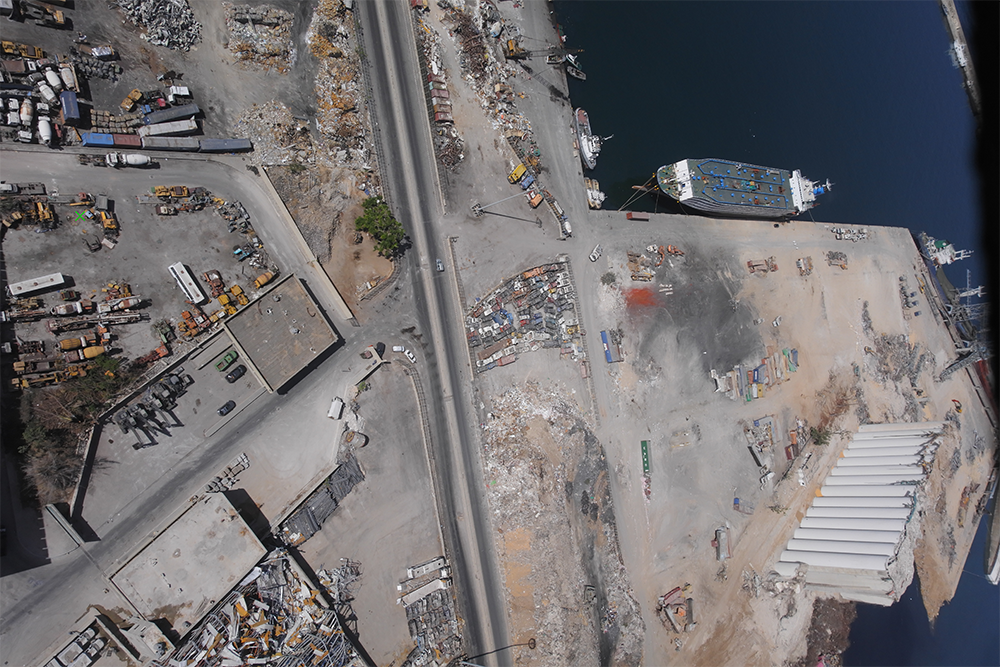 The Power of 3D Maps, Drones and Data
Bad data leads to bad decisions, whereas good data leads to good decisions. Good decisions were made after the Beirut explosion thanks to the data that FEDS captured using the senseFly eBee X with the S.O.D.A. 3D camera. Using the right tool in this circumstance was essential, so what made the fixed-wing drone a better fit for this project than a rotary drone?
"Fixed-wing drones offer greater coverage in a shorter time— this would be key to reducing risk," Mani told Commercial UAV News. "But the challenge is finding an appropriate landing and take-off zone with enough clearance in the middle of an urban location. senseFly eBeeX's steep landing and take-off feature make this challenge much easier. Additionally, the lightweight nature of the drone removed or reduced some of the risks as well."
FEDS has laid out much more info about their effort to aid Beirut's disaster recovery using drones, underscoring why drones were the logical choice to use in this situation. Drones are faster, accurate, and safe, making them the perfect tool for the job before or after a disaster. The speed and power of the data being captured allowed first responders to make quick decisions thanks to solutions that were centralized and coordinated through software at a minimal cost. These assets proved that accurate and effective GIS data can help the response and disaster recovery aspect of disaster mitigation. However, these assets aren't just reactionary tools.
"Selecting the right software to process the images was critical," said Eloise McMinn Mitchell from Pix4D. "Augment wanted to make a shareable resource, and the data collected by FEDS was sizeable. As a result, we recommended processing with PIX4Dmapper, and hosted the results on PIX4Dcloud, which is an online photogrammetry platform. That way, Augment, Pix4D, and FEDS could all analyze the results easily at the same time, without having to transfer large quantities of data between us, especially considering that internet connection in the field was not guaranteed. This meant the 3D model was processed and presented as Augment intended at the start of the project."
"What we did was digitize the city in order to give people the ability to do anything they want with that data," said Klink. "The 3D model that we created is really a twin of reality and there's so much you can do with it. This kind of model obviously helped in recovery efforts but it can now be used to help avoid future disasters. By identifying high-risk areas, stakeholders can effectively plan and analyze certain risks or situations. These kinds of proactive opportunities prove the power of 3D maps, which are endless."
The 3D Beirut model that can be downloaded as a map or point cloud literally shows what these opportunities and possibilities can look like. This model can be used by building owners to assess how much damage was to roofs in the area without having to install expensive scaffolding to make that assessment. The benefits that this kind of digital copy can create are endless.
Whether creating a digital twin of a building or an entire city, the benefits that a digital copy of these areas and assets can create are the same. As a few quick examples of what that "more" can look like, these sorts of maps and models can provide a better understanding of the topography to flood risk monitoring. Urban planning efforts can be bolstered by visually organizing the economic activity of certain neighborhoods. neighborhoods. Performing a structural risk assessment analysis is that much simpler with a 3D model.
Doing so isn't often the difference between like and death but it can be the difference between rework costs or performing a given task in a few hours versus a few days, or keeping an inspection crew out of harm's way. The benefits of such efforts in emergency situations are clear and can be further explored in great detail but it's the additional and expanded opportunities of such assets that are exciting to consider.
"What's the easiest way of managing a building if not in a digital copy of your building?" asked Klink. "Giving the right data to the right people gets them thinking about how things could or should be done and there's no better way to consider these kinds of possibilities than by exploring a virtual copy of the real world. These 3D models are the center of certain business models to the point that it's illogical not to use them nowadays. In the past, creating or using that kind of asset might have been too much to consider but the barrier to entry is now non-existent. Today, it's super intuitive, super quick and totally beautiful."