By understanding the needs of the industries they serve and committing to the use of sophisticated drones and data analytics, the Flyby Guys have been able to conduct a wide range of commercial operations since 2018. The Finland-based company has put its expertise to use on projects such as tower and construction site inspections, thermal inspections, and traffic management analysis. And, since 2020, the Flyby Guys have put on hundreds of drone light shows around the world.
To learn more about the Flyby Guys, Commercial UAV News spoke with Stephen Sutton, Group CEO and UAV Specialist/Consultant. We discussed the company's origins, its mission and philosophy, and its prospects for the future.
Commercial UAV News: How did Flyby Guys get started?
Sutton: I was working in a software company when I got my first drone. I started taking photos with the drone, and I was enjoying myself. Eventually, I made a name for myself just from taking photographs. One night about five years ago, I was having a beer with Chris, my business partner, and he said, "You seem to be really good at this. Is there a way that we can monetize this?" So, we started discussing possible technologies, that things that drones can do. And, I went home that night, and I literally thought of the name. I called him the next day and said, "How about the Flyby Guys?" And he said, "That's it, let's go from that." I literally switched my career right there, and it turned my life upside down.
Commercial UAV News: How did you go from that simple conversation five years ago to the place you are today?
Sutton: When we started, we wanted to focus on data. We wanted to focus on certain industries in order to try to globalize. We really wanted to focus on service, on delivering for our customers. We were also interested in using AI with our drones.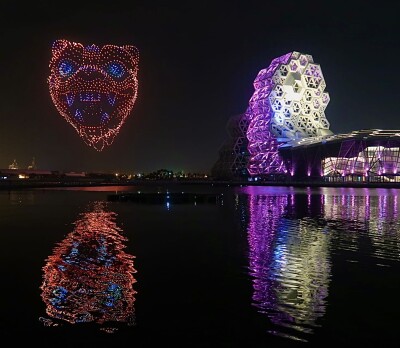 We got some customers early and, during the pandemic, we ended up working with Intel, conducting drone operations in the Middle East Africa, Asia, and Europe for about two years. Recently, we've gone back to doing more inspection work. Right now, we are working on a large number of mass inspections for mobile companies, and that work is going really, really well. In 2021, we hired Michael Michalowski, an excellent business builder who I've known for many years and who has taken the FBG to the next level. Michael now serves as head of global operations, and is responsible for the international expansion and business growth.
Commercial UAV News: Looking back on your five years in the business, what lessons have you learned?
Sutton: Just because you can fly a drone doesn't give you a license to print money. You need to understand the sector that you're going into. You have to really understand the needs of the customer. You need to understand their pain points in order to go to that customer and talk to them and their language. This can be a tough industry. It's hard work. And you need to have different skills, not just flying. You need to have "soft" skills, like how to operate in the office, how to deal with spreadsheets, all the simple things. Those are the things you need to have for the business to succeed.
Commercial UAV News: What's next for the FlyBy Guys?
Sutton: At the moment, we're in the middle of many projects, mostly within the telecom industry. We've got projects in Germany, in Austria, and here in Finland, as well. We have two offices now—one in Helsinki and one in Vienna. We have about 10 full-time employees, but we have third-party pilots coming in all the time. We are expanding, and things are going really well. Obviously, the drone industry is not the easiest thing to get into and to find your niche as a new business. We've been smart about what industries and use cases to focus on, to maximize where we can generate revenue. I think our story or journey to where we are right now is actually very important and very inspirational to other companies.