We all know by now that drones are great at gathering data and they gather a lot of it in record time! In the last Commercial UAV Expo held in Las Vegas from September 5 to 7, we learned that companies have refined the field collection process and are now dealing with the issue of how to turn all that data into actionable information.
The magic of turning data into information which would be valuable to customers and end-users is the domain of software developers that are now capitalizing on this need of the uncrewed aviation industry to streamline their after-field capabilities to offer a turn-key solution to the market.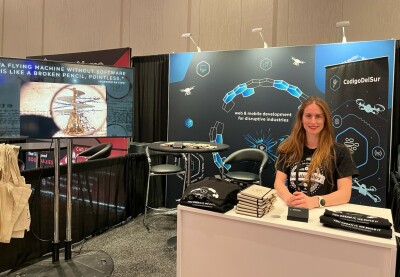 One company in particular, CodigodelSur in Montevideo, Uruguay, is expanding its drone-focused portfolio as they see this market segment growing in popularity and demand. We first covered CodigodelSur in October 2018 when they first attended Commercial UAV Expo and they had completed work for Dronedeploy, a job that began in 2016. Now, we connect again with Lucia Facchin, Chief Commercial Officer at CodigodelSur, for an interesting conversation about the role of application developers in the world of uncrewed aviation and the return on investment of attending Commercial UAV News.
"Since our first brush with drones in 2018, we have been growing our portfolio of application development to include deliveries and precision agriculture," Facchin said. "Commercial UAV Expo is a unique venue to meet potential clients and we have been attending for two years in a row now with great success in terms of leads and keeping up to date with the technology and the companies that are spearheading innovation."
Uruguay is a country where local companies have developed uncrewed aviation applications focused mainly on forestry, agriculture, and delivery, and CodigodelSur has pioneered some of the most innovative apps for local and international companies alike.
"We were working with the DJI software development kit (SDK) for a few years now but more recently have migrated to the more robust DJI Enterprise API (Application Programming Interface) that would allow us to deploy more commercial grade apps for new industries such as construction and mining. We have developed over the years expertise in portable applications based on Apple's IOS and also Google's Android operation system, but with DJI supplying new and more focused development tools for their enterprise platform, we are excited about the future," Facchin said.
When addressing the issues of international expansion, Facchin was very clear that Montevideo in particular and Uruguay in general offer a good and reliable base of operations with great talent at affordable operational costs.
"We are an international software development house, but that doesn't mean that we have offices in other countries. We have found that local talent at affordable operational costs is a winning recipe, and we try to concentrate our development efforts in our headquarters in Montevideo," Facchin stated. "From here, we have been able to deploy applications for companies such as Dronelink, Agro Scout, and now we have a long list of prospects from Commercial UAV Expo that will keep our sales force busy for months to come!"
In the current environment where the slightest advantage might be the difference between success or failure, having the right software development partner at the right price might be the key to success in the growing field of uncrewed aviation.