As we eagerly wait for the massive deployment of unmanned aerial vehicles (UAVs) and air taxis in the national airspace (NAS), examples keep popping up of companies that have found a way to develop profitable business models and lucrative ways to make money with these non-traditional aircraft.
For years we have been arguing in this column that the first examples of successful use of UAVs will not happen over the crowed skies of New York City or Los Angeles or Miami, but instead they will happen in the quiet rural settings all over the world.
This week, we had the pleasure of meeting an entrepreneur who came up with a successful business model under the most difficult circumstances and a hostile business environment, to put it mildly. We spoke with Emilio Marquez, the CEO and founder of Eco Roc Drone, an agricultural fumigation company in Venezuela.
The reason this story is remarkable is because Venezuela is under severe sanctions from the international community given its poor human rights record and documented anti-business economic policies that have decimated one of the most successful oil nations in the world. In 2000, Venezuela produced and mostly exported 3.5 million of barrels of oil a day. Today, this number is a meager 700K barrels, and, just a few months ago, it was 350K barrels.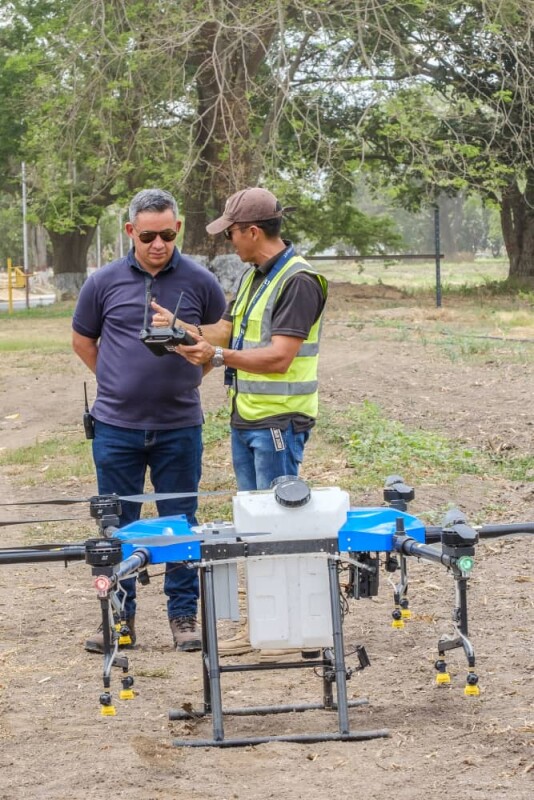 Emilio and his team saw a business opportunity and jumped at it.
"With the heavy restrictions on aviation fuel for private aircraft, most flight activities over Venezuelan skies stopped for everyone except the military, and the country entered a period of crisis in many sectors," said Emilio, reflectively. "One of these sectors was agricultural fumigation, and farmers panicked over the prospect of pests ruining their crops. We saw an opportunity to provide the same service with electric drones that didn't require aviation fuel and Bingo! A new business was born!"
In August 2018, there was an assassination attempt against Venezuelan President Nicolas Maduro using two DJI drones that exploded accidentally before reaching its target. This incident prompted the Venezuelan civil aviation authority, INAC, to halt all unmanned aircraft activities in the country.
"We were desolated when the decree came out, and our legitimate activities were stopped," said Emilio. "But we immediately asked for a meeting with INAC and were granted special permission to fly in rural areas and under strict supervision. So, in short, we survived this huge obstacle and moved on."
In January 2022, three-and-a-half years after the assassination attempt, INAC finally published its rules on UAVs or RPAs (remotely piloted aircraft), as they are commonly known in most Latin American countries.
"The funny thing about the January 2022 regulation is that it completely prohibited the use of RPAs in Venezuela," said Emilio with a smile. "But at the same time, they left open a huge door by saying that companies and individuals can ask for waivers to operate them commercially. So, we applied and were immediately approved, and our business has boomed since then."
The law was intended to stop all unauthorized uses of drones, but it created a simple mechanism for legitimate businesses to apply for waivers. According to Clyde & Co., a global law firm with offices in Caracas, and a team of lawyers specializing in aviation regulations, every waiver so far has been approved.
"We rapidly expanded our business, and today we have three large drones of 30 liters (7.9 gallons) capacity and one with 10 liters (2.64 gallons) capacity," Emilio said proudly. "With these four aircraft, we can fumigate 450 hectares (1,111 acres) a day and barely keep up with the demand."
But farmers need more services from aircraft than just fumigation, and Emilio and his team had to expand into non-fumigation technologies to keep clients happy, maintain their loyalty, and guarantee repeat business.
"We now offer mapping, thermal and multispectral imaging for our customers," Emilio said. "Farmers need to carefully monitor the health of their crops, and these extra services allow them to follow closely the areas that are over-watered or affected by environmental issues not related to pests or bugs. We offer the full spectrum of services that can be performed from the air, replacing entirely the need for crewed aircraft at a fraction of the cost."
When the conversation turned to the future, Emilio was excited about the prospects for his company.
"We are expanding the fleet by acquiring four new aircraft with a 40 liters (10.6 gallons) capacity each," said Emilio with excitement. "This has forced us to go into an aggressive campaign to recruit new pilots and train them in the various flight modalities of the company. We are preparing for June when the seeding season begins. Our customers expect us to be ready in terms of capacity, and we will not disappoint them. We are already booked solid for months, and things are looking good."
Eco Roc Drone is a great example of what the future holds in terms of disrupting technologies in aviation. Emilio and his team of engineers and pilots have found a way to create a thriving business under incredibly difficult circumstances. Not a lot of time will pass before we see these types of business models replicated all over the world.
Para una version en Español de este artículo, por favor haga click aqui.
Read our free report to discover more about drone investment and service opportunities across Latin and South America. Download the report.