We had the privilege of engaging in an insightful conversation with Lisa Rosenlyst Hansen from Odense Robotics, where we went into the details of their event International Drone Show 2023 in August in Denmark. We also discussed their strategic plans for empowering Danish drone companies in the coming years. As Business Development Manager at Odense Robotics, Lisa's core responsibilities revolve around the drone sector. With a robust background in robotics and several years dedicated to drone technology, she is well-versed in the technological intricacies and regulatory challenges inherent to drone operations.
We gained valuable insights from Lisa about Denmark's decade-long commitment to collaborative robotics, a journey she's been an integral part of. Having been part of the successful upscaling of two Danish start-ups within collaborative robotics, Lisa can now channel this invaluable experience into nurturing Denmark's growing drone ecosystem.
In her role at Odense Robotics, she serves as an essential support system for drone start-ups and scale-ups, assisting them through various programmes that provide the crucial guidance and funding they require for success. Lisa facilitates a drone networking group, where she brings together Danish drone companies several times a year to gain insights on a variety of topics, including interactions with air traffic management authorities.
Lisa explained to us that "We support companies in various ways. As a local hub, we can assist them to kick-start their operations in Denmark or launch their new activities by developing partnerships with the local Danish ecosystem. One of our main objectives is to build a relationship between different layers of stakeholders, such as governmental bodies, start-ups and end users to create sustainable businesses together."
Lisa's role extends to other areas as well, from steering drone companies towards new growth opportunities to preparing use cases. The aim is to unlock the full potential of drones, which involves more than just generating new ideas for early-stage companies, but also exploring unconventional use cases for Uncrewed Aerial Vehicles (UAVs) beyond our current framework.
Unifying the Nordic ecosystem through a comprehensive network
Odense Robotics is a national cluster organisation for Denmark's thriving robotics, automation, and drone industry, and is backed partially by public funding. While robotics currently makes up the majority of the industry's activities, Lisa anticipates a continuous rise in the drone sector.
We learned from Lisa that Odense Robotics also functions as a hub for robotics, automation, and drone companies. The hub provides a starting point to network in Denmark with a wide array of suppliers, stakeholders, and manufacturers across the country, consequently driving innovation and supporting the development of start-ups.
This growth is further fostered through various available programmes. For instance, a fund initiated last year that can provide funding, mentoring and incubation to early-stage international and national drone start-ups. To qualify for these opportunities at Odense Robotics StartUp Fund, the start-up undergoes an evaluation process to assess the viability of its business model and team.
Denmark has a unique and closely connected drone ecosystem with good funding, development and partnership opportunities. Denmark is home to a thriving drone community and one of Europes' leading drone test centres, UAS Denmark Test Center. Located near the city of Odense in central Denmark, the centre strives to offer the best possible conditions for start-ups, companies and public authorities within the drone industry—as well as access to state-of-the-art test facilities.
"Collaboration is part of our DNA here in Denmark. Drone companies often work closely together and with big end user companies and universities. It's a dynamic environment fostering growth and innovation. Denmark's drone ecosystem has a wide variety of funding sources, which areaccessible to both local Danish companies and internationally led companies who have relocated to Denmark to take advantage of its interconnected networks," says Lisa.
This collaborative approach extends to other Nordic regions, including partners like the Nordic UAS and other air traffic authorities. Presently, the central discussions revolve around optimising cooperative operations to support each other's mutual efforts. An example of this collaboration will be demonstrated at the upcoming International Drone Show 2023, where a panel debate featuring various Nordic Civil Aviation Authorities (CAAs) is scheduled, featuring representatives from Denmark, Norway, Finland, and Iceland. The discussion will be moderated by the CEO of UAS Norway, a highly regarded expert in the field.
The importance of the International Drone Show 2023
Unlike many other drone events, the annual conference and expo is relatively compact – which makes it easy for participants to connect with a wide range of companies and get a quick deep dive into Denmark's drone industry.
Highlights of the panel discussions include a debate among Nordic Civil Aviation Authorities (CAAs) regarding U-space and where this might go in the future. There will also be panel debates about innovation and novel applications, as well as the counter UAS paradox.
For drone companies considering establishing a presence in Denmark, a dedicated event will be held the day prior to the International Drone Show opening. Here, participants can gain insights into the advantages of the Danish drone ecosystem.
This year, as something new, there is a "matchmaking" event. You can pre-book meetings with key stakeholders for your company will bring together companies from across Europe, fostering collaboration and furthering the development of the drone ecosystem. Register here
Eszter Kovács
Eszter Kovács is the CEO and co-founder of DroneTalks Group, which is a collection of services and platforms advancing the entirety of the drone industry ecosystem. Currently, members of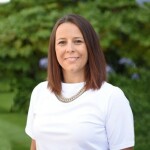 the DroneTalks Group include DroneTalks, DroneTalks Jobs and Aerial Cities.
DroneTalks is an online platform created to spread ideas and educate professionals in the drone industry ecosystem. Our educational content empowers people of every discipline and culture who seek a deeper understanding of the industry and the innovative ideas within it.
DroneTalks Jobs is the first job portal tailored for the drone industry. The platform connects emerging organisations with skilled professionals seeking new opportunities in this rapidly evolving field.
Aerial Cities is an exclusive, invite-only event for decision-makers in the drone and advanced air mobility (AAM) industries. The event enables governments, cities, CAAs, private drone organisations and users to collaborate and strategise the future of urban drone operations.
Eszter Kovács is also a drone industry expert and regularly contributes to major magazines about the latest trends; these include publications such as Commercial UAV News and Commercial Drone Professional. In addition to this, she is an advisor for several start-ups, such as Globhe. Her role as an advisor extends as well to her role on the advisory board of drone-related initiatives like AUVSI Xponential and Commercial UAV while also fulfilling her commitment as a Swiss Drone Industry Association board member.
These roles are backed by her extensive experience as a technical innovation expert where she contributed to the growth of several companies after leading and mentoring the implementation of complex projects in the drone industry. Eszter still continues to advise leaders on strategic planning and operational transformation initiatives. In 2020, she was also approached by the Global UTM Association to become the director of more than 40 UTM leaders through a 6-month restructuring initiative. Eszter Kovács is also head of one of the largest diversity initiatives in the drone industry called Women behind the Drone Revolution, which was launched in 2020. Learn more about Eszter Kovács at DroneTalks.online.