Recently, we went to the beautiful Swiss valley in Obwalden in the heart of the Alps to understand how one of the biggest motion control drive manufacturers sees the drone market and what solutions they developed for it.
If you're unfamiliar with maxon, they're a manufacturing company most well known for their motors, which are often displayed and advertised at various events around the world. Others who might be more familiar with mountain bikes might have seen their maxon BIKEDRIVE AIR product, which has been a recent development in the past several years where the company has moved into the e-bike industry. maxon products are also used by a number of different industries and companies around the world, which is why the team includes more than 3,000 people and is present in 40 locations globally.
Should you like to learn more about maxon visit:
The move into the drone market came after the leadership team at maxon realised that their light motors fit perfectly into the use case for innovative new coming mobility solutions such as e-bikes and drones. Why? They needed to have a safe, reliable, efficient and lightweight design .
Around 2015, maxon began to get inquiries from potential customers in the drone industry who had heard about the capabilities of their lightweight motors. Drone companies were hoping that those products could be adapted for their use cases, as there were not many other products available on the market at that time.
maxon wasn't able to initially meet these requests, which is why they began preparing for the future by starting the research and development project for drone motors to meet these new demands.
The History of maxon Group
maxon was founded in 1961 in Sachseln in the Canton Obwalden in Switzerland by Max Braun and his sons Erwin and Artur Braun, alongside German engineer Bodo Fütterer. The company began by developing lightweight motors that were originally used for electric shavers, which became so successful that BRAUN GmbH was eventually sold to Gillette. The learnings from creating the lightweight shaving motors helped the company develop precision motors, which eventually began to gain international recognition over the years.
These motors became so well-known for their reliability that the engineers of the first Mars rover used 11 maxon motors for the Sojourner.
Roger Villiger, the Head of the Aerospace Business Unit, explained that since maxon participated in the first NASA mission to Mars, they've been supplying motors to most Mars missions since, including the ones that have not been launched and the first drone mission, where maxon supplied the small drives for the pitch orientation of the rotor blades.
Why, after becoming a global company, does maxon have their head office in a small Swiss village?
Despite maxon Group's global recognition as a leading manufacturing entity, its headquarters remain in Sachseln, Obwalden, Switzerland—the same location where the company was established more than six decades ago, which might be why Swiss principles of quality and dependability continue to be integral to maxon's core values as they continue to expand their locations across the globe.
Roger Villiger explained that most innovation projects, such as those for drone solutions, include contributions from maxon's international R&D teams. Roger explained that, "For the drone industry, our headquarters is still the leading site due to the proximity to the Swiss Drone Valley and availability of specialists and infrastructure."
maxon proves its quality not just through actions, but also through five types of certifications recognised internationally: ISO 9001, ISO 14001, ISO 13485, EN 9100 and IATF 16949. Each certification earned by maxon serves as validation of the quality of their products, including those in the medical and aerospace sectors. The meticulous testing required for these certifications allows maxon to demonstrate their unwavering commitment to quality. This commitment is encapsulated by their guiding principle, "Quality without compromise", which is prominently displayed on their website.
This quality translates to a longer product lifecycle, explained Roman Meier, the Technical Project Manager in the Aerospace Business Unit, who added that their clients appreciate the robust and rigid design of their products that are made to endure harsh conditions that drones often encounter, like rain, snow and wind. Their customer's drones also don't need to be recharged as often due to maxon's efficiency optimised propulsion systems, which make long-distance drone applications more achievable with fewer charging stations in between.
Roman also explained that maxon products, due to their quality and durability, will last longer and be cheaper in the long run compared to the alternatives.
Collaborating with other Swiss drone companies
It's a well-known fact in the aviation industry that Switzerland has some of the best conditions for building and developing drone operations, which is why organisations like Auterion, Jedsy,RigiTech, Flybotix, and so many others are headquartered here. maxon Group utilises this network to partner with drone organisations that are building complex products, which means technical drone development becomes easier with maxon's team of experts.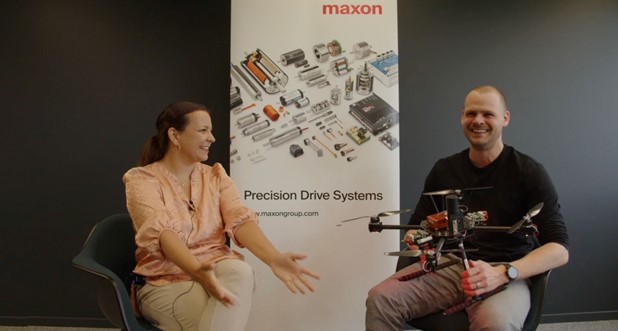 The drones resulting from these collaborations integrate the unique strengths of each participating company, enhancing efficiency and ensuring compatibility with various software interfaces. During our interview, Roman Meier showed us one of maxon's test drones featuring motors and motor control electronics developed by maxon, while the remainder of its construction utilised elements from Auterion or standard carbon fibre materials to maintain structural integrity. Notably, maxon and Auterion have collaborated to optimise product interfaces, solidifying their partnership in this innovative marketplace.
Roman explained that these partnerships help to identify the strengths of each company, which can be used to create the best overall product. This goes against the standard operating procedures of many others in the drone industry who would like to see themselves as the full end-to-end manufacturer of all parts, which, due to the age of the industry, is impossible to accomplish because the practical experiences aren't available to have tested each solution.
Experimentation and tailor-made solutions with Flybotix
Marco Sicher, Business Development Engineer for the Aerospace Business Unit, informed us that most of their clients are currently in the product testing phase, preparing for the subsequent testing/engineering stage. Notably, one client, Flybotix, based in Lausanne, has been using custom maxon's motors since the early stages of their development.
In their initial collaboration with Flybotix, maxon was tasked with creating a specialised, custom-made motor to meet the specific needs of the organisation. The objective extended beyond simply aiding Flybotix's success as a drone company; it was also about gaining insights into the evolving drone industry and its requirements.
The motor was designed for a caged drone specialising in indoor inspections. The maxon team used this opportunity to understand the crucial elements involved in developing a compact motor with a long flight time, which resulted in one of the most reliable motors currently on the market. The battery life lasts longer than any competitor, which is great for longer flight times, and is perfect for a 1.5kg drone.
While maxon did design a highly customised motor for Flybotix, its application to other drones may be challenging due to the degree of customisation involved. However, maxon is open to similar partnerships with other companies, contingent on the establishment of a mutual connection. The process begins with an evaluation of the potential partner's requirements and objectives, followed by a discussion about energy supply, the type of motor, control electronics and propeller to be designed and the benefits. If a clear alignment is found, they proceed to develop a suitable product.
This approach is not exclusive to new industries like the drone industry. It reflects maxon's overall operational values, as they consistently provide customised applications and products across all industries, marking customisation as important as quality as an integral part of their organisational DNA.
Building the future of the drone industry
As the aerospace industry evolves, the prevalence of drones or UAVs will continue to rise, influencing sectors ranging from consumer and agriculture all the way to security. In response to the growing demand for safe, reliable UAVs with extended flight durations, maxon embarked on a project in 2019 to develop drone motors and controllers.
This project required a different set of skills and a steep learning curve. Through rigorous testing, the importance of cooling for these motors was highlighted, leading to the design of motors with adequate internal cooling systems. Other factors, such as efficient motor control algorithms and gyroscopic forces were found to have a significant impact on UAV motors, influencing the development of specialised testing equipment for these use cases.
Efficiency tests were conducted to enhance drone propulsion performance. Collaborations with diverse market participants broadened the understanding and proficiency in several areas, underlining the necessity of a holistic strategy in constructing dependable drones. The maxon team has collaborated across different departments and sectors to devise the optimal motor for each client, yielding overwhelmingly positive responses regarding the longevity of these newly crafted lightweight drone motors and electronics speed controllers.
Every day brings the development of new client projects, indicating the imminent arrival of innovative motors and control electronics for widespread application in the drone industry.
Eszter Kovács
Eszter Kovács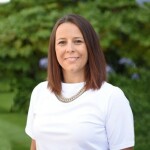 is the CEO and co-founder of DroneTalks Group, which is a collection of services and platforms advancing the entirety of the drone industry ecosystem. Currently, members of the DroneTalks Group include DroneTalks, DroneTalks Jobs and Aerial Cities.
DroneTalks is an online platform created to spread ideas and educate professionals in the drone industry ecosystem. Our educational content empowers people of every discipline and culture who seek a deeper understanding of the industry and the innovative ideas within it.
DroneTalks Jobs is the first job portal tailored for the drone industry. The platform connects emerging organisations with skilled professionals seeking new opportunities in this rapidly evolving field.
Aerial Cities is an exclusive, invite-only event for decision-makers in the drone and advanced air mobility (AAM) industries. The event enables governments, cities, CAAs, private drone organisations and users to collaborate and strategise the future of urban drone operations.
Eszter Kovács is also a drone industry expert and regularly contributes to major magazines about the latest trends; these include publications such as Commercial UAV News and Commercial Drone Professional. In addition to this, she is an advisor for several start-ups, such as Globhe. Her role as an advisor extends as well to her role on the advisory board of drone-related initiatives like AUVSI Xponential and Commercial UAV while also fulfilling her commitment as a Swiss Drone Industry Association board member.
These roles are backed by her extensive experience as a technical innovation expert where she contributed to the growth of several companies after leading and mentoring the implementation of complex projects in the drone industry. Eszter still continues to advise leaders on strategic planning and operational transformation initiatives. In 2020, she was also approached by the Global UTM Association to become the director of more than 40 UTM leaders through a 6-month restructuring initiative.
Eszter Kovács is also head of one of the largest diversity initiatives in the drone industry called Women behind the Drone Revolution, which was launched in 2020. Learn more about Eszter Kovács at DroneTalks.online.