As the commercial UAV industry evolves and matures, one topic has become more and more of a focus for professionals in industries that range from construction to energy to agriculture. Questions related to the return on investment of the technology loom larger than ever as the true ROI of UAVs has been more of a focus.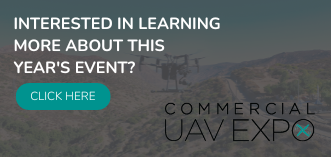 Whether you use drones for package delivery, inspections, mapping, security or surveying, you want to know if the technology is providing real value. Are you saving time? Are your energy costs going down? Are your clients happy? Are you making money?
At this year's Commercial UAV Expo, thought leaders, visionaries, and innovators in the commercial drone industry will be offering their insights on ROI and more during a series of keynote addresses, panel discussions, and related sessions that define the conference program.
Here's a look at what you'll learn:
Perspectives on Drone Delivery
Drone delivery is a major focus of this year's event, with both keynote addresses focused on that sector.
For the expo's opening keynote, The Transformative Power of Instant Logistics, Keller Rinaudo, CEO of Zipline will detail the power of autonomous, instant logistics to decarbonize transportation, increase access to healthcare services, and improve daily life in the US and beyond.
In the other keynote, Defining the Future of Drone Delivery, leaders from top organizations in the drone delivery space will come together to explore the value of delivery applications today and look at opportunities for tomorrow. The panel will include Dallas Brooks of Wing, Jim O'Sullivan of Matternet, and Tom Walker of DroneUp. The keynote will be moderated by Jay Merkle, Executive Director of the UAS Integration Office at the Federal Aviation Administration.
Adding Value To Surveying & Mapping Operations With Drones
Surveying & mapping professionals have long understood that drone technology can help them save time and money and improve the quality of their work. Today, new applications are enabling the sector to derive even greater value from the technology.
The Commercial UAV Expo panel discussion, Drone Surveying vs Traditional Surveying – Where's the Value?, will explore these new opportunities for enhanced ROI and make the connections between what's possible and what's practical. Moderator Douglas Spotted Eagle of Sundance Media Group and the panelists will explore ways of measuring cost savings, time savings, and improved safety from drone operations. They will also outline what these differences look like in survey workflows and on mapping projects and explain how drones serve their core businesses.
Other surveying & mapping presentations at the expo will focus on crucial topics such as the accuracy of drone survey data, what it means to maximize workflow efficiency and how the USGS utilizes small UAS for scientific research.
Surveying topics will also be a major part of the Construction session, with insights that explore how drones can be utilized to determine grades and contours vs the cost of traditional survey.
New Opportunities for UAVs in Agriculture and Forestry
Increasingly, farmers and forestry professionals are using drone technology to perform standard tasks such as spraying pesticides and fertilizer, but the use of drones for aerial mapping of growing areas and other cost-saving, productivity-enhancing tasks is pushing these industries toward new technologies.
The Forestry & Precision Agriculture sessions at Commercial UAV Expo will dig deep into the ways companies and organizations in this sector are finding new ways to add value with drones.
Experts from HTS Ag, Volatus Aerospace, ideaForge Technology, Rural Drone Academy, and Global Aerial Management will provide their insights on a wide range of subjects, including deploying drones to count trees and livestock, regulatory considerations, how drones can fight forest fires, new spraying technologies, advancements in software, sensors, and batteries, ways drones can promote sustainable agriculture, and much more.
Getting More Out of Drone-based Mining & Aggregates Operations
To create greater value, many mining & aggregates businesses have changed their operations to incorporate UAVs. These "re-engineering" efforts have improved productivity, reporting, and safety for mining operations.
The Mining & Aggregates track at Commercial UAV Expo, moderated by Thomas Haun of Turner Mining Group, will take a close look at how these changes are adding value and show stakeholders and operators how they can best take advantage of new opportunities.
Attendees will learn about underground autonomous mining, how to use drones to improve stockpile and site data collection, data capture methods for mine site and quarry management. How can a variety of data capture methods redefine mine site and quarry management? What efficiencies can mining companies measure when they use drones to survey stockpiles and sites? These insights will be explored by professionals from Wingtra, Firmatek, Exyn Tech and more.
The 2022 Commercial UAV Expo conference program also has various other vertically-focused sessions that detail everything from how a drone can transform a bridge or infrastructure inspection process to what it means to define value with drones in energy & utilities in terms of an ROI. These are the kind of insights that are exclusive to the event, partly because they're so brand new, but also because this value isn't being explored in the same way anywhere else.
The ROI of UAVs will always be defined in different ways by distinct operators and organizations. That said, knowing how others are actually using and have been able to quantify the value of the technology in specific vertical industries provides users and stakeholders with the info they need to make those same calculations for their teams and workflows.
Join the global drone community at Commercial UAV Expo!
Commercial UAV Expo is the definitive global event for professionals integrating or operating commercial UAS. With top-notch education, thousands of attendees, and more exhibitors than any other commercial drone event, it's the best opportunity of the year for anyone who needs to keep up with commercial UAS technology, trends, and developments. The 2022 event currently boasts more than 300 media and association supporters from six continents.
Registration is now open - click here to register today.