There's lots of talk about where drones are currently at on the Gartner Hype Cycle, which is unsurprising given the frenzy that fueled the early days of the technology. However, anyone arguing that drones are still in the Trough of Disillusionment rather than on the Slope of Enlightenment is still caught up in that same potential of the technology as opposed to the actual value drones are creating.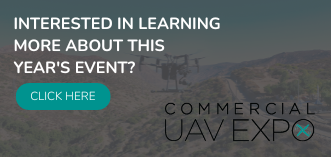 That value is central to the keynotes, sessions, and panels that will define the 2022 edition of the Commercial UAV Expo. Experts will explore updates to regulations that allow expanding BVLOS applications. They'll convey insights that define what it means to make the technology work logistically and financially in a variety of industries. They'll explore crucial business decisions surrounding the technology in the present that are laying the groundwork for future applications.
We've already detailed how the Commercial UAV Expo will showcase the ROI of UAVs in various vertical industries but a closer look at insights that will be applicable to operators and organizations across the entire industry is below.
Regulatory Insights Straight From the FAA
Our Regulatory Insights session will put you right in the room with UAV regulatory experts, including representatives from the FAA. They'll answer your questions about FAA type certification, permissions, authorizations, environmental reviews, waivers and exemptions, and more. Moderated by Lisa Ellman from the Commercial Drone Alliance, this session will give you the direction you need to navigate the complex world of regulations and put your drone program in a position to succeed.
A Closer Look at BVLOS
Over the just the past few months, there has been increased focus and progress regarding operations beyond the visual line of sight (BVLOS). Our BVLOS Operations session will explore the FAA's interest in enabling BVLOS while also examining what it means to apply BVLOS to maximize the effectiveness of a drone program and also explore. Industry leaders from Spright, Skydio, and Northern Plains UAS Test Site will share their insights and present use cases that outline specific BVLOS operational details.
How to Integrate a Drone Program into Your Organization
How can a drone program fit within a broader organization? What does it mean to integrate aerial with terrestrial/intermodal robotic applications? Why is it important to have a "drone champion" within an organization?
These are just some of the compelling questions that will be explored during our session Drone Visionaries: Getting Drones to Work Today. Matt Clark of Hogan Lovells will lead a discussion on the ideas, approaches, and technologies that can enable drone operations to make a positive impact on any organization. Leaders from Skydio, Draganfly, Commercial Drone Alliance, DroneDeploy, and AgEagle are set to offer their perspectives.
UAVs in the Enterprise
Mark Bathrick has detail what it means to start a drone program with zero acquisition and maintenance costs while also quantifying the difference drones have made to the bottom line. He's successfully measured the value of drone adoption on multiple levels, which made him the perfect person to moderate the Drone Programs in the Enterprise.
This series of panels, moderated by Bathrick, will answer questions related to software cost considerations, training costs, the role of automated solutions and much more. Experts from Parsons, Censys Technologies, Skyline Software, TraceAir Technologies, and Deloitte Consulting will explore what it means to start, build and scale drone programs in 2022 across the enterprise.
Taking the Next Step With UAS Programs
The Commercial UAV Expo Exhibit Hall Theater will host several sessions where industry leaders will help users take the "next step" with the technology. They will discuss business decisions, technology applications, and strategies for adopting new innovations. Be sure to check out Drones and Your Business, Understanding the Drone Industry, and Drone Autonomy.
How Woman Are Changing the UAV Industry
DroneTalk's Eszter Kovács has made it her mission to spread ideas and education across the drone ecosystem. At the Commercial UAV Expo, this endeavor will be explored from a very specific perspective when she's joined by Candice McHargue from UPS Flight Forward, and Zipline's Okeoma Moronu for the Women Behind the Drone Revolution session, which will provide a lively look at the many ways women are driving advancements in the commercial drone industry. These inspirational women will share career path stories, offer insights on the industry, and present practical advice based on their successes.
Given all of the specifics that are set to define the 2022 version of the event, it's natural to assume that drone technology has already reached the Plateau of Productivity on that hype cycle chart. And maybe it has. However, that's not a distinction that any speaker or presenter at the Commercial UAV Expo will be outlining, as such details don't really matter to the people using this technology today. They're much more focused on applications and reality over placement and potential.
Join the global drone community at Commercial UAV Expo!
Commercial UAV Expo is the definitive global event for professionals integrating or operating commercial UAS. With top-notch education, thousands of attendees, and more exhibitors than any other commercial drone event, it's the best opportunity of the year for anyone who needs to keep up with commercial UAS technology, trends, and developments. The 2022 event currently boasts more than 300 media and association supporters from six continents.
Registration is now open - click here to register today.