"Empathy" is not a word we hear too often in the world of technology. The notion of understanding and relating to the feelings of others seems at odds with the goals of hard science. Many believe that successful, sustainable technological solutions can only come from thorough research and testing, with actions based on established facts and results. There is no place for "empathy."
Chris Bourbeau, Vice President of North America Aerospace at Cambridge Consultants, disagrees. He believes that empathy can and should play a critical role in solving a company's technological challenges. He also feels that the concept of empathy can be adapted to technological systems to improve performance and safety.
At Cambridge Consultants, Bourbeau and his colleagues offer strategic advisory and technology development services for clients around the world. Many clients employ Cambridge Consultants for help in designing and deploying uncrewed ariel vehicles (UAV) control and Advanced Air Mobility (AAM) systems that extend beyond visual line of sight (BVLOS).
In an interview with Commercial UAV News, Bourbeau discusses how Cambridge Consultants has adapted the concept of empathy, specifically through the idea of "empathetic squadrons" of drones. He also addresses advances in drone technology, business philosophy, and his firm's work with Flylogix.
Commercial UAV News: Discuss the concept of "empathy" and how Cambridge Consultants incorporates the concept into its business philosophy.
Chris Bourbeau: Technology is growing so incredibly fast, and many companies can't keep up with the pace of change. For us to be a trusted partner, Cambridge Consultants has to do more than know the markets and the technology. We have to truly understand your unique problems and your challenges. Our approach to autonomous BVLOS drone operations, involves exploring advanced design characteristics, such as empathetic behavior and mission-specific task-organization. So, one of the things we focus on at Cambridge Consultants is that confluence between developing really great tech and understanding the human dimension. Our solutions are met with greater success when clients are confident, comfortable, and educated in the development. We make sure that our clients can take the technology we develop for them, know how to apply it, and profit from there.
It makes sense that a consulting firm would need to understand a client's challenges and goals to help them address business issues, but how does empathy extend to the technology itself? Specifically, what is the "empathetic squadron" concept?
When we apply empathy to technology, we create systems in which the components—in this case, UAVs— can respond to dynamic environments and changing mission requirements. So, empathetic squadrons are a collaborative force of UAVs with a dynamic hierarchy of command and control. Because of the varied design of the individual drones, the squadron is designed to be highly flexible and adaptable enabling the ability to temporarily organize in response to changing capability and mission requirements.
Can you provide an example of how this works?
One example of how this would be applied in the field is using a squadron to adaptively create scenes of varying fields of view and use AI to create situational awareness from synthetically generated imagery. This would be achieved by drones spreading out geographically to capture images of a scene, then creating a synthetic image of varying sizes and resolution depending on requirements for the use case at hand. This is just one of many potential use cases where distributed intelligence offsets the dependence on complex centralized data processing, reducing latency and energy consumption, both of which are critical determinants of performance.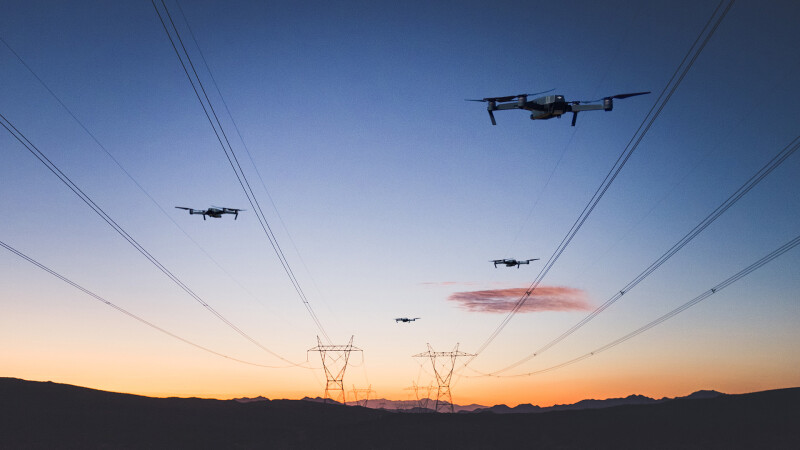 How did you develop this concept?
Our thinking from the get-go was clear: single ship UAV operations just don't cut it. We saw real benefits in progressing towards a team construct that increases synergy, performance, and efficiency of operations. Essentially, we want to up the way UAVs are used, resulting in decentralization, self-organization, resilience, operational flexibility, and environmental sensing. So, we struck on the idea of an "empathetic squadron" – a concept that is proven as a very effective method across all types of highly complex operations. We believe this model has the capacity to form an operational fleet of UAVs that is far greater than the sum of its individual parts. This presents the opportunity to enhance the scope and flexibility of the current model where drones work independently of one another, which is in contrast to a task-organized, empathetic squadron concept.
How do empathetic drone squadrons work in the real world?
There are many examples of how a team of drones can be more effective than an individual drone. Here's one: Utility inspections are one of the most common use cases for drones today. When you inspect power poles or roofs BVLOS, you may run into problems where the drone cannot acquire navigation, such as GPS. It might start to lose communication. Well, if the drone that has the specific camera that is going to conduct the inspection starts to lose communication, other drones can empathetically sense its health. And another drone in the squadron can put itself in a position autonomously because it understands the health of the other drone. It can become an additional node and extend that capability through transmitting navigation, transmitting communication, and retransmitted communication.
This is quite a step forward, what's happening in the world of technology that's making this possible?
With continued advancements in AI, smart platforms, and extended battery life, we firmly believe the empathetic concept can be applied to UAV operations. And, at Cambridge Consultants, a lot of our teams are working to make empathetic technology a reality and available for our clients. For example, our inhouse digital service innovation (DSI) team is responsible for the macro integration of the UAV mission into the overall business and human benefit – why a flight takes place, essentially. But DSI also provides the logic of how the fleet makes decisions, while considering the relationship between data and computer processing, vehicle and cloud, to ensure that the mission succeeds. Also, our communications team is vital to allow the inter-squadron collaboration—from squadron to mission control and from squadron to the recipient of the service. Finally, AI is working on detect and avoid, allowing the drones to sense themselves and negotiate their operating environments. Our teams are developing the algorithms that will cope with the ever-changing complexity and unpredictability of mission environments.
Is the public ready for empathetic drone squadrons?
Establishing trust is essential for the public to accept any application of uncrewed aircraft and autonomous machines. The idea of trust is at the epicenter of the working groups that I sit on with the FAA, NASA, and other organizations. We're all trying to find ways to establish mutual trust between machines and the overall society. We believe the concept of the empathetic squadron can help us build this trust. That's because the current model of deploying homogenous drones is inefficient and limited in its uses. Empathetic squadrons, however, offer complementary and redundant capabilities, an understanding of each team member's status, and improved robustness. That means better mission success rates for service providers, additional safety measures, and, we hope, greater social acceptance.
Let's switch gears and talk about your work with Flylogix, a project you discussed with us last year.
This is a really interesting project where we helped Flylogix send drones beyond the horizon to offer remote monitoring for oil and gas operators on a global scale. Safety, accuracy, and timely operational data is vital for these industries, so it was an ideal use case for uncrewed aviation.
Flylogix already had the capability to fly BVLOS locally in the UK. Our mission was to move the drone piloting from the airfield to become centrally controlled.
What's the latest news with Flylogix?
The latest news is that Flylogix has just raised £6 million funding to fly into new territories. The round was led by Amati Global Investors and saw the participation of bp ventures. This latest investment will enable them to bring their proven UAV technology to new regions and develop applications to realise the potential of UAVs. It will also allow them to expand into new geographies, including the U.S., Norway, and Trinidad and Tobago. Additionally, the investment will enable Flylogix to crossover into the biodiversity and renewable energy industries, conducting wind turbine blade inspections for offshore sites. Already, Flylogix has been helping bp undertake measurements of methane emissions in the North Sea. Accurate emissions measurements are the basis upon which mitigation plans are based. They will now help bp expands into new regions and help with their Net Zero ambition. Overall, I think our project with Flylogix has massively increased the scale and capability of their services to these offshore installations. It's a good example of how complex, safety-critical functions can be serviced from a central hub. I am excited to see the project evolve—the latest investment is a really significant moment for the business.
We've discussed several areas of advanced technology. Is there any advice you would give to companies struggling to make breakthroughs to realize their own ambitions?
Many companies have great ideas and talented staff, but they often lack the resources and expertise to achieve their goals. That's why they turn to companies like ours. Through our experience, though, we know that success can only be achieved through a strong collaboration. And, as I mentioned earlier, these collaborations have to be both task-organized and empathetic. We have to understand the technologies and the markets, but also the needs and aspirations of our clients.