Recognizing the impact drone technology can and will have in a variety of fields, institutions across the world are working on figuring out how UAVs can be integrated into the classroom. That's part of the reason the efforts of the National Geospatial Technology Center of Excellence (GeoTech Center) are so critical. As a collaborative effort between colleges, universities, and industry designed to integrate geospatial technology workforce, the GeoTech Center facilitates networking and collaboration between academics to figure out exactly where and how technology like UAVs can be best integrated into their classrooms.
The ramifications of these endeavors on the job market are often discussed at
industry events
, where educators pose a variety of questions and concerns during various conference sessions. As a way to further focus these questions and concerns for academics, the GeoTech Center has setup the
University Roundtable
at the upcoming
Commercial UAV Expo
. The Pavilion is designed to bring like-minded people together to connect with each, establish next steps for collaboration, learn how others are approaching these issues and much more.Embry-Riddle Aeronautical University, Penn State University and Rochester Institute of Technology are just a few of the institutions already signed up for the Roundtable, while numerous others are also set to join. Discussions about how emerging technology like drones can impact students, professors and entire industries are just part of the value participants can expect from the session though.
Preparing Students for the Workforce
There are currently two main ways drones are being integrated into higher learning institutions. The first way sees UAVs introduced as an additional specialization in an otherwise traditional aviation program/department. This has been done in institutions such as Northland Community College and Embry Riddle Aeronautical University. The second way sees specific programs or departments that have determined they can benefit from the technology working to establish integration. This is the case with Palomar College, where a UAV program was developed jointly by Graphic Communications and Geographic Information System faculty members.Wing Cheung has been developing UAS curriculum and oversaw the creation of the UAS Certificate Program at Palomar College, and that success has fueled his desire to exchange ideas with people outside his direct network. Having a formal network component like the Roundtable for industry event attendees in academia is something that he sees as especially critical, especially in a rapidly-growing industry."As more legislators and college administrators realize the need to prepare students for the workforce for the well-being of the nation's economy, colleges and universities have increasingly focused on developing a curriculum that is responsive to the industry's and employers' needs," said Professor Cheung. "Given that UAV applications and regulations are changing so rapidly, it is ever more important for educators to collaborate with employers and industry in order to ensure that graduates of college and university programs have the necessary knowledge and current skillset to not only enter, but also to advance this rapidly growing industry."That growth often begins in the classroom, and many universities have created specific departments or disciplines for drone technology to make it easy for interested students to find the program and its courses. Drone-specific departments can also collaborate with other departments (e.g. agriculture, public safety) to create courses that can be cross-listed between the drone-specific department and those other departments.That said, creating a whole new department or discipline in a school isn't a simple endeavor, and in some cases, it might not make sense for the institution or program. The University Roundtable is designed to be a venue where these sorts of discussions can happen, and that's part of the reason it's set to be such an important event.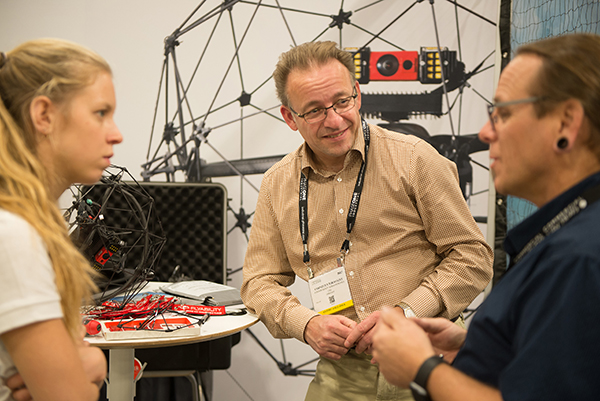 For Schools That Want to Start of Modify a Drone Program
The GeoTech Center's role with developing UAV programs of study aims to be a unifying voice for two-year colleges that already have or are seeking to implement UAV programs. Specifically, it does so by hosting professional development workshops across the country to teach educators about UAVs, researching what students need to know in order to successfully enter the UAV workforce, and supporting outreach activities. All of these activities will take center stage in the Roundtable, but they're just a glimpse of the discussions that attendees can expect at the Roundtable."Curriculum and program development will be a major topic that we cover in the session," Professor Cheung told Commercial UAV News. "We'll also detail what it means to prepare students for the commercial workforce, and also discuss liability and insurance issues for educational operators. We won't just be focused on the education in the classroom itself, though, as we'll also cover the qualifications of instructors as well as student recruitment and assessment strategies."Working through the logistics of what it means to effectively integrate drone technology into the university classroom isn't a simple endeavor, and it's one that can mean different things to different institutions. That's why it's essential to gather as much input on curriculum and approach as possible, and some schools have taken to offering internships/employment to students, or donating resources to offset the startup cost of the program to make them happen. Whether or not it's necessary for a school to create or offer these sorts of incentives are details that the University Roundtable is set to explore, and being able to do so with others who have or are working through similar questions can make all the difference in the world."As with any new programs involving new and emerging technologies, it is critical to demonstrate a regional demand for the technology," Cheung concluded. "Any schools wishing to start a drone program or modify their existing programs can hopefully learn from the experience of other educators who have already gone through the process."
The University Roundtable is open to anyone involved in academia.
Click here to learn more about the University Roundtable
To join the discussion,
register for free here
Is your institute already integrating UAV technology and have research to share/programs to promote? If so,
click here to learn about participating in the University Pavilion
at Commercial UAV Expo