Creating a UAS traffic management (UTM) system that will ensure both manned and unmanned aircraft can safely share the sky has been a key consideration in the drone industry for many years now. Experts like PK from NASA have worked to define and enable this kind of system, while leaders in Europe are committed to integrating drones into the airspace and across the world via U-space, which is Europe's vision for unmanned aircraft systems traffic management. U-space is a collaborative effort to enable situational awareness, data exchange, and digital communication for the drone ecosystem in Europe that is championed by the European Commission (EC), SESAR, and the European Aviation Safety Agency (EASA).
The creation of these systems in the United States and Europe will define how beyond visual-line of sight (BVLOS) operations and other types of flights can safely take place since it will enable a drone to see and be seen by other aircraft. A system that will be able to effectively keep track of and deliver important information to drone operators, as well as other airspace stakeholders, will help ensure all of those parties stay safe. Scalable drone operations can become a reality as a result of a UTM/U-space system. In order to better understand the UTM and U-space challenges of today while also assessing how they'll be resolved in the near future, we connected with Ben Marcus, Co-Founder & Chairman of
AirMap
. The company is committed to
developing market-ready UTM service modules
and instant access to the global drone market, an effort that has seen them partner with companies from around the globe. We talked through what those collaborations look like, whether there are any distinctions between UTM and U-space, asked whether or not European airspace will be "open for business" in 2019 and much more.
To find out what Ben has to say about the FAA Reauthorization Act of 2018, how it impacts the future of Remote ID and whether or not it's easier to fly drones as hobbyist today, click here.
Jeremiah Karpowicz: We've talked about
how a truly scalable drone economy
will transform our lives, which ties into how enterprises will utilize fleets of drones, and how air taxis will enable a totally new paradigm around transportation. Ultimately though, will regulation or technology like UTM/U-space systems be a bigger factor in terms of how and when we'll see this transformation take place?
Ben Marcus: I think it's a combination of both. It's hard to say that it's one or the other. We certainly believe that smart regulations and a spirit of collaboration across all levels of government are essential for a healthy drone ecosystem to emerge. AirMap successfully works with regulators, airspace management authorities, and industry partners to enable complex drone operations to bring the right regulatory frameworks to bear so that these operations can happen.The combination of rules and technology is critical because there are lots of different ideas being developed by different companies, and the regulators are not in the innovation business. They're in the safety business. Because of that, industry has to come to regulators with innovations that can help to maintain or even improve the existing level of safety in the airspace while enabling these more complex and higher scale missions. That's why it's incumbent on the industry to come together in partnership and present that vision to the regulatory. 
Do you think that vision will be evident in the
first package of drone regulation
from EASA that is set to be published this year? Is it something you believe will help define what the future of this ecosystem will look like?
It's a great step in the right direction. EASA is planning on releasing U-space regulation which will be part of a bigger regulatory roadmap for all of Europe. We really believe that smart regulation, when coupled with UTM technology, is a critical first step in ensuring safety while fostering drone commerce.Current regulations at EASA reflect a deep understanding of manned aviation, but when it comes to drones, regulators are in a whole new space, and these regulations need to be reevaluated. I think EASA has done a good job of bringing together the right panels of experts to inform what will be in this initial set of regulations. We're quite excited about it.
That understanding of manned aviation in Europe is evident, and I wonder if it has caused regulators across the continent to think of U-space in a different manner than how UTM is being talked about in the United States. It sometimes feels as if UTM is being positioned as an ancillary consideration in the United States, but the EU's
support for U-space demonstrations
makes the creation of this ecosystem priority. Do you think there's any significant difference in terms of how UTM and U-space are being positioned?
Somewhat, but it's really a question of taxonomy. It's about the way that people use those words. I don't think there's a difference in intent.The European Network of U-space Demonstrators is a combined effort from the European Commission, EASA, SESAR Joint Undertaking (SJU), and EUROCONTROL, and will provide a space for EU members to share best U-space practices in order to keep drone operations safe, secure, and efficient. It's similar to what we've enabled with the UAS Integration Pilot Program (IPP) in the United States, but they're actually funded. The Network will support various projects across multiple countries to demonstrate U-space services in a broad range of drone activities and test for their integration in the airspace alongside manned aviation and roll those out across Europe.EASA and the European Commission think of U-space as a fabric that has many components and capabilities, and those include things like Remote ID, airspace authorization, a registration database, etc. The FAA is not really thinking of those things as the components in a UTM, and more broadly, you could say the same thing about the United States. We think of UTM as a future state that's going to happen, but we need to solve LAANC, Remote ID and various other elements first. I think that's the big difference. In Europe, they think of this ecosystem in a more all-encompassing way.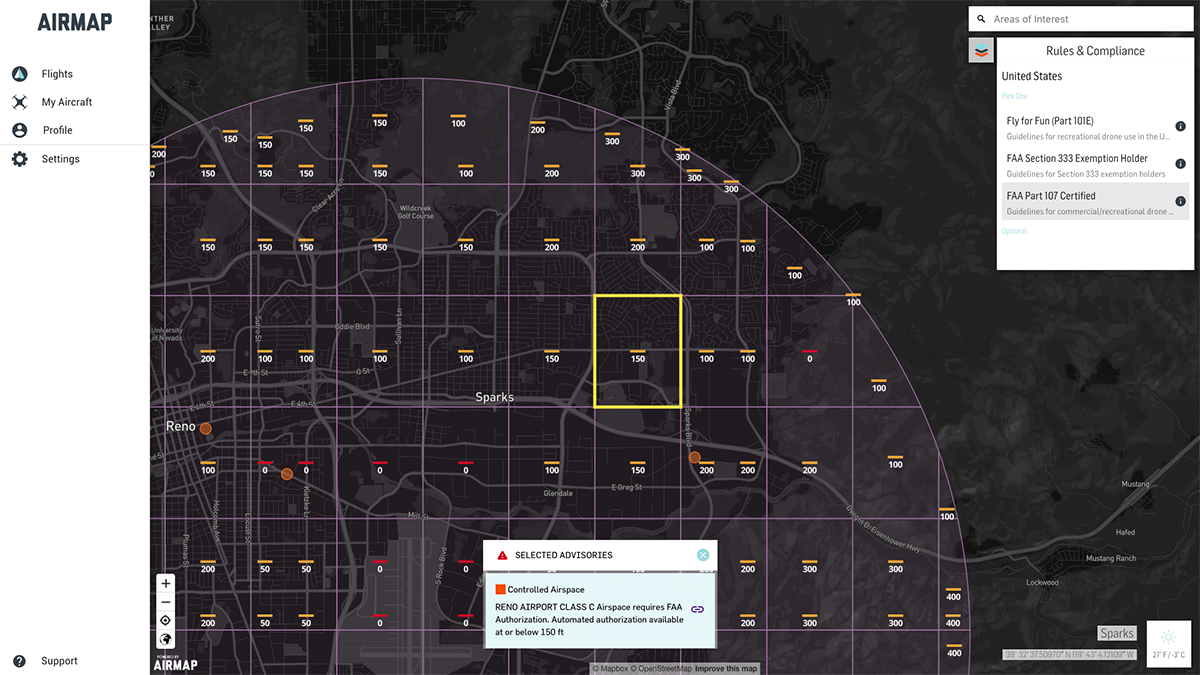 How is AirMap directly or indirectly playing a role in the creation of this drone ecosystem in Europe?
Very directly, through our involvement in Swiss U-space, which is now supporting routine BVLOS operations in Lugano. AirMap worked with skyguide to develop Swiss U-space Reference Architecture, which was contributed to Europe's U-space standardization effort to promote an open industry platform. We worked with our colleagues in the Swiss Federal Office of Civil Aviation, which is their regulator, and with skyguide, which is their air navigation service provider. We've contributed that reference architecture through SESAR into Europe's U-space standardization effort. Our goal is really to promote an open industry platform where drone operators can choose from a variety of competitive offerings that best suit their particular mission. We think that spurs innovation, creates opportunity, and allows for the entire drone industry to thrive.AirMap is also contributing to four SJU European Network of U-space Demonstration projects focusing on BVLOS operations and InterUSS communications across Finland, Estonia, the Netherlands, France, and Spain. AirMap also enabled Air Navigation Services of the Czech Republic to launch innovative U-space services in the Czech Republic.We're doing a lot across Europe, but it's really the whole world. Here in the United States, we're a part of the UAS IPP. In Singapore, we're part of what's called the Future Flight Consortium. In all of these efforts, we're validating regulatory frameworks and technologies that enable commercial drone operations to happen at scale while also simultaneously protecting the skies. All of it speaks to our core mission around the development of this UTM/U-space ecosystem. 
With this ecosystem still taking shape, what kind of "first-mover advantage with drones" do you think will be available for enterprises and operators across Europe in 2019? How will those advantages serve as the base of future efficiencies and even a competitive advantage going forward?
First movers get to help build the future and be the first to benefit from utilizing drones for their business.Take the delivery market for example, where consumers worldwide have identified that they want faster and more-convenient delivery, as exemplified by a global study which showed that
88% of consumers
are willing to pay for same-day/faster delivery service. First movers will have a leg up on their competition in meeting this demand through drone and autonomous solutions. If you're a drone delivery provider and you start building your customer base now, you're going to have an advantage over anyone who wants to build that same kind of base in the future. There's definitely a first mover advantage in this industry. When you're working with regulators and new technologies, it can take a while to get a foothold, and that's why it's so important to start early. If you don't, you risk being left behind.
Has the full rollout of LAANC impacted AirMap's approach to U-space development? Will European airspace be "
open for business
" in 2019 thanks to these developments in a similar way that U.S. airspace is under LAANC?
It's important to identify how the FAA has really led the world in developing LAANC. The FAA is really far ahead of everyone else when it comes to authorizing flights in controlled airspace, so we're very appreciative of the partnership with the FAA for that. The same concept is coming to Europe. LAANC is available to Europe through the AirMap UTM Platform. We're offering it to any country that wants to use LANNC, and many are.As I mentioned, Swiss U-space will go live later this year, powered by AirMap. You'll be able to operate in controlled airspace in Switzerland through a very similar interface as you use in the United States. Countries are increasingly shifting towards digital authorization, led by the FAA and LAANC. AirMap expects to see authorities experiment with standardizing their waivers process for complex operations, accelerating the timeline for new commercial models.We're also seeing opportunities for operators for in Remote ID, conformance monitoring tactical deconfliction, 3D terrain and elevation data, SORA, and more. 
To find out what Ben has to say about the future of Remote ID, how that topic has been impacted by the FAA Reauthorization Act of 2018 and whether or not it's easier to fly drones as hobbyist today, click here.