Since the launch of Parrot's Professional Range in early 2017, we've seen the company launch better and innovative solutions for different industries, such as the Parrot Disco-Pro AG & Parrot Bebop Pro-3D Modeling. In November 2017, the company will add two new solutions to its offering.
The first solution is an all-in-one quadcopter thermal imaging solution specifically designed for small construction businesses, thermal inspection professionals and public safety services. The Parrot Bepop-Pro Thermal features a Full-HD 14MP stabilized front camera, a FLIR ONE Pro thermal camera on a dedicated module at the back of the drone, and 32Gb of memory.
The thermal camera has three settings: Standard, which displays thermal images, from red (160°) to blue (10°) scale for quick identification of thermal losses; Dynamic, where the thermal colour scale adapts to the ambient temperature, allowing for an accurate view of the thermal losses; and Hotspot for fire safety professionals and emergency search and rescue specialists, which highlights and combines the highest temperatures recorded with the RGB image.
The drone uses Parrot FreeFlight Thermal app to transmit and analyze the drone's captured images, and the long range remote control Parrot Skycontroller 2. The Parrot Bebop-Pro Thermal solution includes:
A compact quadcopter with a Full HD stabilized front facing camera, a FLIR ONE® Pro thermal camera and a 32Gb memory

Parrot FreeFlight Thermal app, which innovatively transmits and analyses images captured by the quadcopter's cameras

A long range remote control Parrot Skycontroller 2
Additionally, the Parrot developed a new agricultural solution to help provide farmers with better insights. For autonomous flights, the Parrot Bluegrass uses Pix4Dcapture software, and the AIRINOV FIRST+ cloud platform for data processing. The drone flies for 25 minutes (per battery) and covers up to 30 hectares at 230ft flight altitude. It is equipped with a Full HD front camera, as well as a Parrot Sequoia advanced multispectral sensor, and Parrot Skycontroller 2.
The Parrot Bluegrass Agricultural Solution includes:
A powerful and easy to handle quadcopter equipped with a full HD front camera & embedded Parrot Sequoia advanced multispectral sensor.
Flight planning mobile application with Pix4Dcapture
Data processing with AIRINOV FIRST+ cloud platform
A long range remote control Parrot Skycontroller 2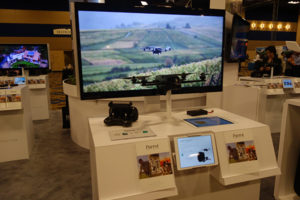 Parrot is currently showcasing this technology at the Commercial UAV Expo. Stay tuned for exclusive insights around these products and more from the show.