The National Association of Tower Erectors (NATE) is a non-profit trade association providing a unified voice for tower erection, maintenance and service companies. Their members deploy, maintain, built and upgrade cell towers, broadcast towers, and utility structures. In other words, they make connectivity of all types possible.
Lately though, the way in which their members are able to make this connectivity possible has been influenced greatly by drones. Major wireless carriers and tower owners have seen the power of the technology when it comes to making a variety of tasks more efficient and safer. In an industry where
tragedies are still happening
, the impact of drones on safety cannot be overstated. How UAS is transforming communications infrastructure industries is a topic that Todd Schlekeway, Executive Director at NATE, explored in great detail at a recent
Drone World Expo session
. We connected with him to find out what was discussed at the event, how NATE is looking to help their members utilize this technology, what kind of educational resources they've created and plenty more.
 Jeremiah Karpowicz: Tell us a little bit about NATE. What types of companies are part of the organization? What sorts of things is NATE focused on creating or enabling?
Todd Schlekeway: We have a very diverse membership group. Our core members are the contractor companies that build, deploy and maintain communications infrastructure like cell towers. We also have the major wireless carriers like Verizon, AT&T, T-Mobile and Sprint as members. Additionally, we have the companies that own the towers, which are often setup as real estate investment companies. Then we have manufacturers, distributors, public safety entities and technology companies.We have a unique perspective at NATE because we have such a diverse membership, but at the end of the day, it's all about safety, standards and education for us. It's why we have committees that are tasked with writing industry standards that govern working in our industry and govern the structural standards of the towers. We've developed best practice resources and safety resources on a myriad of industry topics.
 And I understand that includes a resource that is focused on UAV technology?
Yes, the 2
nd
edition of our
UAS Operations Around Vertical Communications Infrastructure
is available now. It's a free resource that can get someone up to speed on the rules of the game as it pertains to UAS in our industry. It's something we knew we needed to create, as one of our fastest growing areas of membership is UAS service provider companies.
 How do resources like that line up with your efforts to create standards for the industry as a whole?
We're fortunate because we have member company representatives who volunteer their time to serve on committees that are focused on creating these standards and educational resources. We have quite a few of those committees, and that includes a NATE UAS committee. We have access to a lot of subject matter experts, and that's the key to developing consensus standards that govern working in our industry as well as all the best practices and safety resources that help everyone understand how tools and technologies like UAS can make a difference.
 In what ways specifically do you look to showcase that difference to your members? Is it more about the approach they can take when using drones? Or about how they might impact safety?
We believe this technology is a supplemental tool and resource for the industry's workforce to use to enhance safety, efficiency and the quality of work produced at a site. NATE as an organization is all in on UAS, and it's something we look to showcase for and with our members.Most of the tragedies we see in our industry stem from falling from great heights. One accident is one too many, and it's yet another reason that we're very motivated at NATE to maximize the potential of drone technology. Due to NATE's leadership, the safety culture has improved significantly in our industry over the years, but these workplace incidents still do happen from time to time, and they're tragic. Anything we can do to mitigate and eliminate that risk is something NATE wants to support and enable.UAS been a big focus for us lately, as I believe that Part 107 really opened up the technology for our members. It provided some needed clarity, and that has been very good to people who deal with vertical towers and infrastructure. We believe that over time more and more of our tower crews and foreman will get their Part 107 certificates to the point that the technology will be seen as a tool they use to perform a certain type of task or a given amount of work.It's an important distinction that I make sure to highlight to our members and anytime I speak at a conference. We do not want or believe this technology is a replacement for the workforce. However, it is an extremely valuable supplemental tool.
 The discussions you're having at industry events is something I wanted to focus on with you, since your Drone World Expo session was such a success. Was your goal with that session to showcase how this technology has been making an impact in a practical sense?
We definitely wanted to highlight the safety benefits NATE sees which are associated with utilizing UAS at communication tower sites. The fact is, simply reducing the number of tower climbs some workers need to make on a daily basis will provide a lot of safety value and risk mitigation.It's not uncommon for tower techs to ascend and descend a tower in a given day 6-10 times a day. Typically, fatigue sets in over the course of a day, so if we can eliminate 2-3 climbs, we're making a major impact on safety.We also wanted to showcase the incredible innovation our industry is working to enable. That was something attendees could see in the video from AT&T that showcased
the next phase of automation
. We wanted to touch on the safety and efficiency the technology can enable, which is NATE's prime interest, but also dive deeper and let everyone know there's so much more to utilize. 
In what way do you think those kind of automated capabilities will make an impact?
There are so many use cases associated with drones. It's a little bit complicated right now, because even with Part 107, a contractor company that's doing work on a tower needs to get clearance from both the carrier and tower site owner. That's where our industry will continue to mature.Nonetheless, there's no question that the use cases for the technology are profound. In the aftermath of Harvey, Maria and Irma, what our industry has been able to glean in terms of utilizing drones has been remarkable. Many of those applications weren't things anyone had envisioned beforehand, which really demonstrates what kind of possibilities are just over the horizon.
What were some of your biggest takeaways from the session? 
One of the things that really stuck out for me was how educated the audience was. For many of my speaking appearances, I'm delivering NATE presentations to the wireless industry and I always make sure to talk to that audience about UAS. I have to tell them about logistics and regulation for using them, but I've found the drone conferences audience to be an exceptionally educated and intelligent audience related to UAS. It's something that really sticks out to me, because it's an indication that people are ready to adopt the technology, as opposed to just exploring the possibilities. It's an important distinction.Outside of that, the question that comes up fairly often in these kinds of sessions is related to what's being done from a data collection and software standpoint. People really want to know how the industry is going to use that data, so that's a topic we need to further explore and clarify. 
Are there any regulatory initiatives that NATE is focused on which your members or the industry as a whole should be aware of?
From a regulatory and legislative standpoint, we're committed to continuing to keep our membership and the industry appraised of the landscape changes. We'd like to see a little bit more flexibility associated with BVLOS in our industry, and also potentially flying over people.You have to understand that where they're putting antennas now isn't always on a tower site in a rural location that's outside of a community or city. It's on a street light or streetlamp in a downtown location. The average citizen doesn't even know where they're located. Rooftop sites in urban areas are a common place for antennas. As UAS utilization continues to gain traction in our marketplace, we're going to need some flexibility and leeway from a regulatory standpoint to take that technology where the equipment and antennas are.We want to keep our members apprised. We're working with the
Commercial Drone Alliance
on some of those regulatory issues. We're currently monitoring many of the developments that are coming from the White House. All of these issues are things that we're looking to stay on top of and be involved in.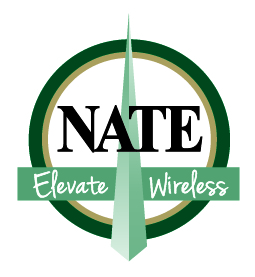 Any advice you'd have for wireless professionals that might be looking to figure out how they can or should be utilizing drone technology? And how NATE can help in that process?
Anyone looking at adoption needs to have an in-depth conversation with their respective company or organization. Are they preparing themselves to use UAS at tower sites? Who do they have on staff to make that happen? What do they have to do to get qualified to work for carriers and the tower owners? Those conversations need to be had.From an insurance perspective, if you are going to be using this technology in our industry, you better check the boxes when it comes to are you properly insured or not. Additionally, if they don't have an aviation background, they need to make sure they take the time to understand everything there is to know about Part 107, but realize that's just your first step. They need to have a real understanding of the regulatory climate as well as the operational limitations. And of course, we have some great resources that can help in this effort.The
NATE UAS Operations Climber Connection Video
video we developed is a great resource, and we already talked about our
UAS Operations Around Vertical Communications Infrastructure
. These are things we're going to keep creating, so stay tuned to NATE. We're going to continue to leverage the expertise we have on the UAS committee to develop resources that are going to enhance the frequency of UAS operations in our industry.