The pace of technology is incredible. Stakeholders across industries that range from construction to agriculture to surveying & mapping have lived through changes that have completely changed the way they approach a project. New tools and techniques have created options for professionals that allow them to achieve an incredible level of efficiency, but doing so often requires a significant financial investment in these new technologies. Such practicalities can complicate adoption.
That's especially true when it comes to drones, partly because there are so many available options. Besides basic questions associated with which company and product might be the best to utilize, there are more basic questions about whether or not it makes sense to buy a piece of technology outright or lease it. Prices are dropping quickly and consolidation will happen in one way or another. Someone might regret picking a certain brand or product in a matter of months, all of which further complicate the issues associated with how drone technology should be adopted.
Financing an investment
in drone technology might not make sense for everyone, but the flexibility and options that financing create need to be considered. Drone technology continues to evolve and disrupt various industries, which makes the decisions around how it can be implemented more critical than ever.
 Who Finances Their Investment?
For some, the thought of financing a drone purchase isn't an active consideration. While the price of a drone that someone might use for commercial purposes has a wide range, many people only think about acquiring the technology if and when they can buy it outright. While doing so is always an option, that approach can be very limiting."I talk to dealers who think leasing is for people who don't have money," said Nick Gibbens, Sr. Vice President of Vendor Finance at
AP Equipment Financing
. "What they don't always realize is that they can propose that kind of option as a way to get around bigger budgeting and purchase requirements, which might compel people to buy more. These kind of options aren't just for people who can't afford to buy something."The internal approval process associated with a commitment of a low monthly payment can often be far easier than one that requires a large lump sum, and not having to go through such a process can be enough of an incentive for some stakeholders. For most organizations, a $1,500/month payment is far more palatable than having to write a check for $50,000, even though the total investment is roughly the same.It's for this reason that a vast majority of companies acquire their equipment through some method of financing. It's not uncommon for a manager to pursue finance options as an alternative to purchasing because it keeps the decisions at the local level. Having capital available is a major consideration for companies of all sizes. Not having to pay for these kind of investments all at once can be the difference between moving forward with a new tool or not, and the choices associated with doing so directly impacts the bottom line.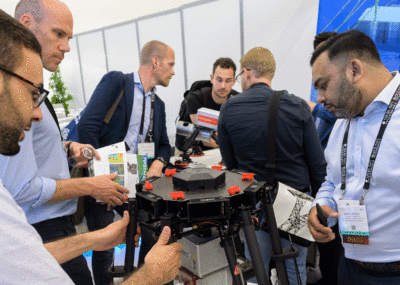 Quantifying the Value
Outside of regulation, being able to
determine the ROI
associated with the acquisition of a drone is an issue that's at the top of mind for operators of all types and sizes. It's a topic that is directly associated with the kind of investment that has been made in the technology, and that can sometimes negatively impact how that investment is quantified."The purchase of a drone often results in an 18-month payback to recoup that investment," Gibbens continued. "Of course, that varies depending on the company and usage, and we've seen companies define the value of their investment far sooner, but we've also seen it take longer. The issue is that a large upfront investment amplifies the need to justify that spend, which can result in a determination that the investment wasn't worthwhile or lead to someone abandoning the technology, which has more to do with the money they spent than it does performance."The amplification of the need to quantify an investment in drone technology is an issue that comes up in sectors that range from
agriculture
to
utilities
. Before the investment is made, stakeholders often need to be convinced that the technology is going to make things
faster, cheaper and safer
. That's a pitch that's getting
easier and easier to make
, but then they want to be able to actually see those results. That desire is often far more pronounced when a large investment is made, which can put unnecessary pressure on operators. Financing can significant reduce the investment that needs to be made, which allows operators more time to effectively quantify the value these tools provide.It's not just about having the time that's a necessity though. It's also an issue of experience and skill. While vendors can and do make various resources available for anyone looking to utilize drone technology, that support can fall short of expectations. A lender can create an ecosystem between a vendor and client which ends up working out for the benefit of everyone.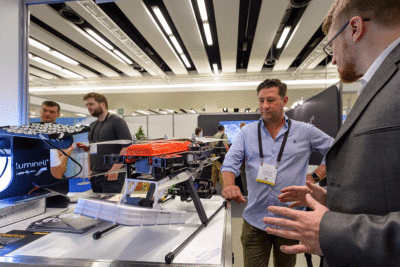 Providing an Additional Resource
A reputable lender can create a positive relationship between a customer and vendor. The lender is incentivized to do everything they can to make sure the customer is happy, because that positive experience means the vendor is more likely to send a lender more business. It creates another layer of accountability by establishing a vested interest in the success of the business. For some lenders, that accountability is about more than numbers though."If a customer says they've been having disagreements with the vendor and that vendor won't come out and provide support anymore, having us there to help with the issue is beneficial," Gibbens said. "It's something we can do because this industry is important to us. Servicing the contract through the full term means we are engaged if issues come up that are unique to the UAV segment. Most finance companies really don't have that kind of specialization in a particular niche. We are a resource for our customers with their vendor."Having that kind of resource can mean the difference between getting a technical issue sorted out or not, and it's something anyone looking at finance options should consider. The integrity of a company also needs to be considered anytime legal contracts are being entered into, and with all the information on the Internet, it's simple enough to determine whether or not a company has any complaints associated with it. These are important distinctions to make, because the reputability of a company along with the help they can or can't provide when issues arise can be the difference between properly leveraging and adopting drone technology, or not.Being able to create and rely on that additional resource is another reason that financing really shouldn't be treated or even thought of as a last resort. It's a very useful tool for companies that have plenty of money, just as it is for an individual or organization that doesn't have the means to make an outright purchase. Financing creates options and flexibility for anyone with the desire to explore and take advantage of the gains that
various professionals have detailed
.Stakeholders of all sizes need to realize that adopting drone technology isn't a simple issue of deciding to purchase a drone or not.