Last year, Commercial UAV News spoke with Mainblades about looking into making a presentable use case for outdoor applications. A lot has happened since then, and the company has now performed the first European fully automated outdoor airport drone inspection of a commercial aircraft at an active airfield in Woensdrecht, Netherlands.
To validate the increasing interest for outdoor airport drone inspections, Mainblades, in cooperation with Fokker Techniek, Truenoord, and the Dutch Drone Centre / Aviolanda, used its M300 drone solution to inspect an Airbus A330. Typically, aircraft inspections require inspectors on-site to check that all the damages and repairs of the aircraft are correctly recorded in the damaged and repair mapping report. This becomes problematic with bigger aircraft as it can be hard to take a good look on top of it, including the wings or the tail. With a drone, this process becomes much easier since a drone can fly around the aircraft to find damages and take pictures that show more than can be seen with the naked eye.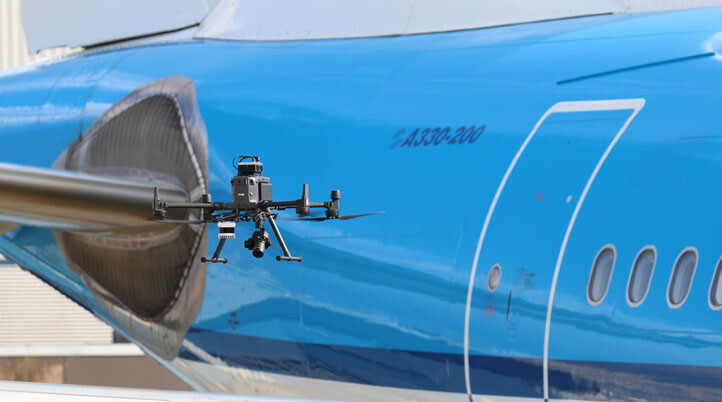 Currently, Mainblades is still primarily performing indoor drone inspections, but this is the first step toward developing and modernizing aircraft maintenance services. Outdoor inspections allow the reservation of hangar space for heavy-duty maintenance and scheduled inspections, while light inspections can be done in front of the hangar, on parking spots, or at the gate in the future, massively reducing the time spent for unscheduled maintenance. This holds great potential for shorter turnaround times and fewer overall aircraft movements (towings) at the airport.
"When you are in a line maintenance environment, like an airline, and you've got a lightning strike, you want to know what's happening right away," said Richard Bisschops, Founder of CamX Aero. "You don't want to pull the airplane back to a hangar as it will cost you at least an hour one way. Then, you do the inspections and very often you don't find anything. So, being able to do it outside on the line can help passengers, can help operations, and makes everything much smoother. I think in the future this is going to be big, not just for lease transfers, but also for operators."
In the past year, Mainblades has been working toward its vision to transform the aviation and subsequent MRO industry with new partnerships, as well as provide software and hardware updates to its drone solution. In January 2021, they announced a partnership with Ouster, one of the leading providers of digital lidar technology to stay on top of the latest hardware developments. One month later, Mainblades released an update to its navigation module Intelligent Sensing And Automated Control (ISAAC), and a new software allowing for an all-mobile experience for aircraft drone inspection.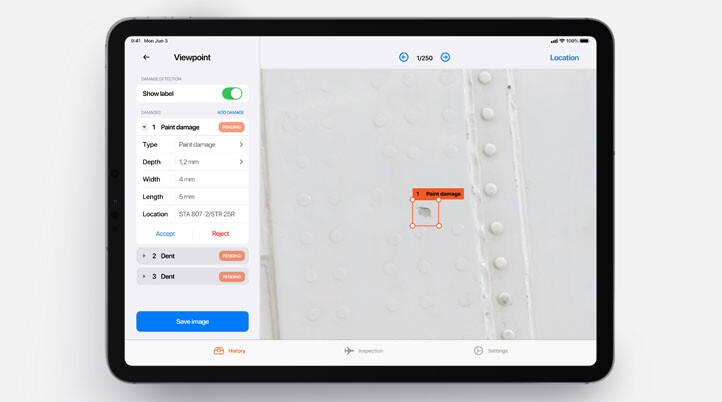 To understand how regulatory hurdles can hinder Mainblade's path to outdoor inspections, or how changing from indoor to outdoor inspections changes the way the company works, and what the future holds, Commercial UAV News connected with Michael Sprehe, Marketing Manager & Business Developer at Mainblades.
CUAV: How hard was it to get this project to move forward? Are laws and regulations in Europe still an obstacle when it comes to flying drones inside airports?
Sprehe: Making an automated drone flight in an active outdoor airport environment a reality was challenging and required intensive coordination with all involved stakeholders, especially with the airport authorities. The reason for this is that the regulatory groundwork for outdoor drone flights in CTRs is not yet fully established. Because of this, Mainblades operates inside hangars only due to airport limitations regarding the use of drones. Why? Because you can use a drone for aircraft inspections in your hangar without permission from local aviation authorities since it is considered private property. We however recommend informing the local airport authorities about drone flights because the drone is likely to be detected.
The usage of drones in open airport environments however is regulated in a tight way. There are two leading regulators: the US FAA and EASA, which is the European equivalent. In addition, there is a variety of national authorities in Europe from which we need to get permission for unlocking the drone to enable it to fly in an airport environment. Our vision however is that in the future, drones will inspect aircraft on such a regular basis that no additional permissions are needed. At the moment we are working hard on outdoor flight authorization/permission. To make outdoor flights a reality, we are going through the phases for approval of outdoor flights under EASA regulations in cooperation with the Dutch civil aviation authority. Once approved, our operational procedures will be transferable to all EASA compliant aviation authorities worldwide.
Can weather differences have a negative impact on outdoor aircraft drone inspections due to, for example, lighting changes, or rain/wind?
Mainblades decided to leverage an existing industrial-grade drone from DJI instead of a self-built one. This allows us to benefit from the fast-paced developments and progress of the drone industry: a new drone comes out approximately every 9-12 months – which is better, safer, more robust, has a longer flight time. The drone we are currently using for outdoor flights – the DJI M300 RTK – has an IP45 rating, DJI's most weatherproof drone to date. In technical terms, it means that the drone is protected against solid objects greater than 1mm, such as screws and wires, and can withstand low-pressure jets of water from any angle. There is one hardware item on the drone that is not shipped by DJI, our in-house developed ISAAC module, which functions as the brain of the drone. This item including all its connectors is rated IP68 which means it is dust tight and can resist long periods of immersion underwater. The maximum wind resistance of the M300 is 15 m/s. Although not tested and validated on a larger scale, we have performed a couple of outdoor inspections in the past in rainy and windy conditions and were able to retrieve good inspection data.
When do you think we will see drones regularly inspecting airplanes outdoors?
The pandemic has provided a landscape that proves the benefits of digital and remote processes. However, it is not a surprise that operators and MROs aren't looking to invest or adopt new procedures right now. They have been and still are in survival mode. However, we believe that this is going to change once the storm calms. We're actually already seeing many signs from the industry that give hope that aviation makes a strong return in the period ahead. Many airlines and MROs are starting to understand that drones offer great opportunities for aircraft inspections. We hope to see unmanned and manned aircraft operating safely side by side on a regular basis within the next five years. For this, we are working hard on defining our operations in order to be compliant with FAA and EASA regulations. Getting certified as part of the aircraft maintenance manuals from the OEMs is another aspect that we are working on, which we hope will make compliance with authorities easier to achieve in the near future.
Apart from outdoor inspections, is Mainblades planning anything else new for the future?
We've always been careful looking at other segments, in order to keep the focus on aircraft inspections. And with good reason, we believe the requirements for a solution capable of aircraft inspection are of the highest standard. Once that is finalized/proven, we can "easily" expand. Indeed, our efforts and technology have been picked up by several large industries. And given the delay in aviation, we have initiated a handful of partnerships for inspection of other assets – providing our advanced software of readily flying inspection drones.
Out of curiosity, have you ever thought about combining drone technology with AR headsets like Microsoft HoloLens 2?
We have not yet considered such a combination of technologies. Instead, we focus on the development of our iPad application, the Mainblades Flight app. With this app, engineers can see pictures of the entire aircraft, review damages and compare the data with existing dent-and-buckle charts. When our AI-based algorithm has detected damages, it will provide information about damage type, location, and size to the engineer in the form of a report that is according to the industry-wide station and stringers format.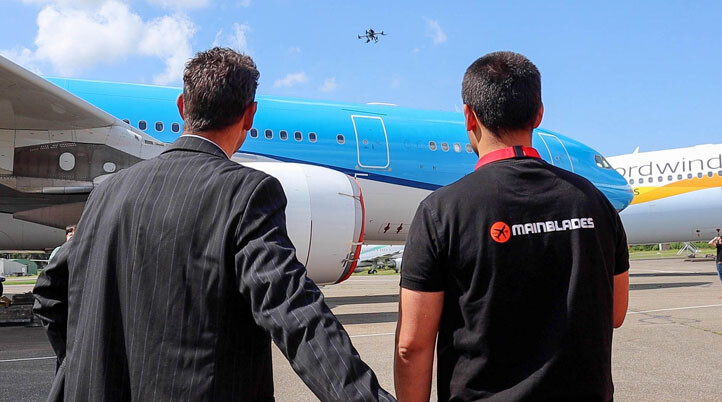 Update: In December 2021, Mainblades extended its partnership with KLM Engineering & Maintenance (KLM E&M) to perform automated aircraft drone inspections. Together, both companies want to make the technology fully operational and take the necessary certification steps required to inspect aircraft on a regular basis at Schiphol Airport.