Numerous companies showcased their products and services at Drone World Expo 2017, and we were able to detail a few of the updates that came out of the event. However, there was one company who had a presence at DWE that we wanted to explore a bit more, for a variety of reasons.
Lily Next-Gen
is the current iteration of the Lily Drone, which captured the hearts and minds (along with $34 million dollars) of the drone community starting in 2015. After the original Lily Robotics
was not able to bring the Lily Drone to market
, the Mota Group made a move in June of this year to ensure some of the promise associated with that original vision would actually be fulfilled. Lily Next-Gen has been created in the same spirit as the original, but also takes it in a new direction. Kirwan McHarry is the spokesperson for Mota Group, and she took the time to address all of the questions I had for her. Many of the more basic questions that supporters of the original Lily Drone might want to see answered have already been addressed on the
company's FAQ page
, so we used the opportunity to go a bit deeper. We talked about the variety of applications the product might be utilized in, what convinced Mota Group that the product was worth reviving, how they address criticisms about the drone's capabilities when compared to the original Lily Drone and plenty more. 
Jeremiah Karpowicz: It was great to see Lily Next-Gen with a presence at Drone World Expo. Can you tell us about some of the conversations you were able to have with attendees?
Kirwan McHarry: The Next-Gen's reception was beyond what we had anticipated. The key differentiation we heard from attendees was its simplicity and user friendliness. Some of those looking for a personal drone said it had its own character, like a robotic pet. Those looking at commercial drones liked the 4K camera and the automatic return-to-home feature. Almost everyone was struck by how small and easily transportable it is. 
What sort of commercial applications do you envision Lily Next-Gen can be utilized in?
Commercial aerial and lifestyle photography is one market. Another is first responders for incident management where a larger drone wouldn't be able to fly. Because it has optic flow and ultrasonic positioning it can be flown indoors as well as out, something people in real estate told us they wanted. The Next-Gen can deploy almost immediately, useful for time-sensitive applications like news gathering. On the consumer side, because it's so small and has follow-me, we've seen a lot of demand from travelers slipping it into their backpacks and suitcases to capture their adventures. 
Can you tell us more about Mota Group? Are there some other products from your portfolio that readers would be familiar with?
We've been in business in commercial and general aviation since our founding in 2003, longer than most other drone companies. Our focus is currently on the high-end consumer and professional sectors. We began work on our first drone, the golf ball sized JETJAT Nano, in 2013, and have had newer models each year since. A successor, JETJAT ULTRA, was named a finalist in the Toy Industry Association's Toy of the Year awards competition this year. In 2016 we introduced the Mota Pro Live 5000 drone for professional consumers and hobbyists. We're based in San Jose, Calif., making us one of the very few consumer drone companies headquartered in the U.S. 
Mota Group is a completely separate company from the original Lily Robotics, which was not able to bring the Lily drone to market. Ultimately, what convinced Mota Group that the brand and product were worth resurrecting?
Lily Robotics had a community of more than 60,000 individuals who backed the development of the Lily Camera because they wanted more than just a device. A lot of people shared their dream of a flying robotic companion that could create memories of their fun. We've received massive support from this community, enough so that we've had to increase manufacturing to keep up with the demand.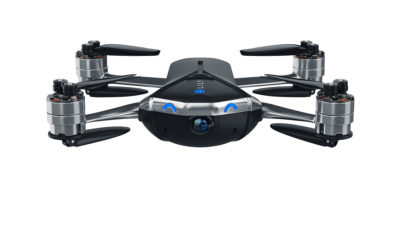 Was Mota Group focused on a specific feature or functionality in the process of making the product available?
We updated the Lily Camera with 2017 technology and added features that broadened its appeal. We focused on higher-quality video and greater range in a smaller, lighter airframe while enhancing ease of use.We improved on several specifications. For example, the Next-Gen battery is user replaceable. The Lily Camera had a maximum advertised range of 100 feet; ours has a range up to 1 km. (3,280 ft.), where permitted, with its remote. The Lily Camera also didn't have optic flow and ultrasonic positioning as a supplement to GPS and it didn't have geofencing, both of which the Next-Gen has. 
How do you respond to criticism that says this new version of the Lily Drone doesn't have any of the features that made it unique?
Lily customers prefer user-swappable batteries and quick deployment over throw-to-fly and IP 67 waterproofing (submersible to 3 feet for 30 minutes). Both of those features never worked as Lily Robotics advertised back in 2015. They would have greatly increased cost and complexity, added additional weight, and reduced performance. Lily drones are focused on simplicity for active lifestyles: when people go out with the drone, they just want it to do its thing. 
What do you think is the biggest advantage Lily Next-Gen has over its competitors?
The Lily Next-Gen is a personal companion, not just a piece of hardware. Think of it like a MacBook vs. a cookie-cutter Windows clone. That's its competitive advantage. 
What role do you see Lily Next-Gen playing or taking in the overall drone market/landscape?
The market for high-end consumer drones is consolidating into two or perhaps three players. We believe we have the experience, brand recognition, and manufacturing capability to compete effectively, distinguishing ourselves by offering superior performance and greater value. 
Anything you can tell us about future developments for Lily Next-Gen or the Mota Group as a whole?
Technical improvements are a continuous process. From a corporate level, our focus is user education and safety. We participate on the FAA UAS Safety Team and in the Consumer Technology Association's Drone Policy Working Group to help enhance drone safety and expand public awareness about the immense benefits of drones. 
What's the best way for someone to learn more about the Lily Next-Gen and figure out if it's the right fit for them?
The website has a lot of basic information:
lily.camera
. I recommend reading the FAQ:
lily.camera/faq/
. For those who want to know more, the Owner's Manual has a wealth of detail:
lily.camera/tech-specs
. But the best way is to get your hands on one and take it for a flight.