The maintenance and safety of infrastructure is crucial to the functioning our day-to-day lives. Every day, thousands of people utilize roads, tunnels, bridges and other essential pieces of infrastructure that make up the fabric of any town, city or country. Their ability to utilize that infrastructure safely, however, depends on vigilant maintenance and repair - which can be difficult or impossible to implement at scale. Drones, however, have recently come to prominence for their utility in infrastructure inspection, offering the potential to speed up the process, while also lessening the risks to human inspectors by going to places that are difficult, or even dangerous, to access.
At Commercial UAV Expo, infrastructure is one of the focus areas receiving a lot of attention, including in the Infrastructure Inspection session on day two of the conference. Shanyne Gill, program director for multimodal transportation at the American Association of State Highway and Transportation Officials (AASHTO), moderated a session featuring several presentations aimed at addressing the realities of successfully implementing such programs.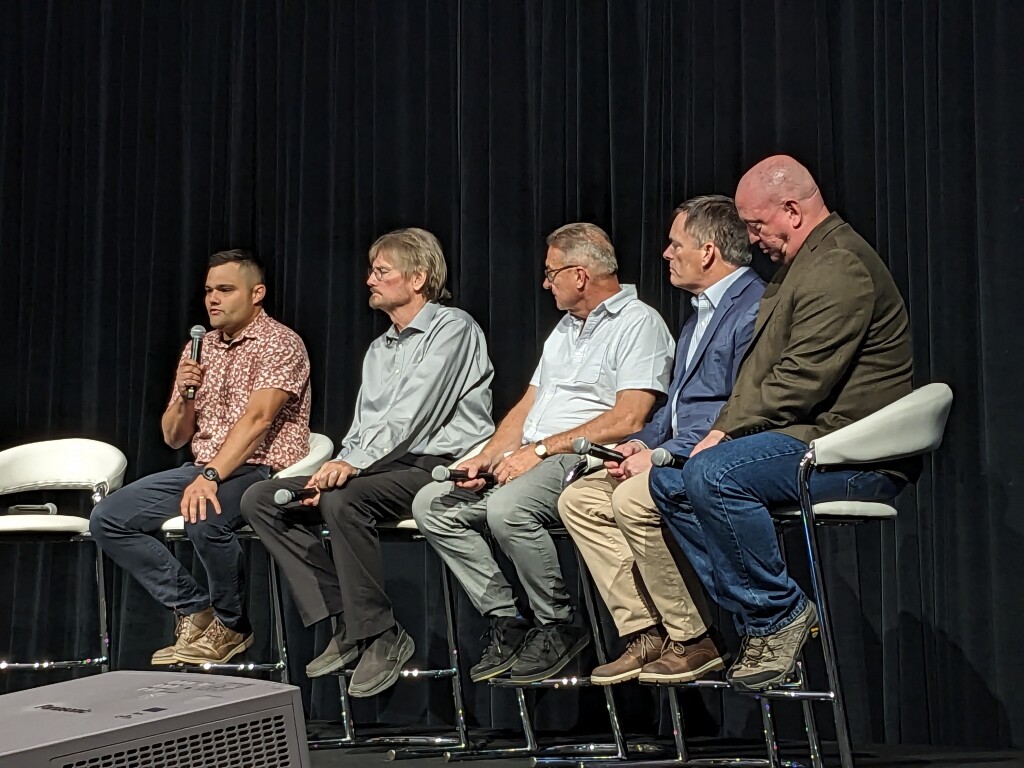 The presentations from the panelists provided an overview of several different types of infrastructure projects, from bridge restoration and road assessment, to rail and natural features such as rock cuts for highways. While each presentation focused on specific use cases, several themes emerged when it came to the presenters' experience with drones and other related technology.
AI as enhancement, but not a replacement
Barritt Lovelace, of Collins Engineers (who was also featured in a panel discussing AI during the opening keynote), spent time in the session discussing how UAS fits into using digital twins. At Collins Engineers, they have been doing a lot of work collecting images from drone cameras as the basis of their digital twins, including a challenging site in downtown Chicago and other large critical infrastructure.
Lately, he says that they have been doing more missions that are driven by AI, utilizing technology that allows them to ensure overlapping images are captured through efficient flight paths - something that would be difficult for even a highly-skilled drone operator.
"We're not trying to completely eliminate the field inspection - we're focused on making it more efficient and more accurate."
For a rehabilitation project of the Robert Street Bridge in Minnesota, Collins Engineers were able to capture over 60,000 images of the bridge through the use of AI-driven inspection with a Skydio drone. By utilizing the 3DScan software from Skydio, they were able to collect data from above, below, and around the pillars of the bridge that normally would have been very difficult to capture.
In his presentation, Scott Tiller, Senior Geospatial Engineer at HNTB Corporation echoed this sentiment when showing an illustration of a flight path that had been plotted with AI, "Even my thumbs don't move that well," he joked. In his work, AI path planning is allowing for inspections that are more nimble than what an operator could have done, which has been particularly useful for telecommunication and other tower inspections, says Tiller.
"Being able to get up close to these locations and assets - we wouldn't have had access to it in that way unless you were on it."
Drones can enable a greater level of safety
Whether it was mitigating the risk of train derailments, rock slides, vehicle accidents, or even hazards to surveyors themselves, safety was outlined by all of the presenters as a tangible reason to adopt UAS technology in many infrastructure-related applications.
"Where there are safety concerns for our surveyors - we use our entire toolbox," said Michael Frecks, Survey/LiDAR Manager at TREKK Design Group.
Frecks highlighted a common, dangerous but not often discussed risk to infrastructure inspection, especially at the roadside: rockslides. These natural features can be hard to assess through traditional methods, especially with obstructing vegetation. In an example project, Frecks shared that they were able to utilize lidar to discover areas of erosion and rockfalls that were not previously visible on the cliff that was on the edge of a roadway. By identifying the source of the water channels and erosion, the cause of the rockfalls may be able to be mitigated.
Integrated workflows are needed to see the whole picture
Grant Barkman and Brett Young of Hudson Bay Railway focused on the rails, and highlighted the surprising statistic that there are, on average, about 3 train derailments per day in the US - which poses a risk both to passengers and the valuable cargo that the trains are responsible for transporting. The risk of derailments, primarily caused by problems with the tracks, could be mitigated with additional track inspections, but this process usually comes with costs for personnel and the time that the track must be closed for inspections to be performed. By utilizing drones that can follow the track, and combining that data into systems that make sense to users and engineers is key to making a difference, said Barkman.
"We needed to come up with an integrated workflow."
The drone program that they have been utilizing has been successful in both time and cost reduction - both for the inspector's time and the track time. And despite the remote areas and cold temperatures, the drones performed just fine, reported Young.
"We've done inspections now down to -25 degrees C, and your thumbs will freeze up before those drones ever do," he laughed.
The data generated from these types of inspections can also help in investigations and even be utilized to improve the auditability of issues should they occur down the line. When the data is in one place, and can be viewed over time, there can be increased accountability.
A cultural challenge remains
While there's been a lot of focus on the benefits of the technology - particularly showcased by existing drone users - many of the speakers mentioned that there's still the need for a cultural shift, both within and outside of their companies when it comes to utilizing new technologies.
Some clients want surveyors to adopt new technology, but "also do it the old way at the same time, just in case" thus negating the cost and time savings that technology might present. The ownership of the data, and the value proposition are also something that's only beginning to be explored, especially from the surveying and engineering firms' perspectives.
Barkman summed up those unknowns well at the end of the session.
"We've been really focusing on pushing the boundaries of the tech in this industry over the last 10 years," he said.
"But I think we're going to have to circle back and start thinking about some of these bigger things - really get into it - in order to allow this industry to truly mature."