Addressing a packed house at Commercial UAV Expo's Welcome and Opening Keynote, Lisa Ellman, Executive Director of the Commercial Drone Alliance, stated that government regulators and drone industry professionals "share a common goal" in both moving the industry forward and in helping the US maintain a leadership position in the market. To meet these goals, she said that all stakeholders "collectively have a critical role to play."
The regulatory environment has long been cited as an impediment to progress, and, Ellman stated, she and other industry advocates and public officials "recognize the frustration" many feel regarding UAV-related policies. However, she assured the attendees that progress is happening with the FAA.
To underscore that statement, Ellman introduced David H. Boulter, the FAA's Associate Administrator for Aviation Safety. During their "fireside chat," Boulter cited recent progress his agency has made regarding streamlined approvals and shorter rulemaking timeframes. To continue that progress, he called on industry professionals to work with federal regulators to provide critical information that could be used to craft better policies and create an environment in which the drone industry can flourish.
"We want to hear from you," Boulter said. "We want to have a conversation with you, and we owe you an answer."
Because of the FAA's mandate to protect people and property, Boulter asserted that the agency takes a "conversative" approach to its policy work. That said, Boulter stated that efforts to innovate in the drone world do not have to be at odds with efforts to ensure safety. The key to ensure both innovation and safety is data.
His "message for innovators" was "the more we know the better we are." He asked industry leaders to "build a relationship with the FAA," and he encouraged them to bring more and better data to regulators, which will result in better policies and a streamlined regulatory process.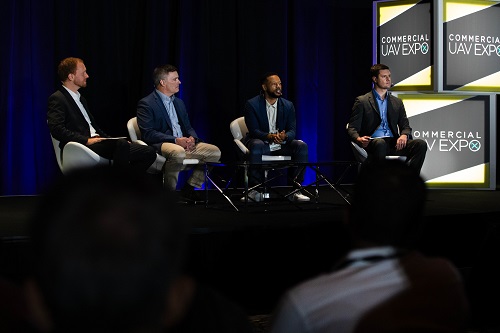 For the second part of the keynote, the program shifted from regulations to another pressing issue facing the drone world – the advent of artificial intelligence (AI). To explore the many sides of this issues, Kay Wackwitz, the CEO & Founder of Drone Industry Insights, moderated a panel discussion featuring Brendan Groves, Vice President of Regulatory & Policy Affairs at Skydio, Barrit Lovelace of Collins Engineers, and Travis Mason, Chief Policy and Regulatory Officer at Merlin Labs.
Calling AI a technology that "works with you and for you," Groves said that the technology made a significant "shift" in the past year in the world of robotics.
According to Groves, technological advances and increased adoption are advancing the ways that drones be used to take on "mundane, dull work" previously done by humans. To emphasize this point, the panelist described their drone-related projects that have incorporated AI and related systems. Lovelace explained how Collins uses AI to improve inspections and analytics work. Mason described how Merlin Labs is leveraging the technology to enhance communications systems.
Looking forward, the panel talked about ways to further integrate AI to improve commercial processes using drones. Mason said the improved regulations were important in this effort. Groves emphasized the importance of employing talented individuals to create new systems, and he foresaw a future where the technology would be widely used. "AI is for drones what Windows was for computers," he asserted.
The session kicked off with a video welcome from Congresswomen Dina Titus, who represents Nevada's first district. She cited her work on drone-related legislation and called on Commercial UAV Expo attendees to explore and enjoy Las Vegas.