Drone technology has the potential to reshape expectations around how organizations approach tasks that range from inventory management to predictive maintenance, but it's not enough to talk about the possibilities of this technology. Enterprise users need to be able to quantify the difference drones can make right now, partly because of the need to define an ROI, but also because doing so lays the foundation of what that value can look like at scale.
A recent drone inspection of the Salesforce Tower in San Francisco demonstrated this present and future value in an especially revealing manner. It's why the approach and details associated with this building inspection are critical to highlight. Using a drone enabled an inspection process that took place over the course of two weekends as opposed to four to five months but could also define a new standard around how building inspections should be approached.
Inspecting San Francisco's tallest building via drone
The 1,070-foot Salesforce Tower became the tallest skyscraper in the San Francisco skyline when it was completed in 2018, surpassing the Transamerica Pyramid which had dominated the Skyline of San Francisco for decades. This popularity is just part of the reason that building owner Boston Properties is focused on ensuring the building stays in pristine condition.
Insights about the condition of the building are the result of an inspection process that traditionally takes 400 to 500 hours over the course of many months. Inspectors are exposed to the elements and the extreme height of the building since they're forced to use the same swing stages that window washers utilize. The company saw the opportunity drones represented around making this inspection faster, cheaper and safer, but doing so meant working with the right partners.
That led Boston Properties to SiteAware, which created the drone software used in the Salesforce Tower inspection. SiteAware then formed a partnership with DroneHive to perform the actual inspection tasks. With a nationwide network of 700 professional drone consultants and operators, DroneHive is focused on helping corporations integrate aerial data collection into their business models. That made them an ideal partner for the inspection itself, but also for the many details that needed to be sorted out before and after the inspection.
"It took about a couple of months from the first discussions with Boston Properties and SiteAware to beginning the actual data collection," said DroneHive CEO Paul Huish. "So it was mainly three stakeholders: Boston Properties, SiteAware and DroneHive. Due to the status of this building, and a recent well-documented drone crash (other operators!) on the Millennium Tower next door, there were, of course, risk and safety concerns. We were able to address these by clearly outlining our approach and highlighting what we believed to be the root cause of the issues that led to the Millennium Tower crash. Basically, we were able to work with the client to guarantee they were indemnified and convinced them of the fact we are the safest drone services company operating in the US today."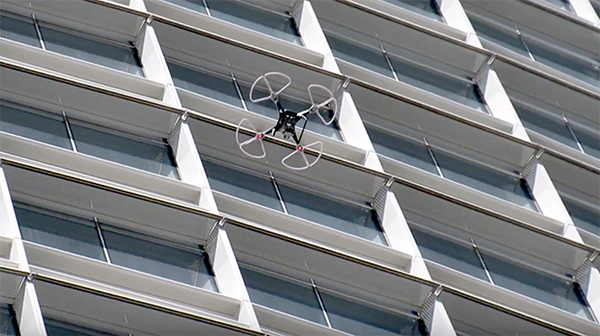 Given the sometimes sensational headlines, it may seem risky operating a drone in this kind of urban environment, but flying a drone for tens of hours is much safer than having inspectors on ropes and platforms over the course of multiple months. Additionally, all of the areas directly below where the drone was flying were cordoned off with cones and caution tape, ensuring that bystanders remained safe.
By using a drone, inspectors were able to get very high-resolution close-up images that showed any damage. The technology allowed them to compile and deliver the data for their client more quickly, giving them faster access to meaningful information for their business. The information gathered was better and more useable than what had traditionally been captured, which positively impacted the established workflows.
That positive impact didn't mean the team didn't have to work through operational challenges. Stakeholders from SiteAware have previously mentioned that GPS in cities can be a challenge, which is why as soon as any GPS issue came up, the procedure was to switch into "ATTI" mode as quickly as possible and back away from the building. However, GPS was not the only challenge the team had to work through.
"We also had magnetic interference from nearby ferrous structures that resulted in compass deviations," Huish told Commercial UAV News. "For tall structures, winds aloft are not the same as on the ground so it is difficult to prepare for countering wind to avoid hitting the building. We do require and use propeller guards. And we also used directional antenna baffles to boost the controller signal to the drone at/near the summit. Other than that, very sore necks for both pilot and observers."
Being able to identify and work through such issues underscores why DroneHive is now using drones at a large number of high-profile construction projects. Drones are being used to identifying issues, potential damage, or errors early on in the construction process in order to minimize the need for rework and the impact of these construction mistakes.
Just like they did during the inspection process on the Salesforce Tower, drones are being used in construction to identify issues before they turn into problems. While doing so is making a difference right now, the advantages at scale are where the real value in the technology lies.
Built to scale
Paul Huish previously mentioned that building inspections via drone have been a growing business, and those operations were a big part of the 10,000 aerial imagining flights DroneHive made in 2018. This growth has been fueled by a number of factors that include more clearly defined FAA regulations and improved data processing and management platforms, but also by the eventual value that will be unlocked at scale.
That eventual value is a trouble area though, as many stakeholders need to be able to demonstrate the ROI of the technology today. It's why the cost savings on scaffolding, equipment investment, human hours and labor that DroneHive can quantify are so important. Their approach has helped save their clients money in the short-term, and doing so is already opening up opportunities in the long-term.
"We are built to scale," Huish continued. "We are working with major corporations that have assets across the US and helping them scale drone operations. For example, DroneHive will help inspect 48 facilities in one month using local pilots in our network for each facility. All the data sets will be consistent and will assist with OHSA compliance initiatives. We are also scaling with a major construction company to provide documented oversight of all projects throughout the US."
Now that more organizations understand how they can legally acquire drone data and how they can process and use this data across their entire company, improving business intelligence with drones is a realistic option. Additionally, a better understanding of risk exposure is making organizations that much more comfortable with adoption.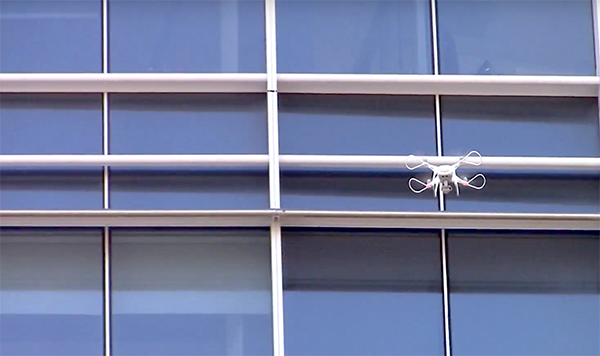 Liability, not just to the people operating a drone but to the people around them, is one of the top considerations that building owners need to take into account. Being compliant and operating safely is essential, and while it's easier than ever to do so in terms of both process and regulation, anyone considering using a drone to inspect a building can't take such things for granted.
"It's a huge mistake to work with non-compliant and inexperienced drone operators," Huish said. "That exposes companies to huge amounts of risk (both financial and reputation), especially if there is an incident during the inspection that leads to physical damage or bodily harm. Also, inexperienced operators will deliver poorer data sets, some even entirely useless, making the whole project a waste of time and money."
The approach DroneHive took to inspect the Salesforce tower saved both time and money. It's an approach that will open up many more efficiencies in the present and eventually at scale for building inspections via a drone.