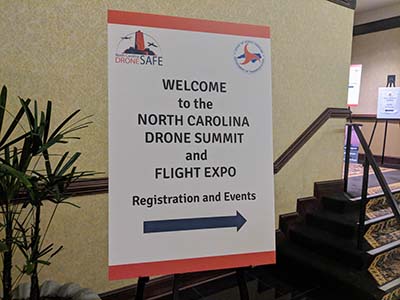 At the inaugural 
North Carolina Drone Summit and Flight Expo
, Lt. Governor Dan Forest
mentioned that
just as North Carolina was first in flight with manned aircraft, it can be next in flight with unmanned aircraft. It's a concept that a variety of drone stakeholders and organizations have been working toward across the state for years now, with companies like PrecisionHawk and senseFly establishing headquarters there. That's in addition to the commitment made by the North Carolina Department of Transportation to utilize UAV technology to help manage 80,000 road miles and 13,500 bridges.With so much activity around drones in North Carolina, the Division of Aviation wanted a way to bring the various companies, government operators and public safety agencies that use and develop the technology together under one roof, and the Drone Summit and Flight Expo was able to do just that. Representatives from the FAA, NCDOT, Intel and NASA used the event to showcase insights and updates that will help the state as a whole achieve that next in flight status, and also compel further adoption across the rest of the country.We already
took a live look
at some of the people and happenings at the event, but there was much more to say about a variety of the concepts that were displayed and discussed over the course of the event. 
FAA and the Path to Full Integration
Earl Lawrence, Director of the Office of Unmanned Aircraft Systems Integration at the FAA, delivered a keynote address at the Drone Summit and Flight Expo that was focused on the present and future of aviation. It did so from the context of how the FAA is working to ensure that unmanned aircraft is and will be part of this aviation ecosystem in a safe manner. He talked about how operational control has been a key component of aviation that goes all the way back to the time of the Wright Brothers, and it remains just as essential today. He also discussed the ramifications of being on the cusp of the age of automation, and why remote ID is such an essential part of this development.Many people ask the FAA specifically how it is approaching drone integration, and Lawrence positions that in terms of the "three A's." Aircraft, airspace and airman form the core of the fundamental requirements to operate in the national airspace system (NAS), and these "three A's" are also the basis of understanding today's aviation rules. These three items can also be seen and understood in the context of the FAA's UAS Integration Strategy, which will ultimately provide the drone industry with the ability to operate seamlessly within the NAS.Challenges around achieving this goal range from the pace of innovation to the volume of aircrafts/operations to the personal nature of drones, which is part of the reason Lawrence made sure to position all of these developments in terms of safety. He specifically mentioned the importance of building a safety culture, so that everyone understands they're going to impact safety in one manner or another."You need to think about what needs to be done to safely conduct any given operation," Lawrence said during his presentation.As evidenced by his
recent appearance on the Drone Radio Show
where he discussed the Drone Integration Pilot Program, Lawrence is one of the most forthright and approachable officials in the FAA. His efforts to enable full airspace integration while still focusing on details like Part 107 renewal and whether or not sirens should be on drones that are carrying emergency supplies signify the commitment to the technology that the FAA has made.
 Connectivity and Autonomy
While we try to focus on the practicalities when it comes to
drone adoption
and
ROI in the present
, a path to BVLOS operations as well as what future urban air mobility will look like were both discussed at the event. This new era of aviation is one that will see drone mobility within metropolitan areas enabled, and there are numerous individuals and organizations working through the details associated with what it will mean to get there.When it comes to BVLOS operations, PrecisionHawk has
laid out a literal path
to unlocking these operations and what applications will be impacted most by doing so. Their work to
create a safety ecosystem
that is centered on the three necessary components for BVLOS flight operations is incredibly concise and explains why this system needs to be able to identify both cooperative and non-cooperative aircraft.Various applications in the utilities and agriculture sector are waiting for this development, but deliveries via drone will also be greatly impacted by BVLOS operations.
Zipline
is already using drone technology to send urgent medicines, but drones will also be able to support activities related to moving lab samples from one place to another in cheaper and more efficient ways."The technology we use right now to move medical supplies around isn't good enough," said Dr. Stuart Ginn, from Wake Medical.These types of innovative operations are essential elements of this new era of aviation, which is something NASA has been focused on enabling via an
Unmanned Traffic Management (UTM)
system for years now. Parimal Kopardekar (PK) has been at the
forefront of this initiative
for years now, and he was at the event to provide the audience with an update around where things are at with this system, as well as why he's been so committed to it."The need for change is real because current systems are not sustainable," PK said during his keynote.PK also made an excellent point around why we need to talk about "connectivity" as much as "autonomy" because autonomy alone will not lead to efficiency. Connectivity and integration between air/ground/cloud/infrastructure is how these autonomous capabilities will make sense for operators and enterprises in new and existing frameworks. 
ROI, Best Practices and Lessons Learned
Speaking of existing frameworks, while the future of the technology was certainly discussed in detail, there was also plenty of talk about how a variety of organizations are using drones to make a difference right now. They ranged from police departments to DOTs to organizations that are committed to restoring waterways to their natural habitat.Christopher Cody of the Fayetteville Police Department explained what it has meant for his department to get eyes in the sky, and also provided another "
follow the drone to safety
" example that could help make that term a standard one for public safety officials. He detailed what it meant for his department to get up and running with the technology, and how they came to the conclusion that no one platform was going to work perfectly for everything.Romeo Durscher is the Director of Public Safety Integration at DJI, and he explained in detail the various lessons DJI has learned about how drones are being used by public safety officials over the past three years. New models, as well asthe additional apps, have driven many of the advancements in this sector and the related capabilities that continue to open up new opportunities for officials. What might have been most revealing was how he positioned the way insights from this sector will be relevant elsewhere."If you get public safety right, construction, agriculture, etc. will be a piece of cake," Durscher told the audience.Practical ramifications drones can enable were also detailed by senseFly and
North State Engineering
, as Troy Hittle and Miles Kelly from senseFly detailed how drones were used to create
a 66% savings
on a bridge inspection, while Wendee Smith from North State Engineering detailed the considerations and challenges that went into using UAVs on a lake treatment project. Advantages in this application include reducing closure time, providing a non-invasive treatment approach along with enabling the team to utilize targeted treatments.The Georgia Department of Transportation has 11 offices that are using or want to be using drones, and that adoption has allowed the agency to create a standard around how the technology should be utilized. It has also enabled them to come up with some specific recommendations for other DOT's, which include having policies and procedures approved and published before flights, as well as requiring the PIC to have all documentation on every mission.Seeing representatives from GDOT as well as DriveOhio illustrates the reach and scope of the event, all of which was driven by the experts that made the event happen in the first place.
 Making a Difference
NCDOT UAS Program Engineer Darshan Divakaran also
served as the Summit Director
, but he did far more than work behind the scenes. In addition to introducing the keynotes, he also took the stage to explain in detail the role of the UAS Program at NCDOT. The NCDOT's focus on education is evident by their organization of the event itself, but they have multiple avenues and approaches to enabling this education. Their
"Flying a Drone?"
series is an example of a fun approach to the topic, but it's just one of the
many resources
they've created.Their commitment to educating users of all types was evident with the breadth of topics that were showcased at the event, which included anti-drone technology, factoring in how weather can change UAV operations and the use of UAVs when it comes to nuclear power generation. All of these examples showed off the difference drones can and are making right now.It was a difference that literally extended outside of the conference itself during numerous live demonstrations that took place right outside the venue. A mock crash that used a drone to map a scene as well as a mini-bridge inspection allowed the audience to focus on what it would mean to turn data into answers. These are the sorts of bottom line logistics that will define this new era of aviation for the industry and for North Carolina that so many people are working to enable. It's something that the North Carolina Division of Aviation will continue to showcase at upcoming events this year, at both the NCDOT Drone Workshop for Commercial & Government Operators as well as the
NCDOT Workshop for Engineers & Surveyors
The N.C. Drone Summit and Flight expo will return next year, but for anyone who can't wait until then, Darshan is
set to present
at the upcoming
Commercial UAV Expo
during the
DOTs and Infrastructure
session as well as one focused on
Public Safety
.