During opening remarks at the 3rd edition of
Commercial UAV Expo Americas
, Event Director Lisa Murray, announced the
acquisition of Drone World Expo
, a conference dedicated to the use and innovations of UAVs for commercial purposes. It was an announcement that got people throughout the drone industry
to take note
, but
many others saw it as important
, and for good reason. In the short term, it means the drone landscape of events for 2018 will be markedly different, but the long term ramifications are even more important to consider.Traditionally, Commercial UAV News takes place in Las Vegas, NV and Drone World Expo was held in San Jose, CA, but both shows happened almost simultaneously creating a tremendous strain for commercial users and exhibitors that were forced, for financial and personnel reasons, to chose between one or the other. With this acquisition, Commercial UAV Expo will be able to deliver more qualified buyers to vendors and make it easier for vendors and buyers to meet in one place annually for all of their drone business. It's a development that is designed to
further facilitate efficient and effective business opportunities for this industry
, and provide anyone involved with commercial drone technology a single place to discuss how drones can, should and will impact the bottom line operation for organizations of all sizes.Not long after the announcement, Commercial UAV News editor
Jeremiah Karpowicz
caught up with Lisa to talk about how this acquisition would change the drone landscape of events, what kind of an impact it will have on the exhibitors and attendees for both events and what she's personally looking forward to in light of this development. You can watch the video or read the transcript of this conversation below.  
Jeremiah
: Lisa, perhaps you can tell you a little bit about why do you think this announcement is such a big deal?
Lisa
: We are really excited to make this announcement. It's a very complicated drone landscape of events and I think, as a user, trying to figure out which drone event will be best for you has been difficult; but from the beginning Commercial UAV News and Drone World Expo have had the same focus on key verticals that would deliver the most drone integration and time to market. They had really great conference content, so we decided that putting them together was a pretty powerful marriage of industry reach into the drone world and also our expertise into the Geospatial realm and engineering in terms of precision measurement professionals and what they need, so they will be coming together next year here at the Westgate in Las Vegas and double the fun!; two for one.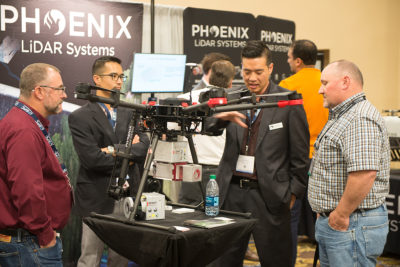 Jeremiah
: What kind of an impact do you think this merger will have on the attendees and exhibitors, now that they don't have to choose between attending one or the other show with a single commercial focus?
Lisa
: I think the announcement has been very well received here and people will not have to make a choice between two events and the resulting conference will be a more powerful event so it's kind of a no brainer putting the power of two together. Also people who like Drone World Expo figured that the best of their conference will be coming here and the people who like Commercial UAV Expo believe this is a win-win situation and are excited about the addition of the Drone World Expo expertise; so far no one has not received this news really well.
Jeremiah:
I know it's too early in the process of integration of the two events but is there anything specific that you are particularly excited about?
Lisa:
Yes, I'm particularly excited about the partnership with the
Commercial Drone Alliance
. Gretchen West and Lisa Ellman have unparalleled expertise in the drone industry and reach into the regulatory environment and really close connections to a lot of the industry leaders and they have traditionally delivered incredible conference content, so I'm excited to bring that here and I think we have a really vibrant show floor with very high level attendees, almost two thousand people this year and I'm convinced that our collaboration is really going to hit it out of the park in terms of being the dominant, largest, most important commercial show in America. That's pretty exciting for us. 
The first combined Commercial UAV Expo and Drone World Expo will take place at the Westgate Convention Center from October 1 to 3, 2018.