YellowScan, headquartered in Montferrier-sur-Lez, France, designs, develops, and produces unmanned aerial vehicle (UAV) mapping solutions for professional applications. Fully integrated, ultra-light, and easy to use, these highly automated data collection tools are used by customers around the world in fields such as surveying, civil engineering, mining, corridor mapping, forestry, environmental research, and archeology.
With more than 14 years of field experience, YellowScan is committed to delivering the highest level of performance, reliability, and robustness for its solutions. Their solutions are field tested all over the world in multiple environments, ranging from tropical forests to open pit mines, mountains, coastlines, rivers, and power lines.
YellowScan Surveyor, a UAV surveying system, improves upon previous time-intensive manual surveying processes by providing a more efficient method for collecting landscape data with increased precision and detail. It includes Velodyne Lidar's Puck™, a compact and versatile sensor that combines high-resolution 3D perception, range of 100 meters, and a broad vertical field of view.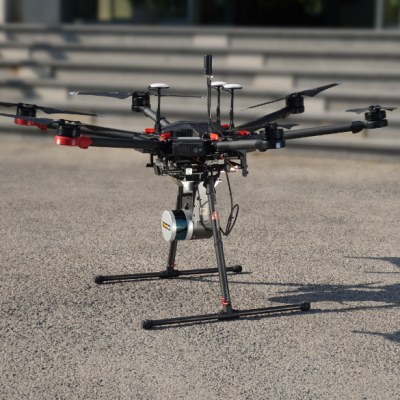 "The compact size and versatility of Velodyne sensors allow YellowScan Surveyor to be easily adapted to any drone, generating data when and where customers need it," said Michel Assenbaum, President of YellowScan.
Challenges
The YellowScan UAV surveying solution needed to perform quick and easy collection of detailed data along a 47-kilometer segment of the M1 highway (E60, E65, E75) in northwestern Hungary, one of the busiest roads in central Europe.
The project was completed by Ventus-Tech, a surveying company based in Budapest, Hungary. The highway could not be closed during the project. The survey needed to be conducted with minimal interruption to traffic and completed in a short amount of time to work within an aggressive project timeline. Also, data gathered needed to present the highway environment in the highest detail in case some aspect of the project needed to be measured in the future.
Solution and Results
YellowScan's Surveyor system utilized Velodyne's Puck sensor to generate precise mapping data for this infrastructure construction project. The Puck™ delivered a high-resolution surround view image to accurately measure and analyze the highway landscape. The data, gathered by 88 UAV flights over one-month, enabled engineers to design a plan to expand the highway from 2+2 lanes to 3+3 lanes.
"The light weight combined with the performance of Velodyne sensors integrated by YellowScan make a reliable tool for surveyors that enables highly cost-effective surveys with minimal field time," said Thibaud Capra, Application Engineer, YellowScan.
Equipped with Velodyne lidar, YellowScan Surveyor improved upon previous time-intensive manual surveying processes by providing a more efficient method for collecting landscape data with increased precision and detail. It provided 100 data points per square meter with accuracy within 5 centimeters. This level of precise detail is especially important when redesigning roadways, because widening a road requires consideration of existing infrastructure, drainage networks, and vegetation.
"Availability of useful aerial lidar data is no longer limited to lidar engineers and companies with multi-million-dollar budgets," commented Cliff Holle, General Manager, YellowScan.