In our efforts to find and write about alternative and innovative ways to power UAVs, we have encountered many interesting proposals. Those innovations include small rotary engines, fuel cells, hybrid models and battery-recharging contraptions which extend current TITA (time in the air) beyond the unacceptable levels of today. But those are not the only innovative ways to power a drone.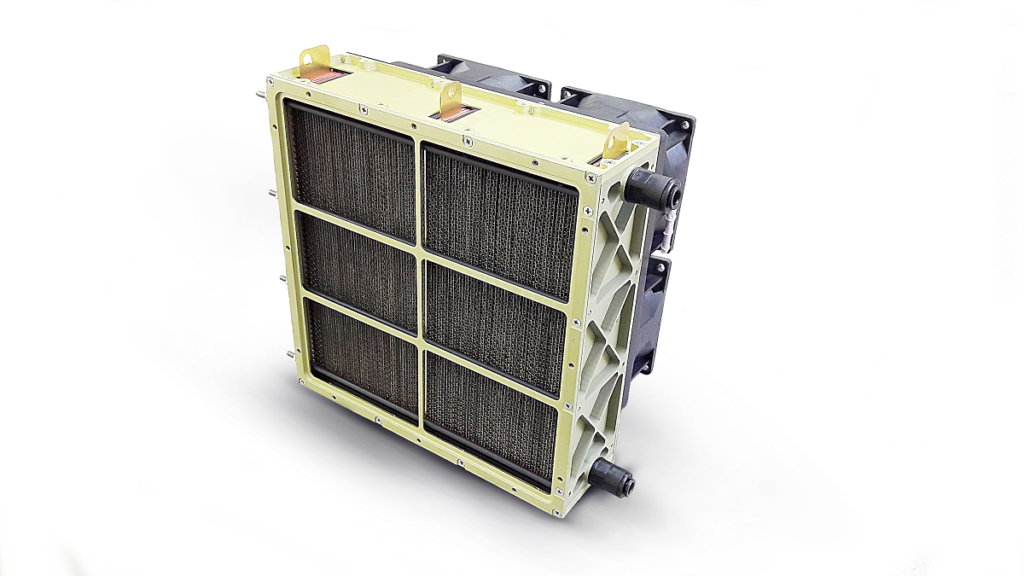 Hydrogen fuel cells represent a solid alternative to replace Li-ion batteries in mid to large size drones, and their efficiency in terms of weight/power ratios are increasing rapidly. During the recent Commercial UAV Expo Europe, we had the opportunity to visit with a company that is looking to pioneer this exact type of innocation.BMPower (
http://bmpower.us
), an international company with offices in the USA, Europe and Russia, is dedicated to the development and sale of hydrogen fuel cells specifically designed for unmanned vehicle applications. We sat down with Alexey Ivanenko, Business Development Officer and Sergey Shubenkov, Technical Support Director at BMPower to find out more about their products."We decided to start from scratch and re-think how to overcome the obvious difficulties encountered while extracting energy from hydrogen," Sergey told Commercial UAV News. "And now we make the process of replacing a lithium battery with a fuel cell power system easier."Hydrogen fuel cells are heavily dependent on external conditions. The membrane, which is the heart of the system, needs to be at 100% humidity to function at peak efficiency. BMPower's unique design uses the water coming from the exhaust system to hydrate the membrane for optimum efficiency."With our fuel cell we can operate from -40
o
F to 104
o
F and in any humidity," Sergey continued. "With eight sensors along the entire body of the fuel cell we can manage the humidity in order to provide an optimum level of energy generation.""Our fuel cells can increase TITA to two hours or more depending on payload and tank capacity," Alexey mentioned, and then showed us a chart to illustrate his point, which you can see below.

When pressed about the issue of finding hydrogen in the open market and the obvious difficulties in re-filling empty tanks, both men jumped at the opportunity to clarify."We thought about that perceived obstacle from the very first day and that's why we began by designing a light tank made primarily of carbon fiber and then reached an agreement with one of the largest gas distribution companies in the world,
Linde Gas
, to become the supplier of choice of our customers, " said Sergey as he enthusiastically showed me the website of Linde Gas on his mobile phone."Our plug-and-play system allows customers to disconnect an empty tank and connect a new one as easy as changing a battery," explained Alexey, who then showed me the tank and the patented latching mechanism. "All you need to do is call Linde Gas and they will come to your office or warehouse and exchange the empty tanks for full ones."Linde Gas standards to approve third-party tanks are quite high. The newly designed BMPower container went through a rigorous homologation process, but the system was approved for easy recharging throughout their distribution network."We have also developed a system in which customers can produce their own hydrogen in the field using cartridges and a small device that would fill the tank automatically and fast," Sergey said.It was then time to talk about their products, so Sergey and Alexey stood up and walked me to the small fuel cell in a pedestal.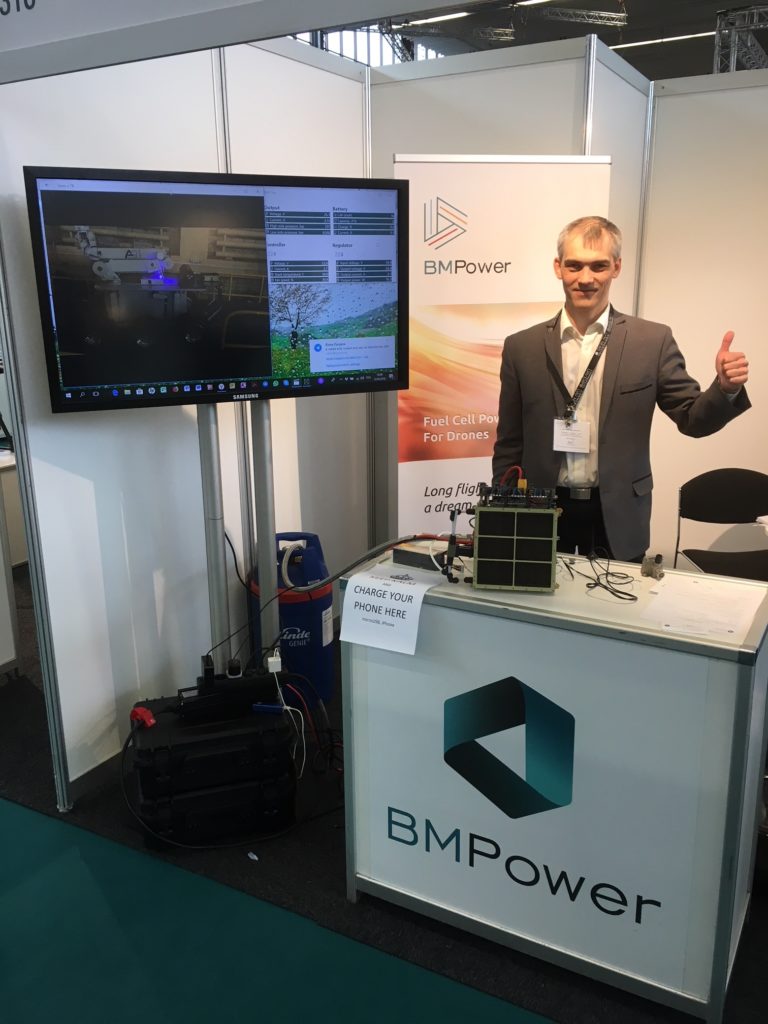 "Look, this small unit is currently powering our booth!" Sergey said proudly, "All lights, computers, everything is being powered from this tiny cell.""What we want to do is to introduce the concept of customized solutions," Alexey clarified. "With this form, customers detail to us what they want and we work with them to design and manufacture a power supply that would fit their needs perfectly. We even get involved in the testing and fine-tuning stages of development.""The idea with new power alternatives is to get involved with customers early and understand their needs, then adapt the technology to meet those needs," Sergey said. "That's why we have analyzed every step of the workflow process and made sure we address every item in the checklist, from design to installation to fuel availability and always with safety in mind."When it was time to discuss the size of their solution and the ideal type of UAVs that would benefit from it, both men looked at each other and took turns explaining."It is very difficult to miniaturize while keeping acceptable power/weight ratios, so we are initially aiming at the mid-size drone solutions for industrial uses with a range of 10 to 20 kgs (22 to 44 lbs) with equivalent payload for a total take-off weight of average 60 lbs," Sergey explained."We'll continue working on smaller versions of our cells, but today we offer a real and simple hydrogen fuel cell alternative to industrial drone users," Alexey concluded.