Last year, the global greenhouse horticulture market raked in $32.3 billion, according to an Allied Market Research Report released in July. Allied predicts this agricultural specialty market, which focuses on growing diverse crops of flowers, fruits and nuts, vegetables and herbs and ornamental trees, will surge to $65 billion by 2030. One company's autonomous drone-in-a-box (DIB) solution equipped with ModalAI's VOXL autopilot has made greenhouse operations in Europe smarter…and yielded higher profits.
Horticulture 101
The US Department of Agriculture defines horticulture as, "that branch of agriculture concerned with growing plants that are used by people for food, for medicinal purposes and for aesthetic gratification." An alternative description is "Horticulture is also called Controlled Environment Agriculture (CEA), or in other words crops which are grown in modern greenhouses. The branch has several sub-categories like vegetables (e.g., tomato, lettuce), cut flowers (e.g., roses) or pot plants (e.g., orchids).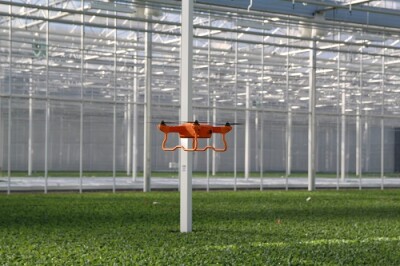 Greenhouses play a key role in all aspects of horticulture. Growers use greenhouses made of transparent walls and roofs to harness the power of the sun's light and heat to protect plants from environmental conditions. These structures can range from small shed-like buildings to industrial-scale warehouses. The latest Cuesta Roble (Oak Hill) Consulting report estimates that, as of 2019, the world greenhouse vegetable area alone consists of 1,228,000 acres.
The North American slice of that market continues to grow fast, at an estimated 8.4% CAGR between now and 2030. The most recent USDA statistics indicate that over 20,000 U.S. horticulture greenhouse operations generated more than $13.8 billion in sales. California, Florida, Oregon, Michigan and Texas ranked at the top of that list.
By far, however, European producers have taken the lead in the world's greenhouse horticulture sector. The European Union (EU) accounts for more than two-fifths of it. Within the EU, the Netherlands, whose laws protect the cultivation of fruit, produces 10% of the EU's total vegetable tonnage. This small country also provides 21% of the peppers, 20% of the cucumber, and 17% of all of the tomatoes grown in Europe. It also distributes this produce throughout Western Europe. Corvus Drones, an in-country original equipment manufacturer (OEM), has focused its hardware design, which incorporates ModalAI's VOXL Flight autopilot. For growers, to decrease labor costs, reduce cultivation risks and enable more efficient space planning in this lucrative market.
Eyeing Every Plant
In horticulture, as in most industries today, data is king. The Growlink Blog, touting the benefits of smart greenhouses, noted, "For the modern grower, analytics are at the heart of the effort to drive profitability. Charts, graphs, reports, and comparative metrics all help paint the picture of what is and isn't working."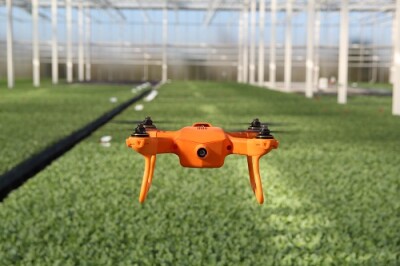 Corvus Drones uses its autonomous drones to enable smart greenhouse operations. Its drones gather data and provide key analytics across a number of horticultural use cases. One critical use case, seed germination assessment, helps growers determine whether seeds are growing into plants and if they have the right quantity to fulfill the customer's demand. Monitoring plant growth and predicting yields is another relevant use case.
Traditional by-hand seed germination assessments have proven both time consuming and prone to errors. This process generally involves one or more people visually eyeballing seedlings to determine growth and development.
In addition to reviewing the number of plants, workers also have to visually determine plant health, spacing and growth uniformity. They trouble-spot for issues such as insect infestation, disease and other potential problems, from top to bottom. Part of this review involves manually digging some plants up to check root health.
It's no wonder that labor amounts to one of the highest operating expenses in horticulture. Corvus' drone-in-a-box solution changes that by literally removing the bean counters…and the guesswork…out of greenhouse horticulture. The drones digitally eye every plant, collect data and generate actionable intelligence reports.
Eyes in the Sky
Users of Corvus Drones DIBs merely have to define the drone task and flight route (e.g., from bay 1 to 40) and press the start button. The drone flies over trays of young plants, each of which has its own QR code, to collect relevant data, using a variety of plug-and-play sensors (e.g., high resolution camera lens.). The drone sends this data, over WiFi, in real time, to the Corvus Cloud. There, the system takes the drone images and generates a full analytical report within an hour.
Not only does this autonomous system standardize the germination assessment process, it also provides an enduring and dynamic database of plant information for historical reference.
Corvus Drones indicates that its DIB several use cases for seed germination or yield prediction assessment has resulted in up to a 5% net return to its clients. This allows for more efficient space planning. It alerts growers to poorly performing plants, which they can remove and replace with healthy ones.
Besides seed germination assessments, other use cases for Corvus drones in greenhouse horticulture include flower detection, early detection in leaf growth deviations, to the diameter of potted plants.
Greenhouses, where these drones fly, are GPS-denied indoor spaces. Why does this matter? GPS signals, which emanate from satellites, determine the accuracy of drone navigation. GPS works best with an unobstructed view of the sky. Navigating in greenhouses can be very challenging for autonomous vehicles because the steel construction block and reflect GPS satellites from communicating with the receiver (the Faraday effect). This can render the UAV unpredictable and dangerous to operate, without additional tech onboard. For this reason, the Corvus' autonomous DIB solution incorporates ModalAI's VOXL Flight autopilot, equipped with Visual Inertial Odometry (VIO), to fly safely and reliably.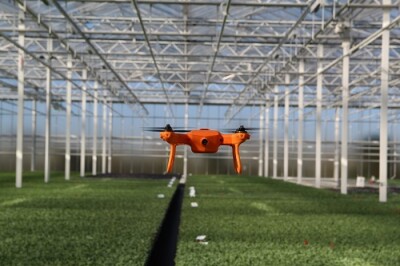 The Seed of Innovation
VOXL 2 is the next generation of VOXL Flight, and it builds upon the work ModalAI has done with VIO. The assembled-in-the-USA VOXL 2 is powered by the latest Qualcomm® Flight RB5 5G platform and integrates multiple image sensors to provide best-in-class VIO.
VIO uses visual and inertial data to measure distance traveled and position in a localized environment without the need to have a GPS signal. What makes VIO unique is that it can measure the position of the aircraft in 3D space and acts as the foundation of many other computer vision functions such as obstacle avoidance, SLAM, position control and autonomous navigation in a GPS-denied environment.
Weighing only 16 grams, but with 4 times the computing power compared to VOXL Flight, VOXL 2 enables autonomy and communications for indoor drones (and outdoor ones) by using vision-based SLAM and artificial intelligence (AI) for movement. VOXL 2's AI adds advanced perception capabilities to drones, such as Corvus', that incorporate it. AI enables object tracking and classification, area mapping, and other real-time data to pilots. Specifically designed specifically for GPS-denied, autonomous UAVs, VOXL 2 excels at obstacle avoidance and enhances mission critical navigation to support safer, more reliable flight.
In addition to VIO, the VOXL 2 also integrates a PX4 real-time flight controller PX4 real-time flight controller, a state-of-the-art CPU, video encoder, GPU and Neural Processing Unit (NPU), with ModalAI's open VOXL SDK. The SDK comes complete with autonomous behaviors required to safely and reliably fly BVLOS and avoid obstacles. The included mapping and planning software provides a route for a given desired trajectory, mapping and navigating around obstacles to achieve the best path. Collision Prevention sets the parameter for minimum allowed approach distance.
According to Frans-Peter Dechering, co-founder Corvus Drones, "In greenhouse horticulture, there is a great need for data concerning crop growth. For a grower, it's almost impossible to monitor the crop in every part of the greenhouse on a daily basis. ModalAI's VOXL Flight enables our Corvus Drones fleet of UAVs to autonomously collect data in GPS-denied environments critical to reducing cultivation risks and costs for our customers."
"VOXL 2 enables the next generation of smaller, smarter, and safer drones," said Chad Sweet, CEO and co-founder of ModalAI, Inc. "Corvus' DIB solutions provide an excellent example of how innovative OEMS can leverage the unparalleled AI computing of our autopilot to make a difference in the real world. We are proud to enable global critical greenhouse horticulture operations that feed people and also add beauty to the world."
About ModalAI, Inc.
ModalAI® accelerates development of smaller, smarter and safer drones and robots with SWAP-optimized Blue UAS Framework autopilots built in the U.S.A. From home and business security to retail and government applications, the company's highly integrated AI-powered modules empower a variety of industries to utilize aerial and ground autonomous navigation systems that communicate on 4G and 5G cellular networks.
Based in San Diego, California, ModalAI was formed by former Qualcomm Technologies, Inc. employees in 2018 and builds on their prior research and development in the drone and robotic markets. ModalAI's VOXL product line helps manufacturers and independent builders get to market quickly and affordably. For more information, visit www.modalai.com.