News about State Farm being granted the first national waiver to any company by the FAA is a big deal, for multiple reasons. The national waiver allows State Farm to conduct drone operations over people (OOP) and flights beyond the pilot's visual line of sight (BVLOS), both of which have been cited as the next big opportunity for commercial drone operators.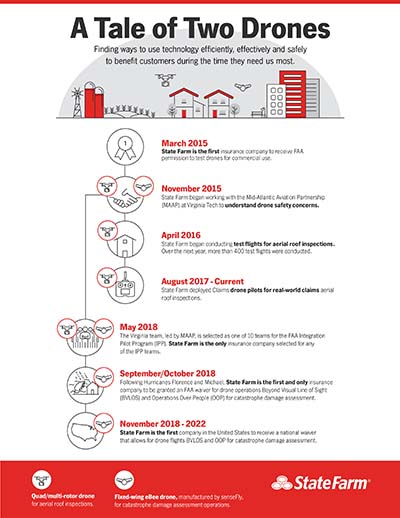 While State Farm would still have been able to utilize drones for individual roof inspections without this approval, the waiver opens up brand opportunities for the company. Because of it, they can explore what it means to utilize drones to perform large-scale damage assessment after a significant weather event or how longer distance flights can impact established tasks and processes.This waiver approval didn't come out of nowhere though. State Farm has been testing safety and business applications of drones for Claims purposes since 2015. The company was the first insurer to receive FAA approval to operate drones for commercial use (2015) and was also the first and only insurance company to be granted an FAA waiver for BVLOS and operations over people for catastrophe damage assessment (2018). Along the way, they've deployed claims drone pilots for real-world roof inspections and became the only insurance company
selected for the FAA's Integration Pilot Program (IPP).
These milestones demonstrate their keen understanding of the benefits drones create for everyone from individual Claims associates to the organization as a whole.
"
We see UAS technologies as additional tools to get our Claims associates the information they need to help our customers," said Nicole Manduca – Claims Manager, Weather and Catastrophe Services for State Farm. "That may be in the form of initial damage assessment after a major weather event or assessing roof damage as part of our normal business operations. Data obtained from drone flights can be used for determining the severity of the event for better resource allocation and quick determination of uninhabitable insured property. Time, safety and cost are all potential benefits – and we're always looking at we can operate as efficiently as possible for the benefit of our customers."Those benefits were demonstrated in State Farm's response to Hurricanes Florence and Michael when they showcased how drones could evaluate hurricane damage and allocate resources.
The waiver
they received to combine permission for operations over people and flights beyond the operator's visual line of sight ultimately paved the way for the safety case the company presented to the FAA for their national waiver. However, their work with Virginia Tech was also a major factor in that approval."The work we've been doing with Virginia Tech through MAAP and the IPP is a direct result of our research," Manduca told Commercial UAV News. "The disaster-assessment work this waiver enables exemplifies the purpose of the IPP: to facilitate the next generation of drone applications by working with communities on groundbreaking projects that can improve the public's quality of life and spur innovation. The remarkable breadth of the waiver reflects months of detailed research following a process pioneered by MAAP for identifying, evaluating, and mitigating potential risks presented by drone operations."State Farm collaborated with MAAP and Virginia Tech's world-renowned injury biomechanics group to assess a wide range of potential risks and strategies for reducing them, meticulously collecting data on a variety of parameters. The strength of that data made a compelling case to the FAA that the company could safely conduct sophisticated aerial damage-assessment operations.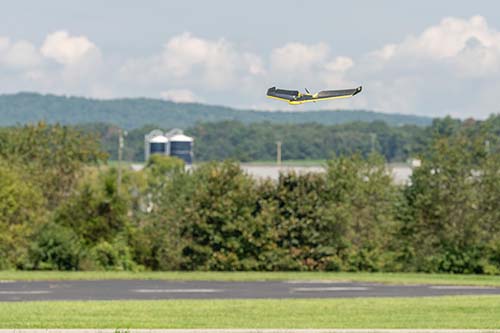 State Farm also conducted multiple tests both out in the field and in Virginia Tech's lab that evaluated the fixed-wing eBee drone. In the field, they performed a number of tests to solidly capture communications performance and navigational precision. In the lab, tests revolved around assessing the risk of injury to humans by crashing the eBee into test dummies.While this waiver is a huge win for State Farm, it's just the beginning of where and how the company is planning to move forward with the technology, and how others who want to take to the sky in a similar fashion should consider doing so."Using drones to assess damage during catastrophe events is our current focus, and the national waiver certainly opens up tremendous opportunities for us – but we don't intend to stop there," Manduca said. "We are testing several drone applications and solutions, and we will continue to seek opportunities to find new ways to help our customers. We recognize the importance of continuous innovation and adaptation, which has helped us remain a leader in our industry for many decades."The FAA's limitations around conducting drone operations over people and BVLOS have been lamented by many, but the FAA has
literally asked
operators to bring them their safety cases. State Farm did that through a series of tests and waiver approvals that provided the FAA with the info they wanted and needed. Doing so has put State Farm in the position to be able to utilize enhanced tools to better serve their customers while also helping move the whole UAS industry forward in terms of both safe drone operations and FAA process.