While electric vertical take-off and landing (eVTOL) aircraft like the ones being developed by Eve, a spin-out from EmbraerX, will ultimately change cities and the way we travel, their ability to do so isn't just about the technology. Discussions around what it will mean to effectively enable Urban Air Mobility (UAM) ecosystems that these eVTOLs and other drones can fly in alongside piloted air vehicles have been a major topic of discussion for years now but the path to truly enable these ecosystems remains pervasive. With EmbraerX's launch of Eve, that path is being defined in a whole new manner.
To clarify what these connections look like, EmbraerX is a subsidiary of Embraer, which has been a leading aerospace company with a 50-year history. Eve is the EmbraerX spinoff focused on urban air mobility that is benefiting from Embraer's manufacturing and certification process as well as their extensive experience with the FAA in aircraft development and operation. That legacy is defining how all aspects of their eVTOL operations will be developed in alignment with current aerospace and transportation regulatory agencies across the world.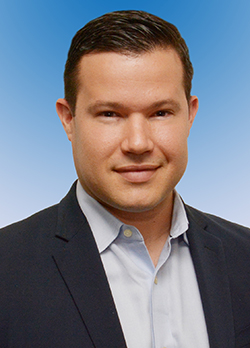 David Rottblatt is Vice-President of Business Development at Eve Urban Air Mobility, which has allowed him to help define how Eve will address the challenges of adding eVTOLs into the NAS. We connected with him to discuss what makes Eve's eVTOLs different, why their UATM approach to airspace integration is important, what UAM milestones he's looking forward to seeing in 2021 and much more.
Jeremiah Karpowicz: Eve has been described as an EmbraerX spinoff focused on urban air mobility which is using the air traffic control assets/foundation from Atech, an Embraer subsidiary, to define the airspace of the future. What sort of opportunities is Eve able to develop on account of this foundation laid by EmbraerX?
David Rottblatt: EmbraerX has developed a new approach called Urban Air Traffic Management (UATM), a portfolio of services that seeks to create a more favorable operating environment for the UAM industry to scale. The services Eve is developing will work to safely integrate an increasing volume of UAM vehicles into the low-level airspace. Our solution prioritizes a procedures-based approach toward growing UAM operations while minimizing impacts on air traffic control (ATC). This concept has been developed with a close eye on community needs and the principles of human-centered design. UAM flights will affect neighborhoods, municipal transportation plans, infrastructure and commercial real estate investment, and more. It is critical that these voices are heard and that stakeholder concerns are considered at the outset.
Initially, we envision UAM airspace will be positioned between sUAS operations and conventionally controlled airspace. This layered approach enables the ANSP to increase urban airspace capacity and provide equitable airspace access for new and legacy aircraft. Moreover, UATM provides a structured traffic management system with a single airspace authority. It is explicitly designed to organize traffic flows, mitigate risks in the air and on the ground, and support safety-critical situations when needed. As the UATM system evolves, it may eventually integrate all UAS operations so that all low-altitude aircraft—piloted and autonomous—operate within a single system. However, for now, we anticipate the UATM system will only manage traffic that primarily flies above sUAS operations but will interact with the UTM and ATM ecosystem to share end exchange operational data.
Eve is developing a full portfolio of solutions to enable the UAM market, but what can you tell us about how all of these products are interrelated and designed to work together? What other system integrators are you working with?
Eve's products and services position Eve as an ecosystem integrator. Aside from our eVTOL, we are also designing air traffic management software and a services + support business to work in any country and with any operator. Our products and services are designed to be completely agnostic, but when coupled together, provide a more complete UAM solution for our customers and partners.
In addition to the development and certification of the eVTOL, it will be necessary to create an urban air traffic control system for which Eve is also developing as well as the associated comprehensive services and support network. This technology is designed to address a broad spectrum of aircraft, but is also designed to evolve over time as UAM vehicles continue to evolve towards more autonomous operations.
To answer your last question, Embraer's Air Traffic Control technology and system integrator company, Atech, provides a lot of learnings to Eve as a result of many years producing air traffic control software. This software is used to manage the world's largest Urban Air Mobility market, São Paulo, which sees almost 1,300 air taxi operations every day. Eve will take advantage of this knowledge and niche expertise by collaborating with Atech in the development of the UATM solution.
What can you tell us about your electric vertical takeoff and landing vehicle (eVTOL) and how it is different or distinct from the models that others have developed?
The eVTOL is a vertical landing and take-off vehicle with 100% electric propulsion and, in the case of Eve, has an approach that combines disruptive innovation, human-centered design philosophy and the highest levels of safety, a legacy that we bring from Embraer's 50 years of engineering excellence.
In addition to being highly reliable and with minimal operating cost, our eVTOL will have a cabin designed from a tremendous amount of user experience research to ensure accessibility for everyone. Thanks to the electrification of this aircraft, it will be much efficient to operate and will therefore provide a much more accessible price point for its passengers. Additionally, eVTOL aircraft promise to be significantly quieter than their conventional predecessor and better for the environment.
Our fly-by-wire flight control system is highly efficient, providing a smoother ride for the passenger and providing a basis for advances in automation that will allow our aircraft to evolve from initial piloted operations into a fully autonomous vehicle.
It is also worth highlighting our robust product development process that will make the task of flying the eVTOL simpler and more intuitive for both already certified pilots as well as for new pilots. The seating capacity will be up to 4 passengers and 1 pilot.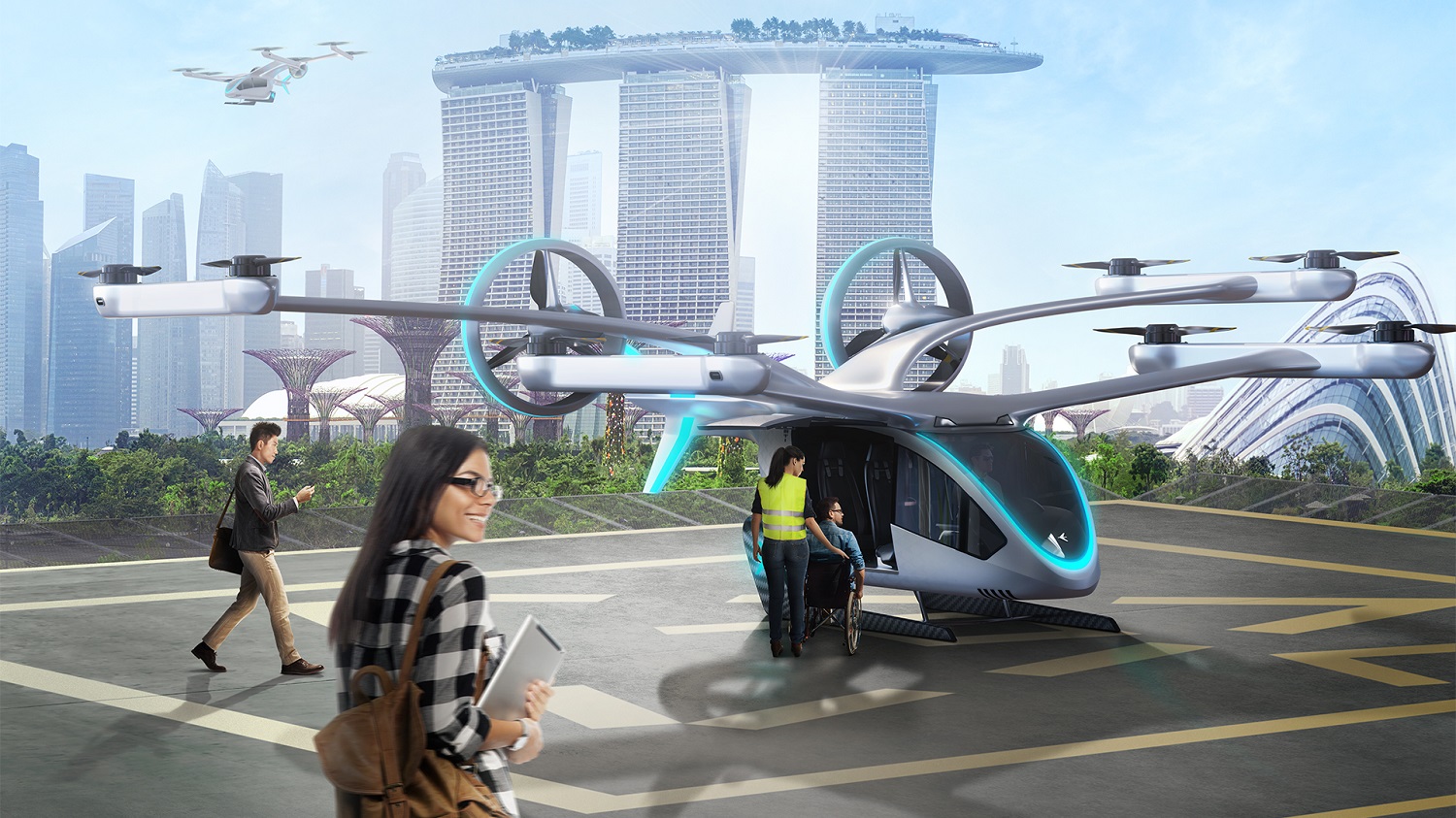 How will people come to use and rely on the associated comprehensive services and support network that Eve is developing?
By providing quieter and more affordable flights, eVTOLs will stimulate the growth of the UAM industry. The concept of UAM is not a new idea, but it still resents a sustainable model, both environmentally appropriate and economically viable.
The need to move faster around the city is part of our daily life and is growing every day, so we believe that the UAM market has enormous potential. We can cite as an example the helicopter, which today is present in large cities, but is too expensive and noisy. The eVTOL's propose is to establish a new paradigm for transportation that will be increasingly accessible to a larger segment of the commuting population of any city that chooses to adopt UAM as an option for transportation.
The eVTOL will be much more affordable than the helicopter from the point of view of an average ticket price and cost per trip, especially when autonomous operations begin. This characteristic combined with the high degree of safety and low noise level allows us to imagine a much larger scale of operation in the number of flights per day and routes served than is possible with the use of helicopters. As these aircraft will be quieter, our expectation is that more people would like to have this service closer to home. This also increases overall accessibility.
Are the urban air traffic management solutions that Eve is developing designed to connect with larger or different ecosystems?
This may vary country by country depending on how each country's air navigation service provider collaborates with third party technology and service providers, as well as the delegation of authority and responsibility such entities receive. Where it is possible, we envision that a single entity, an urban airspace service provider (UASP), will be responsible for managing low-altitude urban air traffic. In close collaboration with ATC, USSs, and UATM stakeholders, the UASP will deliver a suite of services. It will also manage traffic in the cruise phase of flight as aircraft operate between skyports and airports, for example.
Each city and/or country will have a different approach for creating a UASP depending on the ANSP, regulations, policies, strategies, and resources available. Some countries may decide that the ANSP should extend its current role and manage the low-altitude urban airspace. Other countries or states may decide to assign UASP responsibility for each city to a third party. Implementation will inevitably differ between countries, and allocation of authority to a UASP will vary across a spectrum. Nonetheless, we believe a central authority is needed for managing the UATM airspace of each urban area and ensuring that traffic flows safely and efficiently using a single flow management plan.
What can you tell us about your leadership as part of a consortium in the UK that is bringing in stakeholders from airports/gov/reg for eVTOL shuttles between the airports?
Eve is leading a consortium of urban air mobility and aviation companies working on a concept of operations for integrating air taxis and electric vertical take-off and landing vehicles (eVTOLs) into London's airspace. The consortium includes international companies that span the aviation industry, including Heathrow Airport, London City Airport, NATS, Skyports, Atech, Volocopter, and Vertical Aerospace, and will be working with the UK Civil Aviation Authority as part of its Future Air Mobility Regulatory Sandbox.
The project examines the regulatory challenges to allow eVTOLs to fly from London City Airport (LCY) to London Heathrow Airport (LHR). Initially working alongside local authorities, the consortium will explore how eVTOLs can demonstrate the viability and feasibility of the airport shuttle use case between these two airports with stops in between. Data from simulations will help policymakers develop community-friendly rules, mitigate community noise impacts, and draft airspace procedures for future flight tests.
Eve CEO André Stein mentioned that the company has a unique opportunity to work together, even with other OEMs. What are some of the benefits that will be enabled for the entire sector as a result of this type of cooperation?
It will be necessary to provide infrastructure dedicated to the Urban Air Mobility market, such as the "vertiports" where eVTOLs will operate, as well as the distribution of energy for charging batteries and other associated services. In this sense, Eve will work with partners who will help to make the ecosystem viable. It is also important for industry to partner in order to collectively offer operational assumptions and information that can be used to better define the future operating environment so it can apply to a broad spectrum of aircraft and noise profiles. With this in mind, the more we partner, the better it is for the general public and regulators alike.
Aside from that, all aspects of eVTOL's operations will be developed in conjunction with aviation and transportation regulatory agencies worldwide. In this sense, Eve is very well positioned in relation to the competition, due to Embraer's expertise in certification of safe and reliable aircraft for over 50 years.
How does public perception of UAM technology factor into how this future of the airspace is defined?
It is critical that to include community input in all of our decisions, and we must seek collaboration and continue to share our ideas for how this new and exciting industry can become a reality.
Communities will want assurances that noise from urban flights is acceptable. Regulators and air navigation service providers (ANSPs) will require that flights remain safe, orderly, and efficient, while minimizing impact on airline and air traffic management (ATM) traffic. Operators of small drones will want access to low-altitude airspace, while fleet operators will need equitable access to urban corridors. All of these factors are taken into consideration as we develop the future of airspace.
What are some important milestones in the UAM market that you're hoping to see realized in 2021?
We would like to see the regulatory environment become clearer so that we, and other eVTOL manufacturers, can clearly understand the certification and operating requirements of these aircraft in each country that is positioning itself as an early adopter of UAM.
We hope to see critical stakeholders that will enable the future of UAM to continue to be proactive and engage with industry in 2021 so that together we can collaborate on bringing UAM to fruition.
What advice would you have for anyone that wants to help support or better enable the vision for the future of the airspace that Eve is working to define?
Collaboration must start today if we are to reap the benefits of UAM tomorrow. As this industry unfolds, communities, regulators, ANSPs, and other stakeholders have the opportunity to plan and shape the future of UAM. Stakeholder involvement throughout all stages of development will be crucial in designing how we move about urban areas and the infrastructure that supports that future.