Earlier this year, ANRA Technologies launched SmartSkies, a UTM platform for pilots to obtain approval for drone operations within controlled or sensitive airspace using a simple mobile application or web portal. Now, ANRA introduced MissionManager, a secure cloud-based platform that integrates fleet management, compliance, risk mitigation, flight automation, data capture, and analysis into a single platform.
Designed with the flexibility to support all enterprise operations regardless of the business model or market, MissionManager manages live flight automation, assets, pilots, and data anywhere, enabling seamless workflow coordination from the corporate office to the job site. By offering a suite of advanced features for enterprise and service providers to monetize existing capabilities and drive innovative new services, MissionManager helps companies to reduce the costs, risks, and time-to-market while lowering implementation and operating costs for the entire supply chain.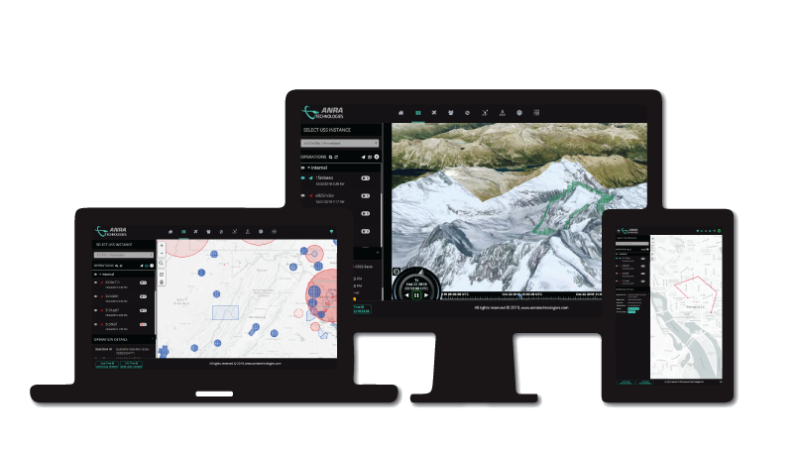 "Pipelines must be inspected every 14 days per federal guidelines to check for anomalies, such as leaks or encroachment," Amit Ganjoo, Founder and CEO of ANRA Technologies, told Commercial UAV News. "Flying a manned aircraft and the associated costs are much more expensive than a drone flying the same route. However, that improved ROI hasn't been fully realized due to today's regulatory environment, especially in the United States. Improved technology in combination with an acceptable safety case will unlock the vast potential of conducting more frequent and accurate data gathering using drones for inspecting pipelines. Now take that same model and apply it to hundreds of pipelines scattered across a diverse and global enterprise. Using MissionManager, the enterprise will be able to organize the entire fleet, ensure pilots and equipment are current, and create task orders from viewing near real-time video or high-resolution photos. MissionManager connects field operations to the program manager and the data processing into a single platform that is cloud-based and accessible anywhere in the world from an internet connection."
By providing users with tools for flight management, flight planning, and data analysis, MissionManager allows companies to maintain detailed records of drone type, capabilities, sensor payloads, battery health, and inventory, as well as maintenance and repair records. It can also track operator profiles and qualifications, serve as a tool for compliance and implementation of best practices, and enable program managers to synchronize workflows with a single tool to track drone equipment, maintenance, and pilot history in one centralized location. Through workflow automation tools, users can plan, deploy, and log each mission, minimizing flight risks and ensuring reliable, repeatable, and accurate data capture. Moreover, automated safety checks allow managers to analyze and approve custom flight safety checklists before takeoff, while the included automated logbook logs and archives flights, telemetry, payload sensors, and batteries.
While MissionManager offers custom features focusing on energy, telecom, and construction, other industries, such as agriculture and mining, also "benefit from using MissionManager as their operations scale and more pilots, drones, and missions are flown in support of their enterprise," Ganjoo stated.
Featuring an extensive library of pre-loaded automated Mission Profiles, MissionManager users can achieve automated linear and vertical paths such as facade inspection, survey, pipeline, and other critical infrastructure surveys. Advanced mission profiles include columnar tower inspection, facade, line string, and guyed tower and freehand missions.
"[Energy, telecom, and construction] industries are early adopters of drone-enabled data collection that recognized drones augment traditional inspection methods, such as linear pipeline inspection using a manned helicopter, or collecting surface volume measurements for beach sand restoration," Ganjoo explained. "These same industries are typically geographically dispersed and risk-averse. Adding a tool like MissionManager will help enterprises to remain compliant and organized, regardless of the area of operation."
With the amount of data captured in each drone flight to track the degradation of assets or classify the severity of weather impacted damage over time, ANRA decided to streamline the process with MissionManager. By removing the need for third-party processing software, the cloud-based platform captures, saves, arranges, measures, and geolocates 2D/3D post-processed datasets. Also, it calculates measurements through data processing and integration of third-party machine learning and artificial intelligence-based analytics engines into the workflow.
For improved safety and security, MissionManager features sign-on (SSO), two-factor authentication (2FA), and multi-factor authentication (MFA) for account access with real-time network traffic and infrastructure monitoring, incident reporting, with localized cloud storage and backup encrypted in AWS, Azure, or Google Cloud. All wireless and network data transmissions are encrypted in TLS 1.2 or higher, while live video streams are secured in line with leading industry practices. Through increased confidence and lower risk, MissionManager assures drone program managers that permitted operations are flown using qualified personnel flying approved equipment for assigned tasks.
"ANRA's software adapts to the regulatory environment where the operator will fly their drone, helping to ensure the remote pilot and enterprise remains compliant," Ganjoo mentioned. "ANRA's software incorporates the best security practices and adheres to requirements as stipulated by local government authorities. However, we are part of an ecosystem so there is a shared responsibility between the drone manufacturers, service providers, and the operators. We can only assure reliance and security for ANRA's software and champion other stakeholders to do as well, as demonstrated by our work on ICAO Trusted Framework and ASTM."
Furthermore, to enable automated flight approvals, strategic deconfliction, sense and avoid capabilities for non-cooperative aircraft, and BVLOS flights, companies can integrate MissionManager with ANRA's SmartSkies UTM platform.
Recently, ANRA Technologies partnered with Trax International, uAvionix, and Plane Finder in a project to demonstrate BVLOS operations in non-segregated airspace in the United Kingdom—an essential enabler for a multitude of UAS projects that would allow more effective recovery from existing and/or future COVID impact. To provide airspace segregation between BVLOS operations and other airspace users, the UK established Temporary Danger Areas (TDA), which, due to the increased demand, pose a safety risk in terms of airspace complexity and efficiency. The project aims to deliver a known operating environment without TDAs, where all airspace users are detected and presented to the UAS operator in order to demonstrate a 'Detect and Avoid' capability, similar to the 'See and Avoid' capability of manned aircraft under Visual Flight Rules.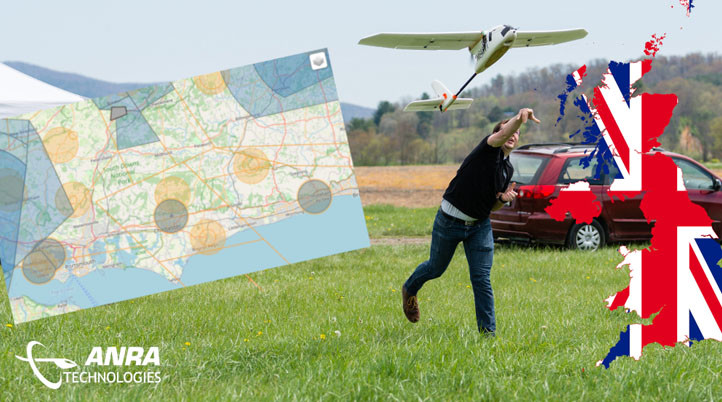 For more information about MissionManager, visit ANRA's website or contact the company for a quote "as every enterprise has unique business and operational requirements and no two are alike," Ganjoo added.